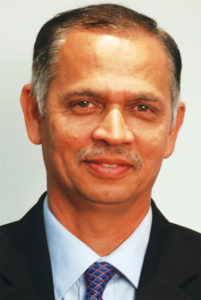 Gujarat serves as an inspiration for the entire country. One of India's most industrialized states, Gujarat's per capita GDP is almost twice the national average. The time is now ripe for the state to emerge as the country's most vibrant ICT Hub
By Kishore Chitale, Head-India Domestic Business, Capgemini India
Opportunities and Challenges in eGovernance

e-Governance, a multi-dimensional and complex concept, offers spectrum of tools for improving the social infrastructure. Once e-governance gets implemented in sufficient number of areas, people don't have to run from one government office to another for getting their work done. They can log in through easy to use interfaces and interact directly with the government branch of their choice through few taps on the keyboard.
There are several opportunities and challenges subsumed in the idea of e-governance. For the myriad opportunities to start bearing results, the challenges need to be addressed. Ultimately it is the common man who is main beneficiary when the government becomes transparent and smooth through the usage of ICT.
Some of the major benefits that citizens can accrue from an ICT-based service delivery system are:
Better quality of service delivery to citizens and businesses.

Increased transparency and accountability. 

Increased collaboration between government and semi-government agencies, citizens and businesses.

The ICT initiatives can be kept open 24/7, unlike most offices, which have fixed working hours.
Similarly, there are many challenges that can come in the way of ICT- based service delivery:
Political instability. The coming and going of governments can have an impact on the e-governance initiatives being considered or already implemented.

Lack of ICT infrastructure. 

High initial cost for setting up e-government solutions. 

Resistance to change.

Lack of clear vision and strategy. 
Gujarat- the New ICT Hub

Bangalore, Hyderabad, Chennai, Mumbai, Gurgaon and Pune are established ICT hubs. The common themes running across these cities include an integrated IT policy, excellent infrastructure and a strong focus on human capital development. But these are the themes that can also be found in Gujarat. The state enjoys the added advantage of being home to a very enterprising class of people.
The state has to begin by identifying suitable government land, which can then be reserved for building an IT park. Computer education also needs to be projected in a big way. The investment climate should be made favourable to the ICT companies, which are willing to invest in the state. The good thing is that such policies are already being implemented in the state. The Gujarat government has a massive developmental agenda, which focuses not only on the manufacturing side, but also on the IT sector.
Lessons for Gujarat and from Gujarat

The services that Gujarat offers to its citizens through its official portal (http://gujaratindia.com/index.htm) include basic facilities like VAT (Value Added Tax) information, hospital management, revenue records, e-procurement, public grievance portal, and much else.
The Gujarat State Wide Area Network (GSWAN), which connects the State capital with all its 25 districts and 225 block headquarters, is Asia's largest Internet Protocol-based network. Gujarat also has an extensive telecom network with optic-fibre technology, cellular phones, and high speed Internet. The government has decided to install CCTV-based City Surveillance and Intelligent Traffic Management System (CSITMS) in major cities .
While serving as an inspiration for rest of the country, Gujarat can also learn a few lessons from states like Madhya Pradesh and Punjab. In Madhya Pradesh, Sehore -Cisco has launched its Cisco healthcare service pilot. Through this initiative, community and primary healthcare centres (CHCs and PHCs) in Sehore and Gwalior are being linked to their district hospitals. Patients at these clinics will be able to communicate via video links with specialists and other medical staff at the district hospital. In Punjab, Global Positioning System (GPS) is being used to store the details of properties in the urban areas. GPS also shows detailed building plan of every property.
On eIndia 2011
The eIndia 2011 will highlight Gujarat's ambition for becoming India's most important ICT hub. The citizens of Gujarat are famous for their entrepreneurial spirit; if they have made their mind to excel in ICT, they are bound to find success. The exchange of views and the discussions that happen on the eIndia 2011 platform will lead to emergence of new solutions for excellence in ICT.
Follow and connect with us on Facebook, Twitter, LinkedIn, Elets video