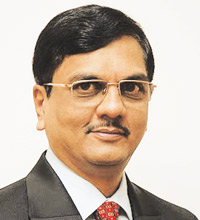 Nandu Pradhan
President and Managing Director
Achievements
 CIO Insight Survey #1 in Value – 2004, 2005, 2006, 2007, 2009
Large Technology Company of the Year North Carolina Technology Association, 2009
Turbo Tech 25, Forbes, 2009
 Product of the Year, Datamation, 2009
 SDTimes 100, Jboss Enterprise Middleware
Magic Quadrant for Enterprise Application Servers, Jboss Enterprise Middleware,Gartner, 2009.Red Hat, the world's leading provider of open source solutions and an S&P 500 company, is headquartered in Raleigh, North Carolina, USA, with over 65 offices spanning the globe. CIOs ranked Red Hat as one of the top vendors delivering value in Enterprise Software for six consecutive years in the CIO Insight Magazine Vendor Value survey. Red  Hat provides high-quality, affordable technology with its operating  system platform, Red Hat Enterprise Linux, together with virtualisation, applications, management and Services Oriented Architecture (SOA)  solutions, including Red Hat Enterprise Virtualisation and JBoss  Enterprise Middleware.

Red Hat also offers support, training and consulting services to its customers worldwide.The customers of Red  Hat utilise its products and solutions to address the business critical  demands facing IT organisations today and they count on the company  support and expertise at every step, from deployment to development,  to implementation and management. Red Hat solutions provide  unbeatable value, performance, security and reliability to medium and  large enterprise businesses across a variety of industries and sectors. Some of its customers in India across industry verticals are –
• BFSI – New India Assurance, SBI Life Insurance, HDFC Standard Life, Star Union Dai-ichi Life Insurance, Euronet, NCDEX, Lahore Stock Exchange
• Government – CDAC's National e-Governance Services Delivery Gateway, IRCTC, e-Posts, e-Mitra, Defence, KSFL
• Manufacturing – Marico, Great Offshore, Eveready, Hikal, Sheela Group, Bilcare Research
• Telecom – Etisalat, mCarbon, Tata TeleServices, Comviva
• IT – JustDial, iGate, CleartripProduct and ServicesRed Hat Enterprise Linux
Red Hat Enterprise Linux (RHEL) is the world's leading commercial strength, open source operating system. RHEL Server and Desktop provides the foundation for the flexible, cost-effective IT infrastructure. It provides consistent technologies that span from the laptop to the mainframe, front office to the corporate database.Jboss Enterprise Middleware
With industry-leading, 24×7 support and multi-year update and maintenance policies, JBoss Enterprise Middleware delivers enterprise-class, open source middleware for application and service hosting, rules management, content aggregation, data federation, and service integration.Red Hat Enterprise Virtualisation
Red Hat Enterprise Virtualisation portfolio, features a standalone hypervisor and virtualisation management tools for both servers and desktops.

Red Hat High Performance Computing
Red Hat HPC Solution provides a complete and integrated HPC software stack that includes the operating system, simple cluster installer, cluster management tools, resource and application monitor, interconnect support, device drivers, and a powerful job scheduler.

Red Hat Enterprise MRG
Red Hat Enterprise MRG is a next-generation IT infrastructure incorporating Messaging, Realtime, and Grid functionality. It offers increased performance, reliability, interoperability, and faster computing for enterprise customers.
Follow and connect with us on Facebook, Twitter, LinkedIn, Elets video