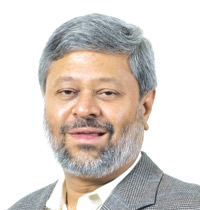 Sudhakar Ram
Chief Executive Officer
Achievements (2009-10)
SEI CMMi Level 5 (version 1.2)

Delivery processes certified at ISO 9001-2008

ISO 27001:2010 certification for Information Security Management for specific areas of the organisation ]

Ranked consistently in 2010 and 2009 Global Outsourcing 100 by IAOP: Best 20 Leaders by industry focus: Government n?Consistently identified among the Global Services Top 100 Innovative Services Providers in 2007, 2008 and 2009

Ranked in the Top 50 global outsourcing providers in "The Black Book of Outsourcing" published by the Brown-Wilson Group in 2009

Mastek's insurance solutions have been recognised with two Celent Model Carrier Awards in 2009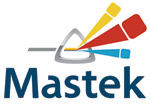 A Rs 722 Crore (FY 2010) publicly held IT company, Mastek has global operations providing enterprise solutions to government, insurance and financial services organisations worldwide. Headquartered in India, Mastek has offices across North America, Europe and Asia Pacific regions, with over 3200 employees.  With over 20 years of in-depth Government/ Public Sector domain experience, Mastek collaboratively works with the Central, State and Public Sector units. Mastek provides innovative and transformational solutions that help governments around the world deliver a wide range of services quickly and efficiently to their citizens. Mastek offers innovative IT solutions in select niche segments in the Government vertical that include Tax Administration, Public Distribution, Prison Management, Social Enterprise Management,  Education, Social Justice and eGovernance Services. Its envisions architect and delivers strategic programmes to support customers in their business transformation initiatives. Mastek works in partnership with its customers to help them use technology more effectively, drive down costs and meet the business challenges, while maintaining an outstanding implementation record. Mastek portfolio also includes business and technology services comprising of IT Consulting, Application Development, Systems Integration, Application Management Outsourcing, Testing, Data Warehousing and Business Intelligence, Application Security, CRM services and Legacy Modernisation.
Product and Services
Tax Administration Solution

Mastek has built cutting edge technology system for Tax Administration in India. It's an enterprise-wide solution, demonstrated to effectively manage all the critical operations relating to tax collection, administration and dealer services.
Public Distribution Solution

The Public Distribution Management Solution comprises of a comprehensive eFCS framework. This solution supports the management of the entire back-office requirements of the Food and Civil Supplies Department and also those of the fair price shops.
Education Institution Solutions

Implementing solutions to manage schools, colleges and universities, Mastek supports governments to enhance the quality of education and deliver innovative education programmes.
Social Enterprise Management Solution
Mastek transforms the delivery of social services benefits through the implementation of Cúram Soft- ware's richly functioning Social Enterprise Management Solutions.
Solutions for Transportation
Mastek combines its technological prowess, domain experience and collaborative programme management capabilities to deliver complex, large-scale solutions in the area of transportation.

Consulting services for Power Sector
Mastek along with its partners enable state power corporations to automate and re-engineer their Business Processes to make them efficient, effective and customer centric.
e-Governance Services
Mastek's e-governance solutions help governments improve their internal processes and deliver services to the citizens and businesses effectively.