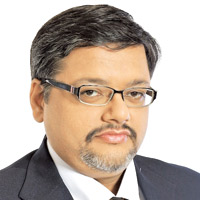 Rajan Verma
Channel Sales Manager,
Enterprise Line of Business
Achievements (2009-10)
Winner of WiMAX Distinction 2010 award

Won the Best in Public Safety Solutions Award for 2010

Telecom Asia Reader's Choice – Best WiMAX vendor

Alvarion listed twice as an honourable mention from NATOA Community Broadband Awards:

Alvarion and the City of Binghamton's Public Safety WiMAX Programme

Alvarion and City of Elmira Public Housing Wireless Programme

India 4motion Broadband Wireless Network Pvt. Ltd., which is a subsidiary of Alvarion (Limited), is a global 4G communications leader with the industry's most extensive customer base, including hundreds of commercial 4G deployments. Alvarion's industry leading network solutions for broadband wireless technologies WiMAX, TD-LTE and WiFi, enable broadband applications for service providers and enterprises covering a variety of industries such as mobile broadband, residential and business broadband, utilities, municipalities and public safety agencies. Through an open network strategy, superior IP and OFDMA know-how, and ability to deploy large scale end-to-end turnkey networks, Alvarion is delivering the true 4G broadband experience today (www.alvarion.com).
Alvarion was established in 2001 with the merger of BreezeCOM and Floware, two leading broadband wireless access equipment developers offering point-to-multipoint broadband wireless access solutions. Since both companies complemented each other in terms of product offering, geographical presence, customers and distribution channels, the merger enabled Alvarion to become a major player in the broadband wireless access market.
Alvarion viewed the birth of the idea for WiMAX in the wake of the telecom bubble in 2002 as a new window of opportunity for broadband access. Realising the potential of WiMAX to reduce prices and integrate better technologies, such as NLOS and OFDM, as well as increase capacity, the company became a founder member of the WiMAX Forum, the regulatory body established to smooth the way for WiMAX regulatory and certification issues.
Milestones in Alvarion's history include winning of the InfoVision and WCA awards for leadership in WiMAX technology in 2005; showcasing of 4Motion, an end-to-end mobile WiMAX solution in 2006; the establishment of Accton Wireless Broadband with Accton in Taiwan to develop mass market consumer devices for WiMAX in 2006; a live MobileTV demonstration in a moving vehicle using 4Motion and successful participation in the 802.16e plugfest in 2007; reaching over $100 million in WiMAX revenues early in 2007; and unveiling of the company's OPEN WiMAX strategy- an ecosystem of partners enabling the combination of Alvarion's BreezeMAX base stations with best-of-breed systems to create operator-centric network solutions for WiMAX.
Product and Services
BreezeACCESS family
A premium, outdoor Broadband Wireless Access (BWA) and connectivity solutions for a variety of applications in urban and rural deployments. Available in a range of licensed and license-exempt frequencies in the 5 GHz and 900 MHz bands, these widely deployed solutions offer enhanced security and capacity as well as top QoS for data, voice and video services.

BreezeNET family
The BreezeNET family of products provides efficient, cost-effective, secured point-to-point networking solutions. BreezeNET is optimised for building-to-building connectivity, covering distances of more than 60 km (37 miles) in difficult environments and weather conditions, delivering up to 250 Mbps for license-exempt frequency bands.
BreezeMAX Extreme 5000
BreezeMAX Extreme 5000 is the first wireless broadband solution to bring WiMAX 16e technology to the 5 GHz license-exempt market. This best-of-breed base station is designed for a variety of applications and business models and offers advanced air-protocol capabilities, superior performance using WiMAX Quality of Service (QoS) and enhanced coverage and capacity.