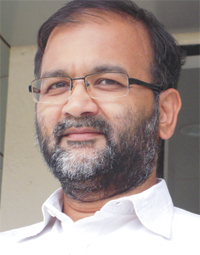 Milind Tamhane
Vice President- ITS Sales DIGILINK
Please tell us about the present status of DIGILINK India?
Today, according to IDC, DIGILINK is the No. 2 brand in the Indian Structured Cabling Systems (SCSs) segment. DIGILINK is the undisputed industry leader in providing the entire end-to-end range of structured cabling solutions for enterprises, small and medium business. Today, DIGILINK accounts for 18% of the market share in the SCS marketplace, giving the DIGILINK brand a premier position in the domestic market.
'PC Quest Users Choice Awards 2009' ranked DIGILINK as No.1 in India's Most Wanted IT Brands for Structured Cabling. In a channel survey done by CRN, DIGILINK has also been recognized as the 'Channel Champion' in Network Cabling 2009. It further received the award for 'Best Structured Cabling Brand 2009' by DQ Channel.
Which category of structured cables are currently the hottest in India and why?

Cat-6 has now become the industry standard, for fi bre media both Single mode and Multi mode; 50µm (50 micron) fi bre are equally popular. The reasons are obvious, the data communication media are cost effective and support high speeds compatible with upcoming technologies and speed requirements.
In your experience, which vertical segments are driving the demand for cabling solutions? How have these segments evolved lately?
Data Centre installations have been the largest verticals in the SCS Industry last year. A close second are the State-owned Wide Area Networks (WANs)
One has to consider two aspects- Firstly, newer verticals embracing structured cabling as essential services, secondly structured cabling itself has not got broadened and re-christined as Information Transportation System, that means even design and usage of media like infrared, Wi-Fi, WiMax is now within the purview of ITS services.
While we have planned residential projects, townships and commercial complexes as big new drivers, we also have educational institutes like schools considering ITS deployments as must. Financial institutions are now spreading their wings in C class cities and rural areas that is yet another new vertical.

DIGILINK currently has about 18% share in the structured cabling market in India as per IDC. What is your target for the year 2010 and what will be the top three initiatives to achieve that?
This year we will be primarily focusing on the following vertical – Government (PSU) and Education, BFSI (Banking, Financial Services and Insurance) and Healthcare.
The top three priorities for DIGILINK are to:
a) Strengthen DIGILINK's market share in enterprise segment in India
b) Promote DIGILINK brand in SAARC and Middle East
c) Ensure high brand visibility

Which products are going to drive the DIGILINK market for 2010?
This year our focus is on developing products suitable for Data Centre, FTTH (Fibre To The Home) deployments and 10G over Copper. We would parallely be working for products for Internet Ready Homes.
What is DIGILINK's competitive advantage over the competition?
Our presence across the entire value chain:
1.Research and Development
2.Intellectual Property Rights
3.Manufacturing
4.Marketing and Distribution
5.Service Support Integration

How do you focus on service support?
Our high quality and reputable after sale services are strategically built to deliver customer satisfaction. We offer fi rst-rate integrated service and support through our special service division, DIGICARE, which consists of RMA centres, DIGICARE Technical Assistance Centre (DTAC) and Direct Service Department (DSD).
DIGICARE has evolved the most effi cient, skilled and professional state of service infrastructure. It has 18 Direct RMA/Service centres and 6 Service Partners across the country, with as many as 165 skilled personnel. 12 Locations have BGA Machines. All Digicare Centres are located in the main IT markets of the town. DIGICARE has a Unique webbased RMA Online System 'iSMART' to monitor service activity, online repair status update, automated email and SMS alerts system and warranty tracking.
DIGICARE has, over time, attained expertise in repair skillset for all networking products, motherboards, notebooks, PDAs and LCD monitors etc.
What is the strategy to sustain the brand image?
Anchored by an extensive marketing and distribution network, DIGILINK has emerged as a prominent player in the structured cabling category in India. Well-conceived branding strategies, coupled with a business framework that delivers value, quality and effi cacy are instrumental to the company's success in the competitive market. Integral to its business model, is a widespread marketing and distribution network that ensures deeper market penetration.
It imparts rigorous training to its sales and channel partners to enhance its brand positioning and visibility in a competitive marketplace. Investment into  trainings is seen as a signifi cant business enabling tool for the company. Multi-city events, roadshows, DCCE trainings, distributor meets, EVSI meets and sponsored events are conducted on an ongoing basis.
A meticulous and perceptive marketing plan including public relations, corporate stories and guest articles has succeeded in establishing DIGILINK's brand identity. Its marketing team is working towards the objective of building a strong corporate image that enables business association to further endorse and promote the brand.

What are the new products that you are launching?
We have aligned ourselves for focused approach in a few areas like Intelligent Patch Panels, Bigger Fibre Business in LAN/WAN and also in FTTH. In addition, we plan to add a lot of highend products including high density 48P Patch panels, Residential Equipment cabinets and so on in our repertoire. Our indigenous development team has created new patented products about which it would be inappropriate to detail further.

From the vertical perspective, which are the markets are you focusing?
The vertical which we will be targeting will be:
1.Data centres
2.Manufacturing
3.BFSI
4.PSU
5.Education
6.Government
7.Infrastructure

What is the present turnover of the company and what kind of growth do you want to see this year?
Ours is a public limited company hence we cannot offer exact values. We, however, have reached a higher position in the SCS Industry last year and will continue to maintain the same position next year with comfortable margin from the 3rd position. We will certainly be achieving 5% extra growth than the industry growth of 20%.
"Exciting news! Elets eGov is now on WhatsApp Channels 🚀 Subscribe today by clicking the link and stay updated with the latest insights!"
Click here!