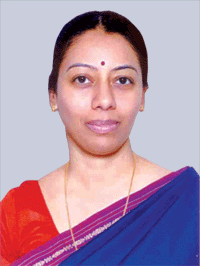 "IT services would enable the municipal corporation to provide an effective, prompt and cost effective response to the citizen needs, in a manner that takes care of the citizen's individual needs and convenience." says S. Aparna, Municipal Commissioner, Surat Municipal Corporation to egov magazine.
How is IT being harnessed by Surat Municipal Corporation?
Being a local government at the city level, Surat Municipal Corporation (SMC) provides a wide range of services to citizens. These include services pertaining to health, sanitation, education, safety and utilities such as water supply, drainage, street light, roads etc. Apart from optimal utilisation of finite resources with the corporation, efficiency, promptness, quality and cost-effectiveness are the critical parameters on which the delivery of these services are evaluated.
IT enabled systems have been put in place in SMC to enable standardising the processes, obtaining timely and accurate information and reducing the response time. The following functions/activities of SMC are benefited by the use of IT:
Utilities/ Services Management

Project Management

Quality Monitoring

Energy Efficiency

Finance and Accounting

Revenue Collection

Material Management

Human Resource Management
Surat Municipal Corporation is one of the pioneers in harnessing the power of IT. It started way back in 80's before IT use became ubiquitous. The corporation developed and implemented computerised payroll, property tax, vehicle tax and pension systems during 1982-85; put the property tax system online (Intranet) in 1990 and started computerised double entry accounting system in 1992. Almost every income related function has been computerised for timely issuance of bills, faster tax collection at single points of contacts like the citizen facilitation centres across the city.
Moreover, SMC has used Management Information System (MIS) for monitoring and grading services like sanitation, maintenance and efficiency of street lights, preventive and curative health activities, complaint management service, etc. Long time familiarity with computerised budgeting has helped tracking capital projects for their scheduled commissioning and reducing the time-to-benefit for the citizens. SMC has also a well designed and highly informative website where all relevant information is available to the citizens.
Do you think IT can help in speeding up the work of municipalities? Also, can it provide easy accessibility of services to people?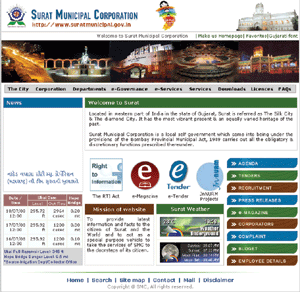 Most of the services offered by a municipal corporation involve interface with citizens. Generally a chronological history of interaction with citizens for all the services offered need to be maintained for functions like birth/death registration, electoral lists, professional and property tax collection, vehicle tax collection, shops and establishment registration, etc. All this is required to be carried out in accordance with the statutory provisions of the acts and rules governing them, which pre-date the advent of computerised record keeping and data movement. Earlier the physical movement of papers and files was necessary to comply with the procedures. Delays in some of these cases gave a general feel of slow speed of the overall systems.
But with computerisation of these systems, the response time has improved drastically. A user friendly registration mechanism helps in capturing the information quickly and accurately. A robust data management system helps in retrieving all these data quickly, whenever citizen visits for any follow up or new transaction. Now, with better case tracking and summarised MIS, delays and exceptional time lags get noticed by the upper management and overall speed of transactions is faster. Most of the retrieval of computerised records is over-the-counter and follow-up transactions get committed over the counter in single visits.
Surat Municipal Corporation has started 'city civic centres' that act as single-point outlets for the citizens to access various civic services. These centres have a string of computers on the network and allow the citizens to avail various facilities.
The following services are being offered through the 16 city civic centres in Surat:
Birth and death registration and certificates

Shops and establishment registration, issuance of licenses, renewal, duplicate license, closure of establishment

All types of revenue collection including property tax, water meter charges, vehicle tax, professional tax etc.

Revenue collection of tenements, Economic Weaker Section (EWS) houses and shopping complexes

Complaint registration

Booking of auditorium, halls and open plots

Submission of all types of applications

Distribution of all types of forms/publications of SMC
How is IT bringing in transparency in the functioning of municipalities?
Use of IT helps in standardising the procedure to be followed for delivery of the service. Also, if the rules, regulations and procedures are properly mapped, little discretion is left to the staff involved and the service delivery mechanism can be standardised. Defining the standard time-lines for completion of tasks and incorporating that into the system helps in identifying points where the time consumed varies vis–à-vis the permissible time span.
With computerised system of property tax, the due date for taxes, the time stamps of bill  generation and taxpaid receipts, interest calculation and further treatment of collection is  very objective and without any human intervention; this has helped to strengthen the confi  dence of citizens in equitable treatment and fairness in all cases. Automated credit of salaries  for more than fi fteen thousand employees of SMC has achieved confi dence from employees for  assurance of timely compensation right from an unskilled worker to executives.
As far as development works are concerned, the City Development Plan, the list of JNNURM  projects and works sanctioned under Corporators' Fund are all accessible to people through the website. The annual budget and monthly and weekly revenue expenditure statements are also  available on the website.
The Corporation is now developing a system for granting approvals of building plans online. A  pilot project in the West Zone, for linking the property tax database with spatial plans has  been launched on a GIS platform and the same is to be extended to the remaining zones. These  systems will enhance transparency in planning and development functions of the SMC.

What are the challenges that cropped up while implementing IT services in Surat Municipal Corporation?
The biggest challenge was the change management. Adopting keyboard for running the  systems and processes, at fi rst, appeared daunting for hundreds of frontline clerks and  counter operators. Computer and system related training was imparted to the staff so that  they attained the working knowledge and gained confi dence in handling the applications.  The departments/employees having tested the fruits of computerisation are now eager to try  to incorporate IT enabled solutions in more and more processes. However, some departments  and employees are more attuned to computerisation than others. Integration of applications  and systems developed in different departments and at different points in time is also a major  challenge for the Corporation. This is where the IT department comes into play with a standardisation policy and norms.

What has been your experience of introducing technologies like Geographic Information System (GIS) in Surat Municipal Corporation?
Almost every service delivered by the SMC has geographic/ locational attributes attached to  it. GIS based decision support systems help in closer integration of these services and enable  the Corporation to plan ahead for introducing, implementing and augmenting these facilities.  This is as true for correlating planning with building permissions and tax collection  statistics, as for monitoring birth statistics with reproductive and child health care  programmes, correlation between sanitation effi ciency, parasite proliferation and public  health statistics, fresh water pipeline leakage, resolving water pressure discrepancies,  correlating drainage congestion with throughput capacity planning and many other  functions. In view of the earlier manual systems SMC, like other municipal organisations in   he country, has different maps for every departmental function like property tax wards,  election and census wards, health and sanitation wards, town planning scheme boundaries,  etc. This has led to some start-up challenges for GIS integration. However, the effort is to start  with spatial planning maps and build layers on it relating to the various services in a phased  manner to create an integrated GIS based enterprise wide system.
What is the future of IT   services you see in Surat Municipal Corporation?
IT services would enable Surat    Municipal Corporation to provide an effective, prompt and cost  effective response to the citizen needs, in a manner that takes care of the citizen's individual  needs and convenience. We look towards enhancing the optimal utilisation of material  resources as well as time, effort and manpower by proper deployment of IT services. An effi  cient interoperable infrastructure can also get operationalised once the central government fi  nalises and operationalises the technical standards and gateway services.
Follow and connect with us on Facebook, Twitter, LinkedIn, Elets video