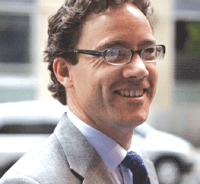 Q. Give us a broad outline of the projects of the Global Nomads Group.

Global Nomads Group (GNG) is an international NGO that delivers interactive educational programmes for students. GNG does this in two ways: (1) Global Virtual Classrooms, where students learn about and discuss subjects with their peers from around the world in live, facilitated lessons via videoconference; and (2) Videos and learning content on a variety of subjects relevant to teachers and students. All of GNG's programmes are directly linked to school curricula and education standards, and provide lesson plans and training to teachers. Programmes covers a range of topics like civics, social and global studies, geography, world history, science, politics, and 21st Century skills. In the course of participating in GNG's programmes, students learn about each other and their cultures, and become aware of global issues. In short, we bring the world into the classroom.
Q. What are your plans for connecting young people around the globe? How do you make it happen?

During the 10 years that Global Nomads Group has been operating, we have run programmes in more than 40 countries and reached over 1 million people. As a result, GNG has developed a solid knowledge base about interactive, ICT-based education, and about how young people become global citizens.
We are now building on this expertise to engage more students and schools in more effective ways. Interestingly, we have found that as a result of the live nature of the programmes, the academic topics become more relevant to students' lives, and even moderately interested students become active in the classroom. We have also found that students are eager to learn about their peers in other parts of the world over sustained periods. So we have begun to increase the number and diversity of interactive programmeme offerings, to develop long-term connections between schools.
We make these connections happen by constantly adding schools to the GNG network all over the world, by developing innovative and relevant programmes for classrooms, as a fully integrated part of the curriculum. These programmes are also aligned with education standards.
Q. What issues/concerns do you address in the education sector through your project?

I think first and foremost, GNG helps young people under-stand global issues and how it affects their daily lives. GNG also helps young people from around the world speak to each other and learn together. This is an effective strategy for learning a range of subjects, including social studies, geography, science, history and politics. It also helps students develop a global perspective. GNG's programmes are in general based upon child-centered and project-based learning, global citizenship, & development of 21st Century skills.
Q. What is your vision for expanding global collaboration? How do you see the 'eINDIA' forum giving a platform for this vision?

We have mapped out a plan to do more of what Global Nomads Group does well: that is to help young people learn about global issues and their peers through interactive, international dialogue. We are doing this by increasing the number of programmes and by developing long-term programmes with schools in specific countries including India and the US. We are also keeping the programmes
cost-effective.
Q. What are the challenges in accomplishing the objectives of the project?

The biggest challenge is ensuring that the programmes are relevant to teachers and students in different parts of the world. So we spend a lot of time listening to teachers, educators, decision-makers and students, and we are constantly learning.
There are also technical challenges, particularly when GNG runs live programmes via Satellite link from areas with limited connectivity. But we are committed to providing innovative programmes, and often the best ones take place in remote areas. For example, from October-November 2008, GNG will help organise a series of videoconferences with scientists on an expedition in Antarctica about climate change. This will be a fascinating way to learn about how and why one of the coldest places on earth provides clues on global warming.
Q. Please shed some light on your partners/supporters, at the government, private sector level.

GNG has been fortunate to have a group of terrific partners for many years. One key partnership is with Polycom, which creates videoconferencing hardware and software. More than this, Polycom has a strong and long-term commitment to improving education, which we have found to be very helpful.
Q.Are there any upcoming educational programmes that might be of interest in the education community in the Asian region?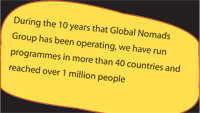 GNG is currently developing the 'Virtual Classrooms Initiative' for schools in India and the US to have an ongoing virtual exchange. I believe the time is right for such a programmeme, and there would be significant benefits for students in both the US and India.
Follow and connect with us on Facebook, Twitter, LinkedIn, Elets video