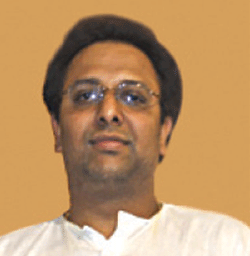 Kalyanaraman Srinivasan, popularly known as Kal Raman, is the Indian born CEO and founder of GlobalScholar.com. He hopes to establish the on-line education platform for teachers, parents, and students in India. Hailing from a remote village in Tamil Nadu with no electricity or running water, the entrepreneur has hopes and dreams of making education easily accessible in India. With the mission to 'empower the world to learn', Kal shares his experiences and journey with Digital Learning.
When and how did your journey towards the path of empowering through education begin?

It started with my life. I was born in a family of five children and our father passed away when I was 15 years old. Our mother brought us up with a pension of INR.420 per month. We lived in a house with no electricity or running water in remote village in Tamil Nadu (Mannar kovil). Our mother made sure we got educated. I am who I am today because of my education (God's grace played the crucial role with good people helping me along the way). So, this concept of empowering through education is very personal and
believable for me.
Could you give us a business overview in terms of the service, product, revenue and performance?

Our business is to empower the teachers, students, parents, and administrators with tools to improve the student outcome. These tools could be used in the class room to manage everyday curriculum, test student progress towards objectives, inform parents/administrators about the student progress etc. These tools can be used to provide supplemental corrective or enrichment education in a 1:1 or 1: many set up also. We also provide information about educational institutions, news, games etc. Our goal is to empower people in the educational value chain with user friendly cutting edge technology. We look at revenues and profits as output variables, but we focus on only one input variable which is 'customer experience, one customer at a time'.

In what ways will this concept of an on-line education platform enhance the teaching and learning experience?

These tools will facilitate discipline in teaching and learning. As you know 'discipline breeds creativity'. The advantage of providing technology based tools is that we can provide personalised teaching and learning experience for every teacher and student.
How in your opinion will this service change the way educational programmes are currently delivered?

For the first time ever, the educational fraternity will get access to real time and actionable information to impact the student outcome. Multi-national businesses have such infrastructure today to make critical business decisions, but education as an industry is behind in terms of 'knowledge based decision making'. We are trying to make the education industry which inculcates knowledge in individuals to have these knowledge based decision making tools. This will empower everyone in the value chain and the final output will be an 'improved student learning outcome'.
What makes GlobalScholar different from other on-line services?

GlobalScholar is the first company which is attempting to put end-to-end 'knowledge based decision making' in to the knowledge industry. Various successful companies solve problems in the niches but we are the first ones to build a huge infrastructure to provide end-to-end infrastructure to solve the problem holistically. Be it in a classroom, off the classroom, information on educational institutions, sharing relevant news/happenings etc we try to customise the information for the teacher and student. We are also the first company, which is trying to be neutral to content, grade, country, language, etc. This is a huge undertaking which requires passion, commitment, and relentless execution. This dream may take years or even decades to realise, but we are patient
and focused.
How do you rate GlobalScholar in the international market? How has the product fared in the on-line Indian market? In terms of market penetration and acceptance, where do you see GlobalScholar?

Our name suggests the fact that we want to be global. With no marketing, we are ranked highly in terms of traffic in many countries like the USA and India (Alexa ratings). User acceptance will be dictated by the market and technology trends in various countries. We try to think global and act local. For example, we are aware of the low Internet penetration in India (but a high wireless adoption), so we will tailor our solutions accordingly. Everywhere in the world the customers want great customer experience at cheaper prices and that expectation is constant irrespective of the geographical location and we will work towards meeting that expectation. The results will take care of themselves.
In terms of the US, I believe education will be a hot sector. Currently, the big business sectors are technology, media, energy, etc. Education is not yet a blue chip sector. For the US (and any other country) to maintain a robust economy and remain a player in the global business field, there needs to be a solid educational foundation.

Which level of education is GlobalScholar currently covering- secondary, higher secondary, etc.?

We stand for life-long learning. From K through college and beyond.
Multi-national businesses have such infrastructure today to make critical business decisions, but education as an industry is laking in terms of
Follow and connect with us on Facebook, Twitter, LinkedIn, Elets video