The Haryana State Wide Area Network is scheduled to be inaugurated on February 5, 2008.  This will make it the first SWAN in India.  Tulip IT  is one of India's largest Data Telecom Service Provider and has been a pioneer in e-Governance services. The company was selected as the BOOT operator for the Network and has setup the entire network in partnership with the state implementing agency.
Haryana SWAN (HSWAN): ADHAAR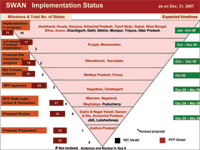 The Government of Haryana (GoH) has laid a strong emphasis on building state -wide IT infrastructure to improve delivery of public service. The state's objective is to provide infrastructure for long-term growth and it seeks to create the right governance mechanism in order to achieve its goals.  The network aims to create an integrated service delivery platform for citizen-centric and business-centric services. The GoH in this regard has taken strides on the path of e-Governance and has managed to be the first state with a fully implemented State Wide Area Network.  Tulip IT Services Ltd. which chosen to implement the project and has successfully done so.
Tulip has implemented HSWAN as a total IP Network, based on open standards for Voice, Data, Images and Video traffic, on a three level vertical structure comprising of:
First level: SHQ and various departments at Chandigarh.
Second level: DHQs and various departments at each district HQ
Third level :127 Blocks/sub-divisions/ tehsils/ sub-tehsils, in addition horizontal connectivity spread across 280 offices of various departments have also been provided.
The implementation of the Haryana SWAN, the contract for which was awarded to Tulip IT Services Ltd is now successfully delivering the required services. Haryana State Electronics Development Corporation Ltd (HARTRON) is the government body that owns the entire implementation process of SWAN.
The contracts was awarded on a BOOT (Build, Own, Operate, Transfer) model for five years whereby Tulip IT Services Ltd will implement the entire network,  own and operate the same for a period of five years.
Designing and implementing ADHAAR with SHQ, Chandigarh and all 20 DHQs, Haryana Bhawan, New Delhi, are connected through MPLS cloud of the service provider. All the horizontal connectivity of offices at Chandigarh and at various DHQs are terminated in State Network Management Centre (SNMC) at a New Secretariat, Chandigarh and District Network Management Centre (DNMC) at each DHQs respectively.
Tulip is also responsible for the monitoring and management of the entire network, which is being done through a centralised Network Management System (NPS) and enterprise management system at SNMC in New Secretariat, Sector 17, Chandigarh, Haryana.
The network has end to end secure communication through VPN and supports seamless transformation and integration of protocols based on open standards as well as open NMS support for monitoring, configuring and measurement of the network resources.
Some Salient Features

a) A Network Backbone spanning 20 districts, Haryana Bhawan , New Delhi, Haryana Civil Secretariat, Chandigarh and 127 blocks/sub-divisions/ tehsils/ sub-tehsils, powering various government and citizen service applications.
b) Integrated Voice and Messaging Infrastructure for various government departments/users up to the block level.
c) 22 locations video conferencing platform enabling the senior officials and department of the state to have district level meetings.
d)  Round the clock Helpdesk and 'Knock' Services for operations and maintenance.
e) End to End IT Infrastructure Management spanning all devices, processes and people.
Follow and connect with us on Facebook, Twitter, LinkedIn, Elets video