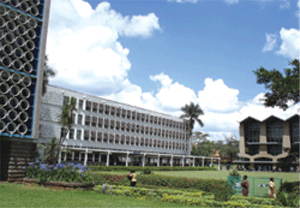 The University of Nairobi is a pioneer institution in university education in Kenya and in the region. Established in 1956, the university has upheld its tradition of delivering diversified academic programmes and specialisations in sciences, technology, humanities, social sciences and arts. Currently the University has developed and evolved approximately 200 education programmes that are disseminated across the seven campuses located in the capital city of Nairobi, Kenya.
Far cry from the earliest years when the University was transformed from the existing Royal Technical College into the second University College in East Africa, in 1961 under the name, Royal College Nairobi. The University began preparing students in its Faculties of Arts, Science and Engineering for degrees of the University of London. Other faculties, such as the Faculty of Special Professional Studies (later called the Faculty of Commerce) and Faculty of Architecture offered diplomas for qualifications of professional bodies/institutions.
On May 1964, the Royal College Nairobi was renamed University College of Nairobi, and was designated a constituent college of the inter-territorial Federal University of East Africa. This meant that the degrees awarded were of the University of East Africa and not of the University of London. Come 1970, the University College Nairobi underwent another transformation and emerged as the first national University in Kenya. However, another change was in the offing, which saw the University renamed as the University of Nairobi.
In 1983, the University restructured itself in order to decentralize administrative facilities by creating six campus colleges headed by individual principals. These are:
College of Agriculture & Veterinary Sciences (Upper Kabate Campus)

College of Architecture & Engineering (Main Campus)

College of Biological & Physical Sciences (Chiromo Campus)

College of Education & External Studies (Kikuyu Campus)

College of Health Sciences (Kenyatta National Hospital Campus)

College of Humanities & Social Sciences (Main Campus
Follow and connect with us on Facebook, Twitter, LinkedIn, Elets video