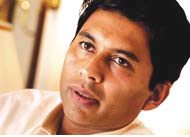 Anurag Jain, IT Secretary, Madhya Pradesh
Firstly, could you tell us about the progress made by  Madhya Pradesh in making it an e-Ready state?
Madhya Pradesh has taken a lot of steps in making itself an e-Ready state. We had our IT policy,  revised in 2006. So now our IT policy matches with the best of the policies any state government has.
In terms of e-Governance, we have done a lot of projects and I would say we are just behind the leaders like Andhra Pradesh and Gujarat. Madhya Pradesh would figure in the top five.
What are some of the best PPP practices in your state?
Madhya Pradesh was one of the leaders in PPP practices, and I am talking about PPP in general, and not just ICT alone. Madhya Pradesh was one of the first states to start the road sector project under PPP and we have already completed about 4,000 kilometers of road under PPP. As far as PPP in ICT is concerned, our system of Transport Project is a PPP project. We have selected a private vendor, who charges money from the clients and does everything for us and we in turn get the back end of the database and the front end is managed by the call centre.
The Samadhan Kendra is a free model that we have given to our districts. In the guidelines we have given three models and one of them is PPP, to certain districts. One of the best implementors is Indore. They have used the PPP model. They have selected a private vendor who runs the front end for them, and the back end remains with the government. So there is a lot of scope for PPP and we have been using it in a very innovative way.
What are your experiences so far?
It is a question of keeping proper check and balances.  If you do not keep proper check and balances, then the PPP partner might end up ruining your reputation, if the project does not function properly. He has to deliver the services but if it a properly drafted document, your (Request for Proposal) RFP and the Service Delivery Agreements are properly drafted, then it is not an issue rather it is able to synergies the strength of the private sector and the authority of the government sector properly.
If it is done properly, it is a good system because in the government it is very difficult to even hire new manpower, to get through with your finances is also very difficult and if you build up the PPP model, you are actually not going through any of these procedures.
What are the best opportunities for the private sector in implementing the various e-Governance projects running in your state?
All the new projects being thought of, are, I would say opportunities, like right now we are in the process of finalisation of SWANs, CSC and our transport project is through with its life cycle and now it is being replaced by a newer project, the treasury automation project is also through. It received the Global Icon Award. It is one of the most well done projects but we want to change it in terms of technical architecture because we want it to operate from all the offices as also, from the user end  departments. Right now,  it was from the supplier end-service delivery department point of view. So any project that comes is an opportunity. Now all the Mission Mode Projects are starting. Thus, computerisation is changing the state governments  in a big way, so most of these projects are big opportunities. We have the basic strengths, like we have almost 23,000 kilometers of optical fibre, which is the very basic strength of the state.
Regarding the Common Service Centres, what are the services that are planned to be delivered and what are the steps being taken for a better user-experience? What is the stauus of SWAN?
What I would confess right now is that Common Service Centres have not yet begun in the state. We are in the process of finalisation of the vendor, which we will be able to do by the month of December, after that the actual infrastructure would come in place. But when we talk about Common Service Centre, the project  Samadhan Kedra, which is something similar, but of course is centered at the Collectorate level so it has slightly different kind of services. After conducting proper work shops and brain storming with the field officers, we had zeroed in on 23 services. Those 23 services are originally readymade and we will have a look at them again once the infrastructure is ready. Our selection of vendor, for SWAN, would be through by the end of 2007. Three major things will be finishing in December: Selection of our joint venture partner for our IT SEZs (Special Economic Zone). Second is SWAN and the third is CSC. All these will be finalised by 2007.
What is going to be your main focus for the next few years?
I dream of a system where there is less paper governance and more e-Governance.
Follow and connect with us on Facebook, Twitter, LinkedIn, Elets video