Over twenty years ago, when Dave Martin and I created SMART Technologies Inc., we wanted to do something significant,  something that would change how people undertook and completed their work. We didn't exactly know how and we didn't really know what, but we were determined to have an impact. We have never really accepted that things should be done a particular way if that way didn't make sense to us in the context of our environment or fit with what we wanted to accomplish. We both feel that we have created a company that is revolutionizing the way that teachers teach and children learn. It is this higher mission that drives our people and our decisions today.
Someone's going to do something
We never let the fact that we were from Calgary (a city best known for oil and gas, cowboys and the 1988 Winter Olympics) or that we had never created and sold a product around the world stop us from dreaming big. We always thought that someone somewhere was going to do something important and that it might as well be us. This thought played in our minds over and over as we struggled through the earlier years when no one understood our product or bought into our vision. Even in the darkest days we talked about changing the way that children learned and business people worked.
Dave's idea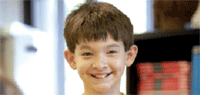 It was in the course of trying to figure out how we would use liquid crystal display technology (something that is old hat today but that was very new at the time) that Dave imagined a system that included a computer connected to an LCD projector (actually an LCD panel sitting on top of a standard overhead projector) and an interactive whiteboard. He imagined that people would be able to connect to and communicate with other people located anywhere in the world. Many of the enabling technologies that make the SMART Board interactive whiteboard so functional and versatile today didn't exist those many years ago
Follow and connect with us on Facebook, Twitter, LinkedIn, Elets video