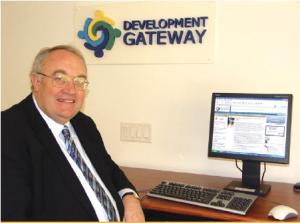 Q What is the broad goal and visionv of e-Government programme of Development Gateway Foundation in general and e-Procurement programme in particular?
A.The Development Gateway Foundation provides web-based tools to strengthen governance and make development efforts more effective by increasing effi ciency in government procurement, improving financial management and aid coordination, and enabling knowledge sharing and collaboration among development practitioners around the world. The Foundation specializes in affordable solutions for developing countries based on open source software and common standards.
The objective of the e-Procurement program is to increase competition for government contracts, thereby cutting costs, while giving small and mediumsized enterprises easy access to business opportunities. We seek to accelerate the introduction of web-based tendering in developing countries, eventually leading to a "one-stop shop" for government tenders worldwide. In addition, the Foundation provides small e-Procurement grants to provide wider capacity-building and institutional reform in countries such as Lebanon, Morocco, and Tunisia.
Development Gateway Foundation is assisting partner governments in bringing out Procurement reforms. Have you introduced the necessary laws and regulations to support e-Procurement solutions at the national level (e.g. rules allowing eauctions or e-bidding processes; legal requirements for identifi cation of bidders and suppliers)?

The Development Gateway Foundation specializes in providing tools for development. While we have been engaged in providing legal advice on procurement reforms in the past, now we focus on offering partner governments an online procurement platform (called dgMarket) that enables them to launch a national online procurement system comparable to that in the EU or Canada in a matter of weeks.
What are the main features of your organisational approach to e-Procurement? What kind of procurement activity is e-enabled and at which stage?
Most of the public sector procurement in the world is done through sealed bid auctions (tenders). In industrial countries, it has been estimated that the introduction of e-Procurement systems, supported by updated laws and regulations, has led to cost savings of at least 5 percent. Importantly, most of the savings are due to benefi ts that are associated with relatively simple fi rst steps of introducing e-Procurement solutions: making tenders mandatory for all large contracts, and publishing notices, bidding documents, and contract awards via the Internet. We focus on providing a platform that supports these important steps.
What are the main technical challenges in maintaining and developing IT systems, which support procurement solutions?

The biggest challenge in developing e-Procurement systems is the lack of widely adopted data exchange standards, which leads to the incompatibility of various procurement systems. As a result, government procurement markets are heavily fragmented. For example, in the United States, where state and local governments do not participate in a common system, there are several hundred procurements systems that do not talk to each other. The situation in the developing world is somewhat similar. Only large companies can
track multiple procurement markets simultaneously. This cost is prohibitive for small and medium-sized enterprises. At the same time, smaller procurement markets mean higher prices for governments. In order to facilitate information exchange, dgMarket aims at integrating information from various national procurement markets. For example, a representative of a Turkish construction company once told us that he does not have time to search newspapers and Web sites for contracts. Through dgMarket he was able to bid on and win four contracts in Romania.
Have you developed technical standards (e.g. for data exchange) and requirements to allow systems interoperability? How successful is the application of these standards?

Yes, recently we introduced a simple XML standard for exchanging data with our partners. Currently, it is used by our partners in five countries and we plan to continue adding several countries every year. dgMarket complies with European Union e-Procurement standards. It uses standard procurement terminology and allows data exchange with other tender information systems, for example at the provincial and local level. In addition, it may be integrated into larger fi nancial management and procurement systems.
Tell us about dgMarkets tender publishing platform. How are they helping the governments in developing countries in saving government spending and achieving transparency in procurement process?
dgMarket enables national and local government agencies, as well as multilateral development banks, to post their procurement notices online. It includes tenders funded by the World Bank and other aid agencies, plus all large tenders for over 30 countries, whose data is integrated either via data exchange or by hosting national versions. Presently, dgMarket is available in 20 languages and carries about 30,000 tenders at any given time, which amounts to $530 billion worth of procurement each year.
Various studies indicate savings from transparent and competitive procurement range from 5 percent in stronger environments to 20 percent in weaker ones. A Foundation study of the impact of dgMarket on World Bank procurement alone shows savings of $50-150 million per year. A 5 percent reduction in public procurement costs across developing countries would yield savings roughly equivalent to the total amount of global aid ($100 billion).
Follow and connect with us on Facebook, Twitter, LinkedIn, Elets video