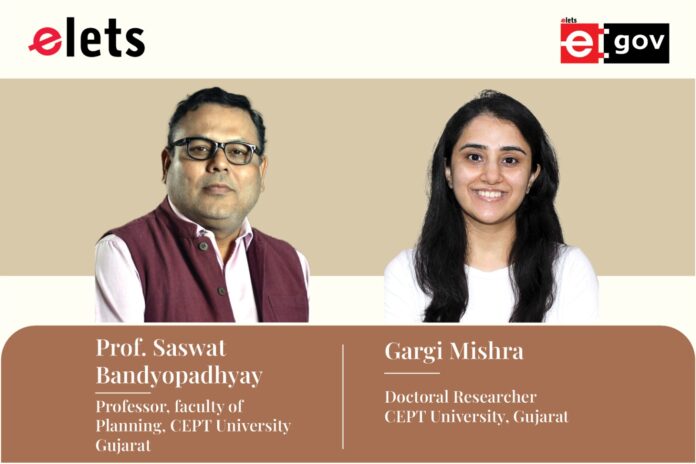 Indian cities are increasingly facing climate change-induced risks associated with extreme events like urban flooding, heat stress, water scarcity, and droughts. Such challenges are accentuated due to legacy gaps and the lack of quality infrastructure planning in Indian cities. Quality Infrastructure Investment (QII) planning, which combines the city's development goals, land use, and infrastructure, has become an increasingly essential building block for resilient cities in the Global South.
Introduction
India is one of the fastest-growing economies in the world, aspiring to become a US$5 trillion economy by 2026 and US$40 trillion by 2047. However, rapidly urbanising Indian cities are also increasingly facing climate change-induced risks associated with extreme events such as urban flooding and heat stress. These emerging climatic shocks and vulnerabilities of Indian cities are often accentuated due to legacy gaps and the lack of quality infrastructure planning. The long-term visions of statutory land use plans (Master Plans or Development Plans) often do not align with the short-term infrastructural project goals. This disintegration hinders quality infrastructure investments (QII)1, which are essential for building resilient economies, as was also promoted in the recent G20 meet.
As this year's UN World Habitat Day focuses on "Resilient Urban Economies: Cities as drivers of growth and recovery", it is time we move forward towards inclusive and resilient strategies by prioritising the integration of land use and infrastructure through quality infrastructure investment planning.
Why Quality Infrastructure Investment (QII) Matters in Indian Cities?
A study conducted by Padmanabhi et al. (2022) for tracking investments in climate-resilient infrastructure (CRI) across global projects shows that "for every 1 USD spent on CRI, 87 USD was spent on infrastructure projects which do not integrate climate resilience principles". Clearly, there is a substantial gap between climate- resilient actions and the majority of infrastructure projects today, suggesting that investments in resilient investments are still novel. As infrastructure is a driver of economic prosperity and sustainable, inclusive growth, there is a pressing need to align infrastructure investments with climate resilience, particularly for highly vulnerable countries like India.
According to the Gross Domestic Climate Risk Index (XDI, 2023), India, along with China and the US, comprises 80% of the world's top 50 vulnerable states. From India, states such as Punjab, Bihar, Uttar Pradesh, Assam, Rajasthan, Tamil Nadu, Maharashtra, Gujarat, and Kerala fall into this list. Importantly, some of these states, like Maharashtra, Gujarat, Tamil Nadu, and Uttar Pradesh, are among the highest contributors to India's GDP. Therefore, to sustain and boost economic growth further in various states, it is essential to adopt the principles of Quality Infrastructure Investments, as elaborated subsequently.
Six Principles of Quality Infrastructure Investments
Maximising the positive impact of infrastructure to achieve sustainable growth and development
Raising economic efficiency in view of life-cycle cost
Integrating environmental considerations in infrastructure
Building resilience against natural disasters
Integrating social considerations in infrastructure investment
Strengthening infrastructure governance
Fragmented Planning in Indian Cities
The current urban planning regime in India bears the imprint of its colonial past, having adopted from the century- old British Town Planning system that emphasizes land use and zoning principles. This approach involves preparing long-term land use plans, commonly known as Master or Development Plans, to regulate and promote orderly spatial growth via expansion, renewal, and densification strategies. However, this planning method often overlooks the essential two-way relationship between infrastructure and land use, resulting in a siloed approach to sectoral infrastructure project planning. Various infrastructure plans, such as city water supply, sanitation, solid waste management, transport, and urban renewal, are now emerging independently with limited land-use and cross-sectoral linkages, which will be discussed in the subsequent section.
Also Read | Ensuring Water Security The Cornerstone of Resilient Urban Economies
Piecemeal Infrastructure Delivery
Reactive Planning: Since the beginning of the 21st century, urban infrastructure development has followed a piecemeal, project- oriented approach, primarily driven by centrally sponsored schemes. In 2005, with the introduction of JNNURM, state and local bodies became increasingly drawn to infrastructure development investments via public-private partnership projects. Consequently, numerous infrastructure projects sprouted through non-statutory City Development Plans (CDPs), Detailed Project Reports (DPRs), City Sanitation Plans (CSPs), and more. This trend persisted with the initiation of the Smart Cities Mission and AMRUT in 2015, and more recently with the National Infrastructure Pipeline (NIP) and AMRUT 2.0. This "DPR-oriented" infrastructure planning method has remained ad-hoc, lacking any statutory foundation. For instance, a city like Varanasi formulated over 30 DPRs for a varied range of infrastructure projects, but none were integrated with the official urban planning framework.
Way Forward Integrated Land- Use-Infrastructure Planning for Resilient Economies
Climate Resilient Infrastructure Investments for Indian Cities
Cities house a substantial portion of a nation's infrastructure, which must be resilient to climate risks to ensure socio-economic progress. The Indian government has recently initiated pivotal steps towards Climate Change mitigation and adaptation. India was notably ranked 8th in the German Watch's Climate Change Performance Index (CCPI), the highest among the G20 nations, for updating its Nationally Determined Contribution (NDC)2 and setting the net-zero target for 2070. This ranking underscores the pressing need for India to transition towards low-carbon development and to invest in robust infrastructure to mitigate vulnerabilities. Pinpointing and prioritising climate-resilient infrastructure strategies within an official land-use plan can provide a lasting framework for comprehensive development while reducing vulnerabilities.
Prioritisation of Quality Infrastructure Investments
For sustainable economic growth, especially in the post-COVID era, cities must possess the capacity to absorb, recover from, and prepare for future economic adversities. It is imperative to prioritise high-quality infrastructure projects within the statutory planning framework to direct both private and public investments towards a climate-neutral economy. Developing a pipeline of SDG-compliant, investor-ready infrastructure projects within Master Plans will empower Indian cities to channel capital flows into inclusive, sustainable urbanisation projects.
Also Read | Resilient Urban Economies – Cities as Drivers of Growth & Innovation
Views expressed by Prof. Saswat Bandyopadhyay, Professor, Faculty of Planning, CEPT University, Gujarat
Gargi Mishra, Doctoral Researcher, CEPT University, Gujarat
"Exciting news! Elets eGov is now on WhatsApp Channels 🚀 Subscribe today by clicking the link and stay updated with the latest insights!"
Click here!