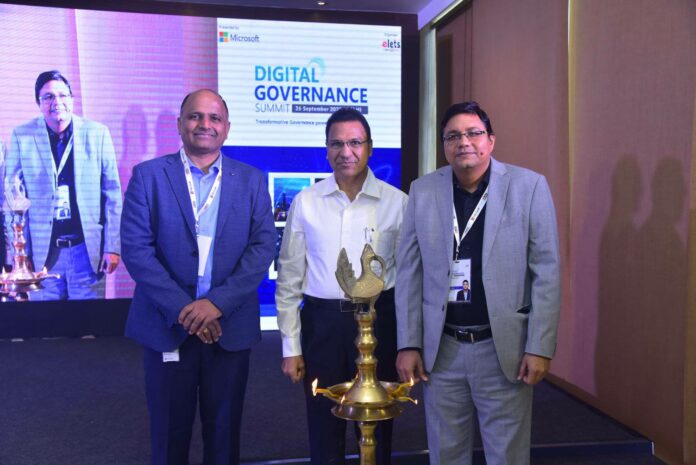 New Delhi, 26.09.2023 – The Digital Governance Summit, Delhi Edition, held in partnership with Microsoft and organized by Elets Technomedia, showcased the relentless commitment of the Government of India towards digital transformation. The event, which took place on September 26th, 2023 at The Lalit, New Delhi, brought together luminaries, experts, and thought leaders to explore the multifaceted aspects of a digitized future.
The summit commenced with a warm welcome address by Dr. Ravi Gupta, Founder, Publisher & Editor-in-Chief of Elets Technomedia, who emphasized the importance of delving into cutting-edge technologies in today's world. This marked the continuation of a successful series of state-specific summits conducted in collaboration with Microsoft over the past three years, focusing on how government officials harness the power of information technology.
The event began on an auspicious note with the ceremonial lamp-lighting ceremony, graced by distinguished dignitaries: CR Garg, Secretary of the Art, Culture & Language Department, Government of NCT Of Delhi; Venkat Krishnan, Executive Director-Public Sector, Education and Healthcare, Microsoft India & South Asia; and Dr. Ravi Gupta himself.
CR Garg, in his compelling special address, underlined the government's primary objective of delivering seamless services to citizens. He emphasized the pivotal role of technology in establishing a transparent and responsive government, simplifying business operations, and ensuring hassle-free assistance. Venkat Krishnan, in his impactful Keynote Address, highlighted the significance of education as a cornerstone of India's excellence in innovation, reinforcing the fact that the youth is key to India's inclusive economic growth. He revealed Microsoft's collaboration with All India Center of Technical Education (AICTE), to empower students and educators with skills, training, and experiences needed to navigate today's rapidly evolving technology landscape.
The summit featured Microsoft's insights into transformative technologies, with Himani Agrawal, Country Head of Microsoft Azure for India & South Asia, shedding light on the impact of Artificial Intelligence (AI). She linked AI to a transformative force capable of reshaping humanity's trajectory, placing it in the same league as landmark inventions such as electricity, the steam engine, automobiles, computing, and the internet.
Bhaskar Basu, Country Head of Microsoft Modern Work and Surface for Microsoft India & South Asia, illuminated the role of AI in enhancing productivity within organizations. He stressed the optimization of technology utilization across various devices, emphasizing the need for individuals to develop an 'AI aptitude' by investing time and effort in grasping the core principles of AI.
In addition to thought-provoking discussions and presentations, the summit included an engaging fireside chat featuring Joydeep Shome, DDG & HOD, eTransport, National Informatics Centre (NIC), HQ New Delhi. Shome emphasized the significant transformative changes witnessed in the transport sector over the past few years, with substantial contributions from both state and central governments. He highlighted that prior to these changes, numerous challenges existed for customers, and the services offered were not particularly citizen-friendly. However, the current focus is on improving customer services to ensure a more favorable experience for citizens.
The summit also boasted a series of enlightening panel discussions, where distinguished speakers from diverse backgrounds and expertise shared valuable insights into various subjects. Alok Lall, National Security Officer, Microsoft India & South Asia, delved into the topic of cybersecurity, stating, 'Although achieving 100% security is elusive, it is essential to consistently take certain measures to attain a high level of protection. According to our research, by implementing just six key practices, you can significantly mitigate attacks, achieving a success rate of 95-98%.'
On the subject of 'Collaborative Partnerships – Empowering Learners with Real-World Skills,' Dr. Vinnie Jauhari, Learning and Skill Lead, Microsoft India, shared her insights. She highlighted the ongoing transformation of existing job roles and the emergence of new ones, with approximately 80 percent of organizations expected to adopt generative AI. This, she explained, would lead to the creation of around 150 million new jobs in the next decade, presenting both a tremendous opportunity and significant responsibility for the education sector, including schools and higher education institutions.
Alice Vaz R, Secretary, Department of Technical Education, Government of NCT of Delhi, also addressed the audience. She discussed the implementation of a digital record system in line with the National Education Policy (NEP). This system includes the Academic Bank of Credit (ABC), where nearly all student data has been transitioned to digital records, regardless of their registration in the ABC portal. This enables students to access optional subjects through the ABC portal from anywhere in India.
The event concluded on a high note, leaving participants inspired and well-informed about the ever-evolving technological landscape and its profound implications for India's digital transformation journey.
"Exciting news! Elets eGov is now on WhatsApp Channels 🚀 Subscribe today by clicking the link and stay updated with the latest insights!"
Click here!