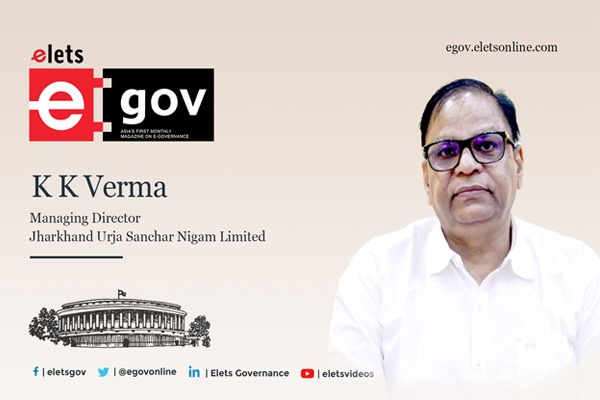 In Jharkhand, we are currently facing the challenge to evacuate 3000 Megawatt power by the year 2024, especially thermal power likely to be generated by Patratu Vidyut Utpadan Nigam – a joint venture of NTPC & JVVNL, Govt. Of Jharkhand and also 600 Megawatt power of north karanpura which has been put under commercial operation by NTPC. The problem of right of way, non-availability of skilled manpower in this field and the major hurdle of getting Forest clearance are also there among the other challenges we are faced with. When we award a tender with a completion period of two to three years, getting forest clearance only takes no less than three to four years and the same problem lies with utilities of other states too.
Maharashtra is a glaring example to be followed by our state regarding payment of compensation and I will share this proposal and try to implement this in Jharkhand because we are facing numerous cases of right of way issue. Extensive utilisation of monopoles or rather much diversified with a stronger tensile and mechanical strength of designing of poles – the structures which take less power and transmit high power for making efficient corridors in the forest area is the crucial need of the hour in our state. We are employing large scale usage of latest technologies like AI, Drones etc to resolve the challenges we face in Jharkhand like construction of new transmission lines, right of way issues and in making our utilities smarter.

In smaller states like ours where transmission lines of 132 KV and 220 KV are of very old type, there are always breakdown issues and other things which require modernization with the latest tools. So, there is huge scope in the field of transmission in the coming days in terms of using the latest technologies like artificial intelligence, machine learning and Scada.
So, on the whole, we have to share the latest developments made in regards with the construction of new transmission lines, operation of high value transmission lines and dilute TBCB concept – Tariff Based Competitive Bidding to provide liquidity. There is always a financial crunch issue in Jharkhand in infrastructure development.
Also Read | "Demand side focus can make Utilities Smarter"
It is very difficult here to get loans at 11 to 11.5 per cent for construction of new transmission lines, so the only opinion left with us is availing TBCB facility. Also, there are only two companies – Sterlight and Adani opening in the energy sector in the state. So, if more companies start operations in Jharkhand, issues like these can be addressed effectively.
Views expressed by KK Verma, Managing Director, Jharkhand Urja Sanchar Nigam limited