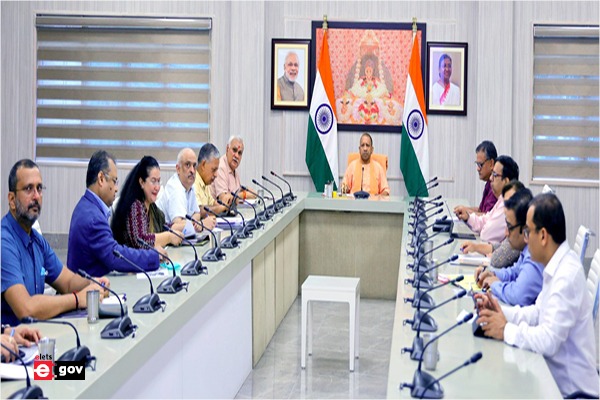 In a high-level meeting held late on Tuesday, Chief Minister Yogi Adityanath while reviewing various developmental programmes of the state, gave necessary guidelines as well as detailed instructions to high-level officials for the successful organisation of the G-20 Summit to be chaired by India between December 2022 to December 2023. The CM gave instructions to the officials regarding the events that will be held in four cities of UP- Lucknow, Varanasi, Agra and Greater Noida, during the summit.
Addressing the officials, the CM said that India has got this opportunity to preside over the G-20, a group of twenty top economies, from December 2022 to December 2023, under the leadership of the Prime Minister. The global summit events offer immense opportunities for Uttar Pradesh to showcase to the world its rich cultural and monumental heritage.
"These events will serve as a platform to introduce Brand UP to the world. We should plan things accordingly. To make the whole world aware of the potential of 'New India's New Uttar Pradesh', we have to systematically present the cultural, spiritual, social, economic and industrial features of the state. A comprehensive action plan should be prepared in this regard."
he said, adding that under the G20 Summit,, separate programmes have been proposed to be held in Varanasi, Lucknow, Agra and Greater Noida in Uttar Pradesh over a period of one year. With India's embedded spirit of 'Atithi Devo Bhava', a detailed preparation should be made to make the event grand and memorable.
Also Read | Uttar Pradesh government to launch 'Mukhyamantri Nagar Srijan Yojana' for new urban bodies
Mentioning the Pravasi Bharatiya Divas, he said, "On the occasion of Pravasi Bharatiya Divas next year, people of Indian origin will unite and come together. We should try to connect the diaspora with the 'Uttar Pradesh Mathrubhumi Yojana'. This scheme has generated renewed interest among the Non Resident Indians (NRIs) overseas. Through this, they can also feel connected to their roots and become part of the developmental process in the state."