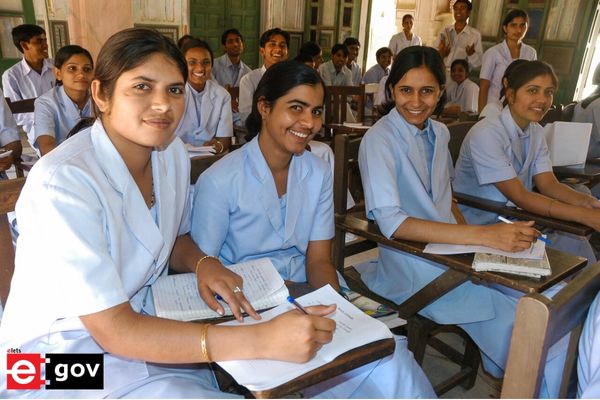 Haryana Institute of Public Administration (HIPA) Gurugram, will now provide skill training to young girls and help them in gainful employment or setting up their own small enterprises, besides performing its day-to-day task of imparting training to the employees and officers of the government of Haryana. Skill training to young girls will be given in areas of caregiving, pre-school education and running creches. For achieving this target, HIPA has signed a Memorandum of Understanding (MoU) with Footprints Childcare Private Limited.
The MoU was signed by Dr. Davender Singh, Head, Centre for Entrepreneurship, on behalf of HIPA and Amita Bhardwaj, CDO, Footprints Childcare Pvt Ltd, in presence of Surina Rajan, Director General, HIPA. Rajan said that these trainings to young girls, belonging to poor families, especially BPL families, will be provided in three areas, namely caregivers/nannies, pre-school teachers and entrepreneurs willing to start their own playschool centres.
Amita Bhardwaj emphasised that early year education is unorganised and requires systemic and professional intervention for smooth transitioning into the formal education system. The organisation will take such training to its logical end, by helping these girls in gainful employment and setting up their own small enterprises. The training will be conducted in a hybrid mode having components of online, self-study and NEP physical training.
The young girls willing to enroll in these training programmes may fill the forms by July 15, 2022- https://forms.gle/FkeXZNguxCZV8Hfv7. The courses will be short term. She said that in this initiative by HIPA, its Centre for Entrepreneurship, and the Centre for Gender and Juveniles will be documenting this pilot project and evaluating its quality. HIPA will assess its possible replicability in Anganwadis and market relevance, since as per New Education Policy, Anganwadis are being converted into play schools and their capacities are also being enhanced. This experiment will help in developing an effective strategy for running such skill development programmes on mass scale, to address this important element, she added.
Additional Deputy Commissioner, Gurugram, Vishram Kumar Meena, who was also present on the occasion, added that the Gurugram district administration is already working with 104 Anganwadis and revamping their infrastructure to convert them into playschools. Additional CEO of Haryana CSR Trust, Gaurav Singh, apprised that a collective of six corporate companies have agreed to completely revamp the infrastructure of 200 Anganwadis in Gurugram, as part of their CSR initiative. It was also suggested that going forward, HIPA can play an important role in monitoring the quality and documentation of these Anganwadis in working closely with the CSR Trust, Haryana.