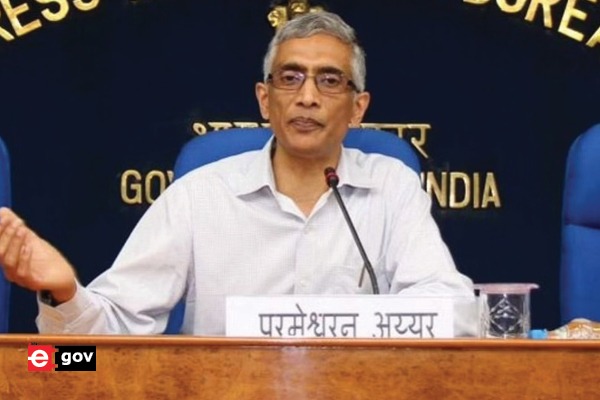 The Department of Personnel and Training has appointed Parameswaran Iyer as the Chief Executive Officer (CEO) of NITI Aayog. He has been appointed for a term of two years.
Iyer will succeed NITI Aayog's present CEO Amitabh Kant, who is lookaing at completing his tenure on June 30, 2022.
"The Appointments Committee of the Cabinet has approved the appointment of Shri Parameswaran Iyer, lAS (UP:81), Retd. as Chief Executive Officer, NITI Aayog vice Shri Amitabh Kant upon completion of his tenure on 30.06.2022, for a period of two years or until further orders, whichever is earlier, on the same terms and conditions as were applicable in respect of Shri Amitabh Kant," read the official notification from the government.
Kant joined the National Institution for Transforming India (NITI Aayog) on February 17, 2016 for a period of two-year term. His term was then extended till June 30,2019; which was further extended to two year till June end in 2019. His tenure was again extended in June 2021 till this year June.
Parameswaran Iyer who was born on 16 April 1959, is an Indian civil servant. He led Swachh Bharat Mission, the country-wide sanitation campaign initiated by the Government of India in 2014.
His career as a a civil servant official started at the Indian Administrative Service in 1981. However, he went for a voluntary retirement in 2009 and joined the water and sanitation initiatives at the World Bank.
Also Read | NITI Aayog launches National Data & Analytics Platform
In 2016, he returned to India when he was entrusted to lead the drinking and sanitation department, and the Swachh Bharat Mission.
In the year 2016, he was given the responsibility to head Swachh Bharat Mission by the Government of India. The initiative was launched to implement to eliminate open defecation and improve solid waste management. Iyer set the target of building building 110 million toilets in 5 years. However, in 2020, Iyer resigned from the position and returned to the United States to join the World Bank and be close to his family.