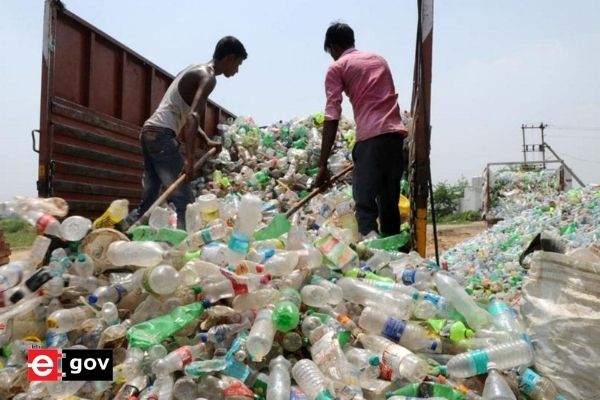 In a bid to make the villages free from the plastic menace, the Uttar Pradesh Panchayati Raj Department is all set to launch a plastic waste management project for village panchayats. The department is preparing an action plan for the preparation and selection of sites in the development blocks in the next six months.
The government plans to set up collection centres for plastic waste at 250 places in the state in the next two years and use the waste plastic for road construction.
Under the Swachh Bharat Mission, the state government in its first term has made a big achievement of making all the gram panchayats open defecation free with the construction of 2.18 crore individual toilets. Now, in its second term, the government has started a campaign to rid the state of plastic.
Plastic, which causes pollution, reduces the groundwater level by destroying the fertility of the land. Its use increases the risk of cancer along with respiratory and skin diseases. Plastic is so dangerous that it can even stop the development of the fetus. The smoke released from burning polythene is damaging the ozone layer, which is a major cause of global warming. In view of all these ill effects, the state government has taken the initiative to make the cities as well as the villages plastic-free.
Significantly, plastic waste management emphasises taking steps to reduce the production of plastic waste, prevent the spread of plastic waste and ensure separate storage for plastic waste. Its rules also mandate the responsibilities of local bodies, village panchayats, waste producers, retailers, and footpath vendors for the management of plastic waste. It is to be mentioned that there are as many as 58,189 Gram Panchayats in Uttar Pradesh.