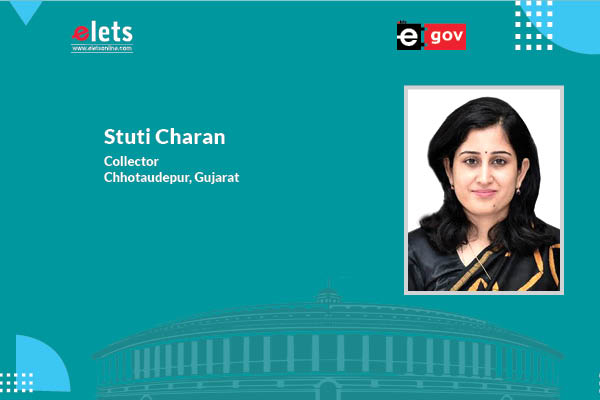 The COVID pandemic surfaced the need for India to be AatmaNirbhar in order to tackle gear up for future uncertainties. Highlighting how Chhotaudepur district tackled the COVID crisis and bounced back, Stuti Charan, Collector, Chhotaudepur, Gujarat interacted with Hemangini Kanth Rajput of Elets News Network (ENN).
What initiatives were undertaken by the district administration to tackle challenges during the pandemic?
There were numerous challenges that we faced in Chhotaudepur owing to the infamous COVID pandemic. During that period, despite being in troubled waters, we have optimised our health and human resources to cope with the challenges.
Measures like increasing the bed availability from 800 to 1437 special paediatric wards with ICU beds and augmentation of other healthcare facilities were taken to aid people in the district. Combined and coordinated efforts cutting across various departments helped us to become better prepared for the next wave of the pandemic.
During the third wave, we equipped our healthcare facilities with seven PSA plants having the capacity of 100 to 500 LPM, including 13 MT LMO at the district hospital which approximately created 18 MT oxygen. We had the support of Aasha workers/ Aanganvadi workers, the health team, other district officials, public representatives, and teachers who had worked day and night with dedication. Moreover, due to strong surveillance, tracing, tracking and monitoring, we were able to cope with cases and ensured zero deaths during the third wave.
Also Read: Digitisation Reshaping Government Banking
Also, we deployed 17 Dhanvantri Rath and delivered over 11,000 e-sanjeevani OPD/ telemedicine services to the patients suffering psychological stress, and depression in COVID complication cases. We have ensured a sufficient supply of RT-PCR testing kits, masks and sanitisers. Ayurvedic/Homeopathy medicines distribution was done by the concerned department. Also, the significance of adopting Yoga to improve the immunity of the people including the COVID patients was promoted.
Following PM Narendra Modi's clarion call for AatmaNirbhar Bharat, the Gujarat Government is taking various initiatives like AtmaNirbhar Gujarat Sahay Yojana. How these initiatives are helping Chhotaudepur to become self-reliant?
AatmaNirbhar Bharat Abhiyan and the guiding principles of AatmNirbhar Gujarat Sahay Yojana are very promising. These will infuse new zeal in various sectors and the beneficiaries who had suffered during the pandemic. This initiative, at large, will help people from lower and middle-income groups. They can avail guarantee free loans up to Rs 1 lakh for three years from banks. The loan amount will be provided with an annual interest rate of 2 per cent. The Government will pay another 6 per cent interest to banks giving loans for this scheme. Any person, resident of the district, who wishes to start their own business can get this loan as a starting capital. Small businessmen, skilled workers, electricians, barbers, autorickshaw drivers, and any other person from lower or middle-income groups can avail of the benefits of this scheme.
Women entrepreneurs are growing by the day so the district has also focused on improving their financial literacy which in turn will improve their economic status and self- confidence. Various training camps were organised to make them understand the basics of banking (withdrawal/ deposit) how to use ATM cards, write cheques, etc.
Many progressive women farmers working in the area of dairy are now able to maintain financial records and ensure better market linkage for their products in supply chain management.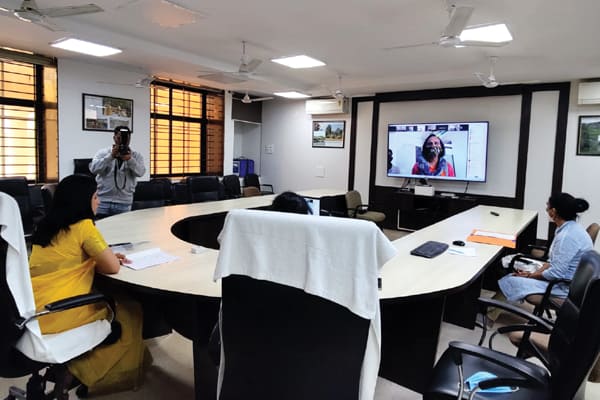 As we all understand the motto of self-reliance, the district team is equally ensuring its success at the grassroots level. Various stakeholders were provided training and exposure visits to industries for sector-specific workshops. AatmaNirbhar Bharat is a strong motivation that believes in being confident to be self-reliant and self-sustainable in all the segments of work. The concept and packages of economic support tremendously helped to improve, rethink, and move up the ladder swiftly.
Also Read: Digitisation Reshaping Government Banking
AtmaNirbhar Bharat is developing into a mass movement as well as the anchor for the policy framework. Considering this, what steps are undertaken by the district administration focusing on rural development?
After assuming my post as District Magistrate of Chhotaudepur, a slew of initiatives like digitisation of public services, online redressal of public grievances through E-Jilla Swagat, E-Jansamvad, and more. The two portals have created an ecosystem for people living in the rural and tribal parts of the district to interact directly with the district administration. Such initiatives not only ease communication but also acts as a motivation for rural people to embrace technology more in their daily lives. Making them technologically aware is a crucial part of AatmaNirbhar Bharat and we are happy to showcase that technology could be used to solve even the homegrown issues of rural India. This was highly appreciated in state and national media. It also got a place in the best practices of the state compendium.
In one of its kind initiative in the state, the district administration facilitated e-connectivity to gram panchayats. How digital transformation is supporting the mission to build a sustainable future and emerge as self- reliant?
The dream of digital India is possible only when digitisation penetrates into the rural parts of the country. Our initiatives like E-Jilla Swagat and E-Jansamvad aid in creating an inclusive digital transformation cutting across the rural-urban divide in our district. These initiatives have not only paced up the grievance redressal and improved public service delivery but also must be viewed as starting steps in our vision to empower rural people and transition them to adopt digital technologies as part of their daily life routine.