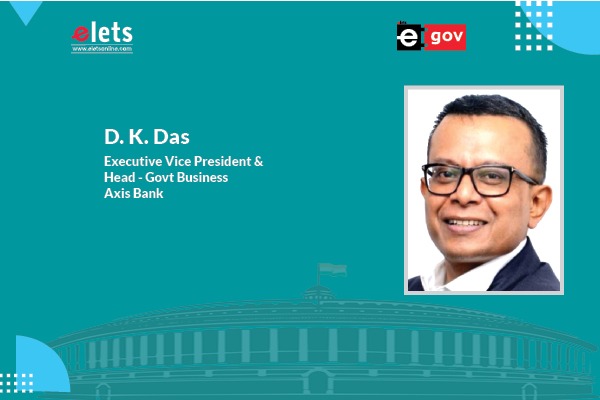 The wave of digitisation in India is reshaping the government banking sector. Banks are adopting technology interventions like e-payments, one banking, online loan approvals, etc. to improve efficiency and service delivery while aligning themselves with the Government of India's Digital India Mission. D K Das, Executive Vice President & Head – Govt Business, Axis Bank interacted with eGov and shared his views on the how IT revolution is transforming government banking.
How Axis Bank is aligned to the Government of India's Digital India vision? 
Axis Bank believes in the government's Digital India vision and has assisted in the facilitation of digitisation of government processes in both socio-economic and administrative aspects.  In helping the government accelerate the use of the digital modes of payments and collection amongst the Indian populace, banks came up with various common as well as customised banking solutions. Solutions like Smart City Card, Metro Card, QR-enabled payment, integration of BBPS into government department websites are a few examples. These solutions have pushed cashless transactions leading to reduced cost of physical exchange, better vigilance of transactions and having a real-time estimation of cash in circulation in the system.
This digitisation has also transcended to administration and working of the Government of India. In an effort to have better control of public spending through visibility and optimisation of funds, the government came up with the concept of PFMS (Public Fund Management System) and SNA (Single Nodal Account) for all the centrally sponsored schemes. While PFMS gave the government a better tracking of public funds through real-time monitoring, SNA aims to create an efficient fund utilisation of the same through reduced idle cash lying around in the system. Axis bank has supported both these initiatives by deploying customised solutions and a dedicated channel at the bank level for both these drives. In PFMS, the bank provided customised dashboards, onboarding support to various levels of government departments, while in SNA, the bank came up with an innovative liquidity management solution for efficient fund management.
Hence, we can see that through customised solutions for key government initiatives, Axis Bank is committed to supporting the government's Digital India vision and wishes to be a part of delivering better governance.
Please throw some light on innovative products and services being offered by Axis Bank for the government sector?  
Axis Bank's Government Business has transitioned itself from a deposit-centric approach to a solution-centric approach. In this new approach, the bank delivers and deploys customer-specific solutions on the basis of customer needs. Under its umbrella of Liquidity Management System solutions, a new and improved FDMS (Fund Disbursal Management System) solution was added to execute bulk transactions with minimal intervention. This very solution is now being used by the National Highways Authority of India (NHAI) for acquiring land for building new highways.
The bank also has integrated Bharat Bill Pay System (BBPS) for various Municipal Corporations and government agencies as an online collection method for their routine day to day activities creating better visibility and reconciliation of funds.
Bank has also supported the PFMS initiative by the government on creating a mechanism for public fund visibility at various levels with a scope of direct beneficiary payments. We have shown our support through the customised solutions, training government officials on PFMS usage and creating a dedicated team to assist with all PFMS on-boarding and queries for various government departments.
Through SNAs, we have been the front runner in implementing the government's initiative of ensuring operational efficiencies and optimal utilisation of funds for public expenditure through our best-in-class product suite and implementation TAT.
As India's banking industry is witnessing major positive changes with technology advancements, the country's banks are also altering. How digital disruptions are bringing innovation in the government banking space? 
A few digital disruptions have changed and enabled government banking space in recent years. First, when it comes to authentication and verification, remote biometric authentication has played a key role in developing Adhaar-enabled Payment Solution (AePS) which enables financial transactions through Aadhaar verification and helps deliver quick payment of funds for schemes like MGNREGA, Social Security Pension, etc.
Second, when it comes to system integration, Application Programming Interface (API) has helped the government departments in their collective operations through digital modes and mandates. These API-enabled solutions with their wide acceptance of multiple payment options like cards, net banking, UPI, wallets, etc. are seen as an integral part of the Digital India initiative.
Lastly, the ever-evolving space of electronic payments such as QR code and SMS string-based electronic payments has given birth to the concept of e-RUPI which is a QR code or SMS string-based e-voucher that can be redeemed directly at the merchant without the need of a card or digital payment app. This was instrumental in disbursing cashless payments during the COVID-19. Also, it has seen use in the disbursement of scholarship funds.
I feel that these above disruptions have changed the entire landscape of government banking wherein due diligence, system integration and payment tokenisation have created value majorly for welfare-based schemes.
What are the key challenges being faced by government banking as technology is expanding by the day faster than ever before? 
There are multi-pronged challenges considering the rapid technological expansion. Banking is still a tightly regulated industry with adherence to various rules and contingency frameworks. Therefore, it is not very easy to accommodate new technological changes without assessing their impact on the regulatory guidelines and framework. This affects the TAT of the banks in implementing any necessary and important technological update, therefore, losing the focus even after the solution is deployed. Hence, the regulation is a tough nut to crack keeping in mind the rapid transitioning of technology.
In addition to the regulatory aspect, we are also facing challenges on the cybersecurity front. Due to the increased data sharing and de-centralisation of data amongst financial institutions, technology companies and Fintechs have also witnessed the rise of cyber attacks and ransomware. This threat increases many folds when it comes to handling government data which might include key biometric information of its citizens. Such data in the wrong hands might wreak havoc in the life of many. Hence, prudence has increased in terms of cybersecurity in the banking sector.
Also Read: Digitisation Aiding NTPC's Operations: Manish Kumar Srivastava
Also, with operational TAT being reduced in a lot of banking processes (disbursement, account statement, etc.) through automation and ML/AL, the expectations of the customers have also increased. However, due to stringent guidelines/checks and increasing customer base, at times it becomes difficult for one-to-one query resolution and grievance redressal. Therefore, it is now even more important that banks need to find a harmony between customer expectations and the operational efficiency of the bank. Keeping this in mind, we can see that in recent years, technologies such as chatbots and automated IVRs have been developed to reduce pressure on core banking activities and make it convenient for customers.
What the future holds for India's government banking sector? 
Government banking space was predominantly driven through deposits building (CASA & TD) of government expenditures on socio-economic welfare programs and government collection of taxes and excise duties. The government also borrowed money to meet its fiscal deficit which additionally presented the scope of lending to the government. This primarily was how the government banking space operated till 2014.
After 2014, the Government of India initiated a massive digital drive involving not only financial inclusion but also building accountability and trust through its efficient and transparent administration. This was made possible through sharing key data points in the public domain. This move not only helped the government to increase digital penetration in tier-2 and tier-3 cities but also brought in ideas for optimal management of public funds (PFMS, SNA etc.), turnkey projects through the PPP model and the Make in India movement to boost the economy. Hence, government banking now has adopted a solution-centric approach where the core idea is providing banking solutions to the government entities and helping them to administer the welfare programs and their daily modalities efficiently. NHAI, leveraging Axis Bank's bulk payment system for land acquisition at reduced TAT which in turn speeds up the process for building highways, is the best use case example.
In the near future, we believe that government banking will manifest itself into a strong advisory role for the Government of India helping them in their key projects and policy-making decisions. This space with its pivotal position and magnanimity can be an important part of shaping public policies in times to come.