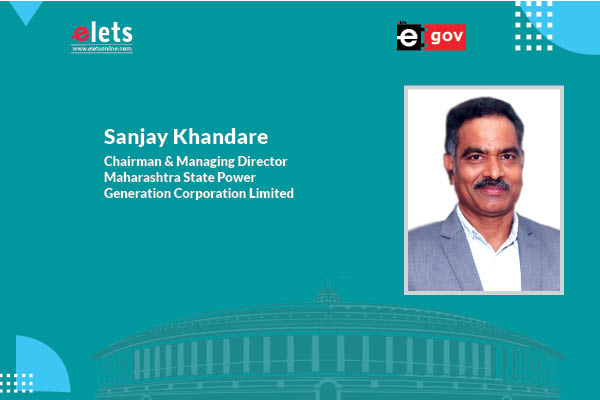 The COVID pandemic has been hard-hitting on the power sector and utilities faced multiple challenges to stay afloat. Addressing the journey of Mahagenco in overcoming the COVID crisis, Sanjay Khandare, Chairman & Managing Director, Maharashtra State Power Generation Corporation Limited (Mahagenco) interacted with Vikas Nag of Elets News Network (ENN).
What operational challenges did Mahagenco face while battling the COVID pandemic and how did you manage to overcome them?
The onset of COVID brought forth numerous challenges for most economic sectors and the power sector was no different. A major challenge was to continue the operations even when the pandemic was at its peak.
We faced challenges in logistics owing to the lockdown as transportation was adversely affected. This, in turn, impacted the supply of parts and machinery to the power plants. Despite these challenges, Mahagenco continued with operations and generated electricity for DISCOMs to distribute to the households and factories. We saw a daily production of 6000-7000 MW of power. Also, we operated at 10,000 MW or above range when required during peak time.
However, due to the challenges in the supply chain management, our annual overhaul was affected because of the lack of supplies and shortfall of manpower during the lockdown. Also, Mahagenco faced a few operational challenges like the failure of critical components. In one of the cases, it was transformer failure. Powerplant management was underdone due to the lack of manpower. Therefore, we spoke to BHEL and they arranged for substitute manpower that came from Haridwar to Khaparkheda and repaired the transformers.
For our meetings, we asked all the staffers to abide by the COVID-19 guidelines. Also, we expedited vaccination programmes for our employees. We set up special camps for vaccinations for our staff at power stations. I would also like to mention that despite facing the hurdles, we have also contributed to the social cause and set up oxygen plants at municipal hospitals and also installed oxygen plants at Khaparkheda and Koradi.Besides this, we managed to achieve record generation in the history of Mahagenco.
Energy consumption is directly proportional to the economic growth of a State, how is Mahagenco keeping up with the increasing energy demands of Maharashtra?
At present, we have an 11,300 MW generation of which around 200 MW is from solar. In order to address the issue of increasing demand, we have a few strategies. The first is to optimise our capacity and the use of resources like coal. Next, our goal is to increase production during peak times. Therefore, we have undertaken coal optimisation at different locations at our power stations. For this, coal cost is being optimised by managing freight costs and allocating coal to various power stations so that the overall cost reduces. We have also started using washed coal considering its availability. We have undertaken the reduction of auxiliary consumption so that more power can be put into the distribution network by having small solar and micro-hydro projects. Also, programs have been undertaken for minimising inventory, reducing waste, and using productive methods so that our plants are always available.
Also Read: Sustainability: The Next Frontier of Digital Transformation
As another strategy to meet the growing demands, a new power plant is being installed at Bhusaval of 600 MW which will enhance our thermal capacity. Also, we are working to increase production in Uran. Though we have a 672 MW of capacity in Uran, which is a gas-based project, the average production is around 200-300 MW. A major reason for the shortfall is the reduction in gas availability. Moreover, the existing power plants have low operational efficiency as they are almost 40 years old. Therefore, with the instalment of new power projects and new technology-based machines, we can have better operational efficiency and our production can reach about 800 MW.
As far as renewables are concerned, Mahagenco is aiming to increase solar power generation. We have plans to increase our production to 2800 MW in the coming four to five years.
Nearly 75 per cent of Mahagenco's energy mix is thermal. As per the global obligation for promoting green energy, how do you plan to diversify your energy mix and contribute toward Climate Change mitigation?
On the green energy front, we have only about 200 MW of solar production which we intend to increase to 2800 MW in the coming four to five years. In this 2800 MW, around 580 MW will be
brought in through Chief Minister's Agri Scheme, 600 MW through EPC modes, 250 MW through solar parks and an ultra power project with NTPC of 1250 MW. This is the expansion that we have planned to increase our production through green technologies.
Also Read: Achieving Sustainability through UNESCO Designations: Jaipur
Gas is considered one of the best alternatives for coal. Secondly, the focus is to expand hydro generation capacity with pump storage and also use solar power for the pumping process.
Mahagenco is also working on a pilot project on green hydrogen power production wherein green hydrogen will be used for power generation. Also, it will decrease the hydrogen extracted through coal.
Further, battery storage becomes imperative to improve the energy mix that will capture and store power during four to five hours of peak generation. This will be supplemented by solar power or raw hydropower. Another initiative that we are taking is to reduce the use of coal and increase the use of solar power during day hours.
How do you envisage technology for improving your organisational efficiency, employee productivity? What is the level of technology adoption for ensuring seamless operations?
From machines to IT infrastructure and instrumentation, the power generation process requires the use of technology in several areas. We have modern technologies for power generation, managing control rooms, operations, and more. We have a power plant monitoring system that has helped us to increase our productivity and efficiency. Also, we have a rudimentary centralised operations control system in the office which lacks modern technology and equipment. However, we are in the process of implementing a centralised online performance monitoring system for optimising operations. Also, regular interventions are required through head office wherever we see parameters that are deviating and need any analysis or inputs for decision making.
Also Read: Fostering Sustainability in India's Urban Development
We also use technology-powered tools to reinforce security at our power stations and we have installed a Fully Integrated Security System (FISS) at our Koradi power station. The system will also be placed in our Chandrapur power station in the second phase so that we can keep a check on our security management and address theft issues. Besides, we have the Expert Support Team (EST) at our head office which takes care of the plants' performance and monitoring. We intend to use state-of-the-art technologies for improved project management and operational management.