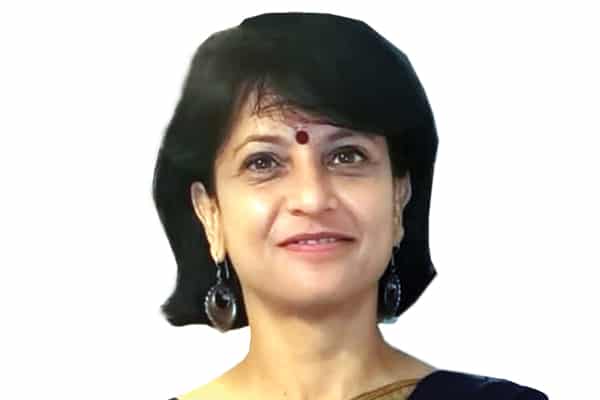 "Culture is who we are and what shapes our identity. No development can be sustainable without including culture. UNESCO's work promoting cultural diversity, and UNESCO's Culture Conventions, are key to the implementation of the 2030 Agenda for Sustainable Development," Shikha Jain, Director, DRONAH and Chairperson, DRONAH Foundation quotes UNESCO, as she writes about how Jaipur has conserved its culture and craft capturing the true essence of sustainable development.
While it is easy to prescribe the applications of SDGs at the policy level, its actual implementation in various cultural heritage sites, cities and settlements specifically in the context of complex Indian cities remains a huge challenge. Jaipur City has achieved two urban-level UNESCO designations as a World Heritage City (2019) and as UNESCO Creative City of Crafts and Folk Arts (2015). One of the primary objectives of these inscriptions is that they serve as tools to achieve sustainable development goals for the city.
Jaipur envisions itself as a city that fosters the creativity and imagination of its people using its rich cultural heritage to showcase a model of sustainable development that has continued and adapted since centuries.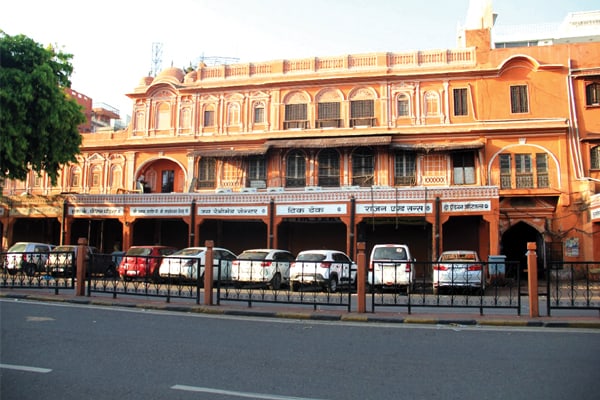 While the World Heritage tag for a city often focuses on the conservation of its tangible attributes, urban characteristics, monuments and iconic landmarks; in the case of Jaipur, an extra initiative was taken to recognise it additionally for its intangible value of crafts under criteria (vi). Much before this celebrated inscription for World Heritage in 2019, Jaipur was already a part of the UNESCO Creative City Network in 2015, a designation that is mooted from the Municipal Corporation itself for the entire city to celebrate and sustain its creative economy; the rich repository of crafts and folk arts in case of Jaipur.
Also Read: India's Digital Evolution: From Bill Notes to DBT
The UNESCO Creative Cities Network was a unique opportunity for Jaipur to highlight its myriad crafts and folk arts and ensure that these traditional forms of creative expression are equipped to meet the needs of the present and the future. In long term, Jaipur's participation in the network will further the growth and development of local arts and crafts ensuring a direct impact on the socioeconomic sustainability of the city.
Jaipur was conceived as an urban planning model in the early 18th century, and also as a city designed to promote trade and commerce. It has flourished as a centre of arts and crafts since then. Historically, the city is said to have housed 'chhattis karkhanas' ( '36 industries' ) majority of which included crafts like gemstones, lac jewellery, stone idols, miniature paintings and others each with a specified street and market designed for each craft that continues to date. During the 19th century, the local crafts received further momentum with British period influences in special exhibitions held in the UK, the establishment of institutions such as Rajasthan School of Arts and Albert Hall Museum. While the local traditions of guilds continued, formal institutions for crafts, policies and programmes by Government and private sector further contributed to national and international recognition of Jaipur crafts and folk arts in the 20th and 21st centuries.
As a centre for crafts and folk arts, Jaipur offers a thriving economic environment based on tourism as well as trade and commerce. Crafts, one of the leading industries in Jaipur, contributes significantly to the local economy. It is for this reason that even crafts that were not established during the 18th century in Jaipur have found their way to the city as recently as the 1960s. Jaipur is unique among other creative cities of crafts not only because of the large number of crafts being practised actively but also because crafts as utilitarian products are an intrinsic part of the daily lives of locals and domestic visitors. Jaipur has 53,460 craft units with a total of 1,74,972 artisans and craftspeople.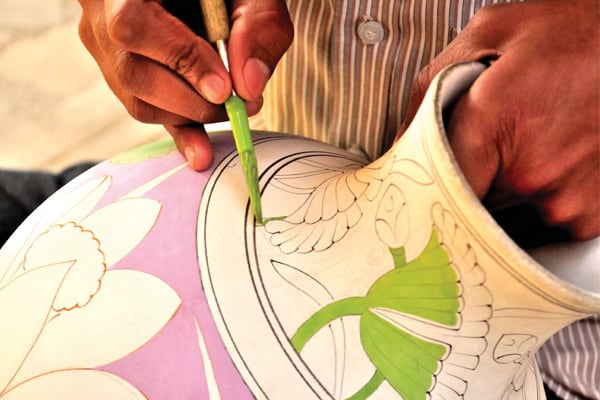 While informal training of entrepreneurs continues in Jaipur through master craftspersons and guild systems, there are formal educational institutes for degree programmes. The Rajasthan School of Arts was institutionalised by the Government in 1988 to provide Bachelor and Master degrees in visual arts. Indian Institute of Crafts and Design (IICD) in Jaipur is a unique institution that synergises traditional knowledge and craft skills with contemporary needs to evolve methodologies relevant to modern India. It provides undergraduate and postgraduate programmes addressing a range of crafts. It also has special programmes and incentives to encourage children of traditional artists and craftspersons. Institute of Gems and Jewellery provides programmes on Jewellery design. Jawahar Kala Kendra started by the government have allocated spaces to organise short term training programmes in arts and crafts which are used by NGOs to host programmes.
While the World Heritage tag for Jaipur presented an additional commitment of mapping and protecting all crafts streets in the walled city as significant attributes contributing to its Outstanding Universal Value, the Municipal Corporation was already committed to enhancing and upgrading these crafts streets as part of aligning the creative city projects to sustainable planning.
Jaipur Nagar Nigam Heritage for walled city is developing Heritage Walks in specific streets of Jaipur to provide direct access to local craftspersons and their workspace. Chowkri Modikhana Heritage Walk showcasing thatheras (brass utensil craftsmen) and lac bangle making is one such initiative. The walk is being conducted since 2005. Jaipur Municipal Corporation upgraded the walk area in 2014-15 thus improving the living environment for artisans and extended it further under the Smart City program in 2019-20. These works could be monitored through the Heritage Cell of Municipal Corporation to ensure appropriate conservation as per commitment for World Heritage. Furthermore, the Municipal Corporation is committed to enhancing more crafts streets such as the Khazanewalon ka Raasta including havellis and houses of stone craftspeople to be undertaken in the next phase of works under Creative City Projects (2021-24).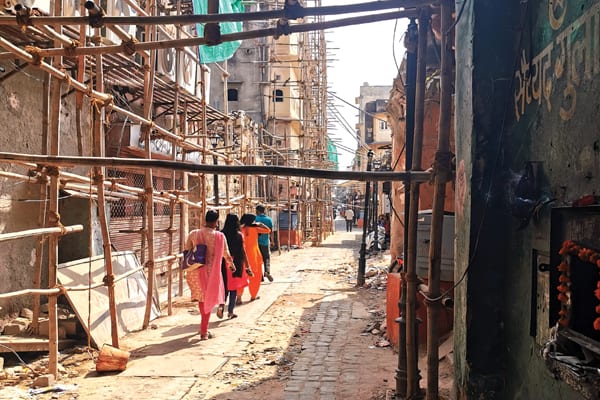 Besides this, adaptive reuse of historic buildings such as the Rajasthan School of Arts into a Crafts Museum under Smart City Projects is a good example of collective safeguarding of the tangible-intangible or the living heritage of the city.
Also Read: Sustainable Urban Planning: Delhi Master Plan 2041
Developing major crafts streets of Jaipur as special heritage walks to promote direct access to artists and craftspeople in the walled city along with conservation and up-gradation of these historic settlements and traditional industries aims to establish Jaipur Crafts City as a role model of sustainability. The project will directly benefit artisans living and working in the area, local residents and visitors to Jaipur. It will enhance the overall living environment of the artisans and will give direct access to sales of crafts products once the heritage walks are promoted through tourism. Up-gradation of services in these areas have improved the general living conditions for craftspeople while regular heritage walks by a wide range of visitors provide greater accessibility for direct sales. This when replicated in other crafts streets of Jaipur will greatly enhance socio-economic sustainability for the city.