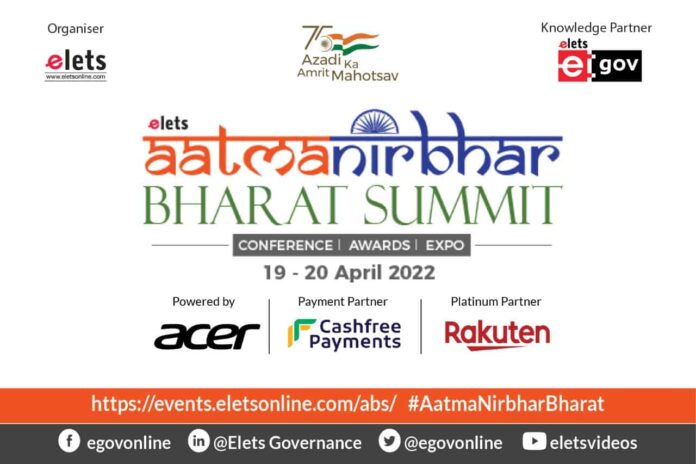 Elets Technomedia, the premier technology and media research organisation of Asia and the Middle East, is organising Elets AatmaNirbhar Summit & Awards on 19-20 April with the theme "Driving India's Economic Transformation".
The 2-day hybrid summit will witness participation of senior policy-makers from government and industry leaders. With over 10 informative panel discussions, the summit will decode best practices, challenges & opportunities in embracing AatmaNirbhar as the new development mantra.
The summit will kick off on Tuesday with inaugural session on "Building AatmaNirbhar Bharat for Recalibrating Post-Covid Global Order" at Hotel Royal Plaza, Ashoka Road in New Delhi.
The inaugural address will be delivered by U. P. Singh, Secretary, Ministry of Textiles, Government of India; Sanjay Jaju, Additional Secretary (DP), Ministry of Defence, Government of India; Dr. Rajendra Kumar, Additional Secretary, Ministry of Electronics & Information Technology (MeitY), Government of India; Abhishek Singh, CEO, MyGov, President & CEO, NeGD, MD & CEO, Digital India Corporation, Government of India; Dr. Neeta Verma, Director General, National Informatics Centre (NIC); Amber Dubey, Joint Secretary, Ministry of Civil Aviation, Government of India.
With focus on the country's journey towards self-reliance, the second day of the summit on Wednesday will present virtual dialogues, highlighting deep insights on transformative governance, technological transformation, water conversation, sustainable transportation, cyber security, etc.
Narayan Rane, Hon'ble Union Minister for Micro, Small & Medium Enterprises, Government of India will grace the summit as Chief Guest.
The summit will also confer Elets Innovation Awards to celebrate & recognise initiatives transforming the governance across various sectors.
Key Discussion Points:
DAY 1: 19 April I Hotel Royal Plaza, Ashoka Road, New Delhi
· Building AatmaNirbhar Bharat for recalibrating post-Covid global order
· Governance transformation through innovation
· Techade 2020: Challenges and opportunities in fuelling the $5 trillion dream
· Transforming government entities to empower citizens
· Policy Talks: Impacting society through best governance practices
· Exploring opportunities for building an AatmaNirbhar Bharat
Day 2: 20 April I Virtual
• India Opportunity- Embracing transformational governance to turn vision into reality
• Urban Utilities- Leveraging Technology for Transforming Customer Experience
• Pandemic Challenges and Opportunities- Response Strategy & ICT Interventions
• Water for all- Roadmap for water management and conservation
• Smart Mobility- Collaboration, Innovation and Investment for sustainable transportation
• ICT Innovation: Protecting Critical Infrastructure and Building a Zero Trust security architecture
Key Highlights of the Summit:
Conference: An excellent platform for exchange of ideas & experience.
Awards: Celebrating & recognising innovations in governance.
Launch of eGov Magazine's Special Edition
For details, visit: https://events.eletsonline.com/abs/