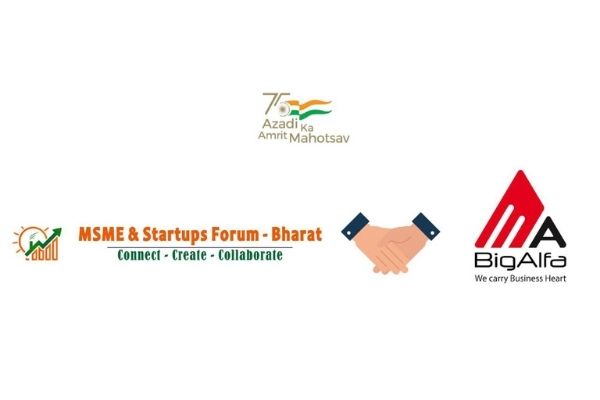 Lucknow, Uttar Pradesh
Big-Alfa, a lucknow-based consulting firm has now added another feather in its cap by signing an MoU with MSME Startup Forum – Bharat as a consulting partner. The prime objective of the MoU is to create a value chain for completing the entire ecosystem required around the MSMEs & Startups for their rapid growth & hassle-free operations.

The MoU will be beneficial for all associated members as they all can avail consulting services of Big-Alfa and easily meet out the challenges of GEM, Registration and Compliances, Finance, E commerce, and knowledge sharing. This MoU is done with an aim to expand operations of our forum in 75 districts of Uttar Pradesh. Big Alfa will help and provide assistance in establishing a knowledge management system, among other processes.
Big-Alfa has been working in the field of consultation providing the IT services, Digital Marketing and Government Consulting to MSME sectors and especially to startups. It has also to its credit multiple training sessions for SHG women and FPOs in different districts in association with different industry bodies. MSME & Startups Forum – Bharat is a PAN India network of MSMEs, Startups, Entrepreneurs, Businesses, Professionals, and Consultants and NRIs all over the globe with a vision to help them learn from each other and promote their product and services.
Considering that the MSME and Startups Forum – Bharat kicked off in mid-2020, gained tremendous response and massive traction with over 10,000 entrepreneurs from MSME and Startups across the nation. It now aims to build good business relationships and a strong bond of trust among the members by promoting the local industries and businesses on the various B2B and B2C platforms.
The prime objective is to create a value chain for completing the entire ecosystem required around the MSMEs and Startups for their rapid growth and hassle-free operations. Among other things, their aim is to develop, support and promote Micro, Small and Medium Enterprises (MSME) and Startups of the country, to enable business growth through referrals, collaborations, projects and knowledge sharing, to work for entrepreneurship, skill development and enhancement and to organise conferences, seminars, webinars, workshops and other such related activities.
It is also working to create awareness regarding promotional schemes and incentives of Government and other agencies to provide an enabling environment, to boost investments in the MSME and Startups sector of the country, build a knowledge base, to develop skills of Micro, Small and Medium Entrepreneurs and Startups, to carry and support research on entrepreneurship and startups related issues and to promote innovation and technology for MSME and Startups.