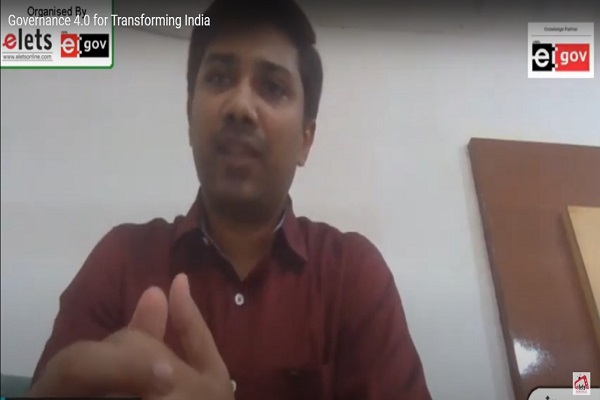 Elets Technomedia organised a three-day India Transformation Summit from July 10 to July 12 with a view to bringing in light The growth and development that nation has been witnessing since a few years. Divakara TS, the former Officer-on-Special-Duty (Admin), Odisha Computer Application Centre, Department of Electronics & Information Technology, Government of Odisha addressed the session on 'Governance 4.0 for Transforming India'.
Mr Divakara commenced his address saying, "The novelty of the pandemic is such that all the states have to use IT to combat the challenges. However, every cloud has a silver lining, so the COVID crisis has pushed governance to transformation."

Speaking on the cire theme, he said, "There is a need for us to first understand the evolution of governance. Governance in the first phase was characterised by regulatory governance, then good governance comes in wherein accountability and transparency plays an important role, in the third phase services are citizen-centric. Whereas, in Governance 4.0 is a real transformation, especially in a way the citizens interact with the country and the interaction of all the stakeholders for that matter."
Further, categorising the challenges due to the Coronavirus pandemic he said, "The challenges can be categorised through three perspectives – citizens' perspective, health perspective, and governance perspective." On citizens's perspective is the COVID loop where the people gets infected, tested & detected, quarantined, recovered and back to normal living. For this particular perspective, almost every state has used technology fo monitoring of people under quarantine, GIS mapping of containment zones, testing, tracking applications, etc. From the health perspective, this is the real case where artificial intelligence and machine learning can come handy. The governance perspective was of great importance as the government has to enable systems to function remotely with more efficiency and effectiveness than traditional systems, he added.
Also Read: Contactless Service Delivery System To Strengthen Governance: Explains GT Venkateshwar Rao
Talking on the adoption of IT solutions, Mr Divakara said, "To adopt IT solutions, we require willingness and ability. So, the willingness has been lacking and following the onset of COVID pandemic, it became a compulsion and hence this provided a strong stimulus to upgrade to digital interventions and solutions." Further, the ability to adopt technology was always there but the ability of the common citizens has been and is still in question. In a survey, it was found that in tribal areas of Odisha only 15 percent of the people had access to the basic internet service. Hence, the digital divide is going to increase post-COVID and only providing access to the internet is not only what is required, added Mr Divakara.
Wrapping his address, he said, "Governance 4.0 is all about adopting newer technologies. However, we do need a proper policy framework governing digital platforms and functioning. Finally, cybersecurity is a big challenge. And, I think that the governments must look towards the engagement of private sectors for providing effective cybersecurity solutions just for the sheer capacity that they have… As a government agency, we need to be more focussed on making policy frameworks, laws and guidelines surrounding them, implementation of various initiatives, etc."