Public enterprises play a significant role in modern economies. National Hydroelectric Power Corporation (NHPC) is taking advantage of technology that's popular in other industries. In line with the government framework, NHPC is going through a process of transformation and innovation affecting the services provided to citizens and enterprises which aims at administrative simplification through the use of digital technologies, writes Ayush Kumar Sinha, Senior Manager (IT),  Vigilance Division, NHPC Ltd.
Power Generation Sector is one of the most crucial sectors and NHPC continues to maintain clean power generation across all its power stations 24×7 to meet the regular as well as peak demand in any regular or crisis moment of country. NHPC has considered ways and means to integrate effective digitization in the structure of NHPC Ltd. This has made Information Technology (IT) a constructive part of the internal control system in NHPC.
In order to vibrant system and digitization overall, NHPC has undertaken various digital initiatives. NHPC has implemented ERP in almost all important business functions viz. Financial Accounting, HR function, Project Management, Operation & maintenance of Power Houses, Energy sales Accounting, Quality Assurance, Design & Engineering etc at all locations including remotely located difficult terrain of Himalayan regions viz. Uri sector, Tawang/ Dibang sector, Leh-Laddakh etc. Implementation of ERP leads to the standardisation of business processes which results in greater accuracy of the information, detailed content and a better presentation which further lead to a timely flow of information. Our most of the power stations are equipped with SCADA, Relays and Sensors which provides online data with accuracy, for better monitoring and faster & transparent decisions.
Under "Digital India" a flagship programme of the Government of India a number of initiatives have been taken which includes implementation of e-Office at 34 locations of NHPC. During the implementation of online/offline training imparted to 2500 end-users and 110 nodal officials. Implementation of e-Office transformed the work culture and ethics and has increased transparency & accountability in the working. It also enabled management to take faster decisions which have led to the enhancement of overall performance and productivity of the organization. Moreover, Implementation of e-Office has reduced the requirements of manpower engaged in menial work like diary/dispatch and carrying the files from one desk to another which may lead to leakage of information(s). The confidentiality, availability and accessibility are ensured in the e-Office system. The e-Office system is an initiative towards "Go-Green-Go-Paperless".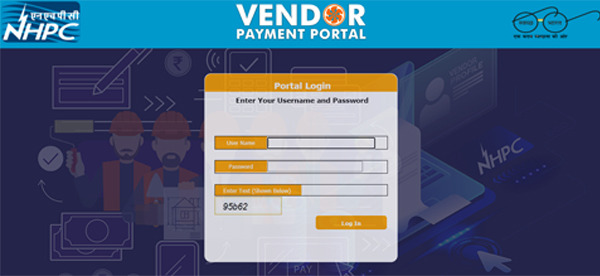 The IT-based other services viz. Inter-Office Communication, Employee Self Services Portals, Video conferencing facilities, Employee & Business Centric Services through in-house developed Portal Sahaj Sewa are extensively being used in NHPC. The implementation of workflow-based online  System for Performance Appraisal System and other HR Processes, Project Management Processes, Operation & Maintenance Processes, Financial Accounting Processes are being undertaken which have resulted in direct as well as indirect reduction of costs.
NHPC has started paperless digital board meetings which facilitated the board members to attend the meetings from their respective work-places spread across the country. This enables reduction of paper agendas and facilitates to make faster decisions.
NHPC has implemented Vendor Payment Portal (VPP) which facilitates vendors/contractors for monitoring and tracking of their bills/invoices. In VPP Supplier/contractor shall be able to create a request for payment against the invoice raised and status of the same can be tracked online. After Payment Request is created in the System by the vendor, the concerned Engineer-In-Charge (EIC) in NHPC can process the request and send it to the Finance Bill section for the further payment process. The status will be visible to the vendor at any point in time. This has brought pellucidity in the Supplier Client relationship.
Also Read: Odisha signs MoU with GEDCOL & NHPC for setting up solar projects
NHPC's locations are remotely located and the availability of the vendors is a big challenge for the projects/power stations/units. The deployment of e-procurement in NHPC streamlined the procurement processes. It reduces the tendering costs & time to achieve greater transparency & process efficiency. It provides access to any authorized individual anytime and anywhere.
A web-based REHS portal is developed and integrated with the NHPC website which provides the online access to the retired officials of NHPC with respect to the medical facilities available to them under the said scheme. This has brought greater ease to retired employees with the transparency of the process.
NHPC has also commissioned In-House 10 Racks State of Art Data Centre with smart Racks having the inbuilt functionality of access control, fire detection, water leakage detection, temperature controls at our own premises at Corporate Office, Faridabad. Commissioning of In-House Data Centre has brought improved management enhanced Security and availability. It has also reduced significant IT spending on hosting the servers at 3rd party data centre. The return on investment (ROI) is approximately 20% per year.
NHPC has started web-based training to the officers posted at various locations of NHPC. The facilities have started with the existing equipment and connectivity without any additional expenditure. The web-based training facilitated the participants to attend the training from their respective work-places spread across the country. A large number of employees could join web training sessions. By implementing the web-based training there are huge saving on the travel, boarding and lodging expenses to be incurred on the participants. The travel time is also being saved by implementing this technology.
To strengthen the cybersecurity posture of the organization, IT&C Division of NHPC, being the custodian of the centralized digital critical information of the organization has taken an initiative to implement ISMS 27001:2013. SOPs have been developed and implemented for the IT processes including IT assets. After the implementation of ISMS 27001:2013 Confidentiality, Integrity and Availability of Information assets has been enhanced.
Energy Sector has been identified as Critical Sector by Govt. of India. Ministry of Power has nominated NHPC as CERT-Hydro (CERT-COMPUTER EMERGENCY RESPONSE TEAM). There are approximately 38 Hydro Power Utilities under CERT-Hydro. NHPC has taken a strong step forward to strengthen the cybersecurity Posture in NHPC as well as in the entire Hydro sector in India. For improving Cyber Security posture in Hydro Power PSUs/ Utilities, regular guidelines are being provided to all CERT Hydro constituent organizations. Awareness/Technical Conferences are being organized from time to time.
Hence, with a famous quote by Daryl White, CIO, Department of the Interior of the United States, "You can't hold firewalls and intrusion detection systems accountable. You can only hold people accountable", I would like to conclude that PPT i.e People Process and Technology is a very important part of digitization but people is the core of all.
Follow and connect with us on Facebook, Twitter, LinkedIn, Elets video