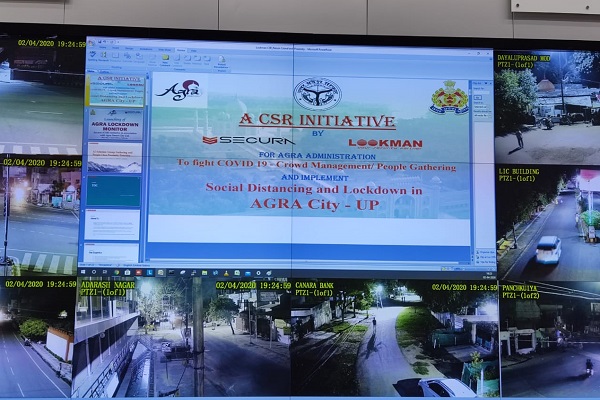 In order to ensure the successful implementation of the lockdown due to COVID19 outbreak, Agra Administration in association with Agra Smart City & Agra Police developed Agra Lockdown Monitor App on March 3.
The Divisional Commissioner of Agra launched the app at the Integrated Command & Control Centre (ICCC) in the presence of Inspector General (IG), Agra Range; SSP Agra; Municipal Commissioner; SP Traffic and other officials of Agra Police and Agra Smart City.
The mobile app launched will be used to effectively monitor various locations in the city to prevent crowding and ensure compliance of lockdown norms. The latest in this efforts is the artificial intelligence (AI) based analytics, the first of its kind that can be beneficial to combat COVID 19 in Agra. The latest ground-breaking technology adopted by Agra Administration is provided by the existing Surveillance vendor Secura under its CSR initiative. While Agra is already following precautionary measures to contain the spread of the Coronavirus, it is now utilising the cutting edge AI-enabled video analytics that boosts up its efforts in fighting the pandemic. As a provider of this technology, Secura will render technical assistance to effectively use the crowd management algorithm with effect from April 2, 2020.
The application detects groups, crowd, and close proximity of people. Identifying any of which an alert is instantly generated to help the authorities to strictly maintain social distancing in the city. The app alerts Police personnel on the ground to take necessary action immediately. Hence, this initiative of crowd analytics is an apt solution so that the lockdown may achieve effectively.
App named Agra lockdown monitor will be made available to all the thana incharges and any other police personnel as required and will help them to take necessary action using all the evidence along with photographs, exact location and time that would be available live on the mobile of police personnel.