India generates 62 million tones of MSW waste every year. A circular economy will have a tremendous impact on the environment, livelihood and our delivery on the sustainable development goals.
Over the last 20 years, India has developed a comprehensive framework of policies and regulations in sanitation and waste management.
These regulations are made at central, state and municipal/gram panchayat levels so execution accordingly is also at all levels of governance. The following waste management regulations have been enacted at the Central levels which are applicable throughout the country:
 Solid Waste Management Rules, 2016 (SWM Rules 2016)
 Plastic Waste Management Rules, 2016
 E-Waste Management Rules, 2016
 Construction and Demolition Waste Management Rules, 2016
 Biomedical Waste Management Rules, 2016
Hazardous and Other Wastes (Management and Transboundary Movement) Rules, 2016.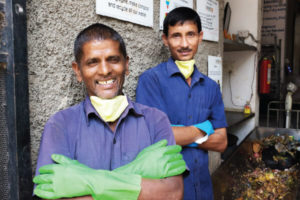 Globally, it is well accepted that India has very progressive policies and regulations. Take for example the SWM Rules 2016 (at https://cpcb.nic.in/uploads/MSW/SWM_2016.pdf) which includes all the principals of waste management—segregation at source, collection of segregated waste, transport, aggregation and recycling. The rules clearly indicate that only residual, non-usable, inert waste should go to a sanitary landfill and all efforts should be made to achieve the objective of zero waste going to landfill. The rules include the principles of circular economy and maximum resource recovery which are now the new approaches around the world.
Likewise, the Plastic Waste Management Rules and the E-Waste Management Rules include an important concept of "Extended Producer Responsibility (EPR)". This provision recognises the role and responsibilities of all stakeholders including the producer and brands that have to take responsibility for the take back and recycling of the packaging waste or their products as they reach an end of life.
India is also committed to reaching its targets with respect to the 17 Sustainable Development Goals. Targets around theseare also closely linked with execution of our sanitation and waste management regulations.
The question that looms large is the gap that continues to persist between our regulations and the implementation on the ground.How do we move the needle so that we walk the talk and the country actually recovers all the resources embedded in its waste and demonstrates a circular economy?
India generates 62 million tonnes of MSW waste every year. A circular economy will have a tremendous impact on the environment, livelihood and our delivery on the Sustainable Development Goals.
Discussions around a roadmap can be slotted into three main areas which need focus.
Decentralised Systems
A zero waste locality or campus in a city, town or village is the best example of a decentralised system.
The SWM Rules 2016 recognise bulk generators as entities who generate more than 100 kgs of waste per day. These generators are expected as per the regulations to invest in infrastructure and operations so as to manage their own waste onsite to the extent possible and by involving waste collectors/ agencies directed by local bodies.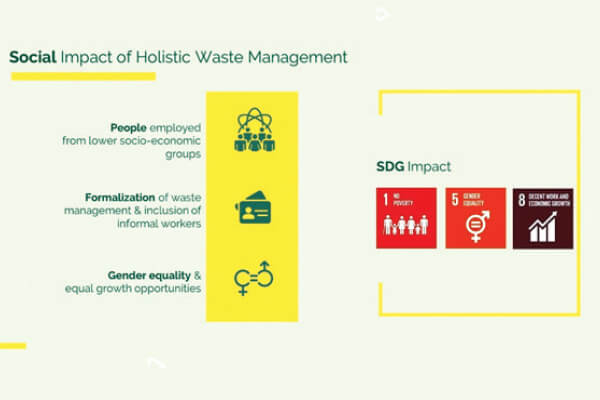 Typically, bulk generators contribute around 40% of a city's waste so there is a good opportunity for a large chunk of waste to be managed through a holistic system which is independent of the municipal infrastructure. This not only reduces the stress on the available waste infrastructure but also provides an opportunity to create a waste industry which consists of different players such as waste pickers, scrap dealers, waste management companies, recyclers etc. It is also our opportunity to regulate the industry players so that the waste management services offered are compliant to the point that minimum wages are provided to staff involved and there is proper accountability for all the different waste fractions which are managed. The private sector is able to provide these services to bulk generators through service fees which are charged to them and also from the revenue of waste that is recovered and sold to recyclers.
The decentralised model today also works well for door to door collection and individual waste generators who segregate their waste. A service fee model assures regular pick for segregated waste. Wet waste is then composted or sent to a bio gas facility while dry waste is taken to an aggregation centre where a second level of sorting takes place followed by compaction. Collection, aggregation and processing can take place within a 20 km radius from where the waste is generated.
The key to a decentralised model is the planning—both in terms of logistics and end destinations for the waste fractions. This sector is like any other industry which needs trained professionals as much as a work force willing to handle materials.
Focus on processing and end destinations for maximum resource recovery
Over the last few years segregation at source has become accepted across the spectrum of waste generators. It is, therefore, important that we plan and provide adequate infrastructure so as to ensure resource recovery of this segregated waste. At a decentralised level, wet waste will need adequate infrastructure for composting or biogas. Likewise aggregation of dry waste needs a dry waste aggregation unit or a material recovery facility which can aggregate waste in volumes thatwill be viable for transport to a recycler.
The recycling industry in India needs attention. Except for PET, recycling of all other grades of plastic continues to be very informal both in terms of environment compliance as well as the workforce employed.This is where the government and also brands can step in to provide support in the form of land, infrastructure and technology to entrepreneurs and professionals to set up good recycling systems for all grades of plastic.
Labour Compliance for better Livelihood Opportunities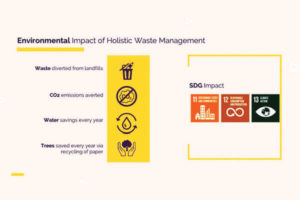 The waste sector has immense employment opportunities and therefore, it is necessary that the waste sector is considered as an industry. These opportunities are both for professionals as well as for blue collared workers.
This is also a good time to slowly transition and integrate the informal sector including waste pickers and scrap dealers in this waste industry. Many of them are well placed to become entrepreneurs while others can join the large workforce needed to run logistics systems, aggregation and recycling facilities.
The important task at hand is to ensure that we move away from exploitation of waste workers by complying to labour and environment regulations.
Across the country it appears that the problems around waste has reached crisis proportions. We are in a crisis only because we have not put adequate efforts and expertise to implement our own regulations. This is the fundamental problem. We look forward to government leading the effort to enforce regulations so that we can demonstrate both a Circular Economy and a Swachh Bharat.
About the Author
Wilma Rodrigues is the Founder and CEO of Saahas Zero Waste, a socio-environmental enterprise that provides end-to-end waste management services. Rodrigues' organisation works to bring about environmental and social impact based on the principles of circular economy and global commitment to UN Sustainable Development Goals through their Zero Waste Programme, Extended Producer Responsibility & Recycled Products verticals.
Follow and connect with us on Facebook, Twitter, LinkedIn, Elets video