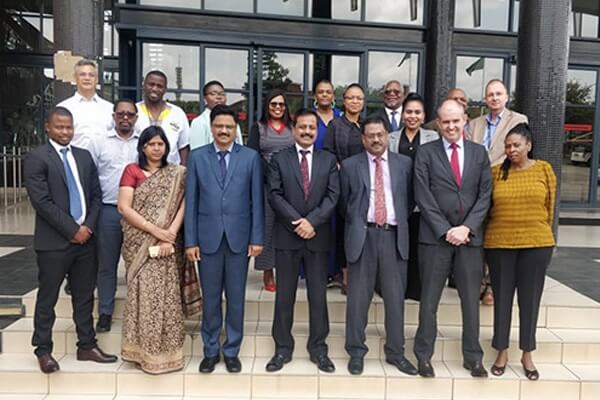 India and South Africa joined hands to strengthen cooperation in Astronomy, Renewable Energy, Advance Materials & Manufacturing, and Indigenous Knowledge System domains during the 12th Joint Committee Meeting (JCM) on Science and Technology held at Pretoria, South Africa from February 17-20.
Dr SK Varshney, Advisor & Head of International Bilateral Cooperation led a four-member scientific delegation from India whereas, the South African delegation was led by Daan Du Toit, Deputy Director-General, International Cooperation and Resources, Department of Science and Innovation (DSI), South Africa.
National Innovation Foundation (NIF) and DSI, South Africa finalised the Implementation Plan for Grassroot Innovation programme which was signed after the Joint Committee Meeting attended by Dr Vipin Kumar, Director, NIF, and onhlanhla Mkhize, Chief Director, Innovation for Inclusive Development DSI, South Africa.
The implementation plan will provide a clear strategy to deploy affordable grassroots technologies to address challenges faced by both the countries in food, nutrition, and health domain. India is a part of the Square Kilometer Array (SKA) hosted by South Africa. Also, an India-South Africa joint workshop on Radio Astronomy has been given a nod for value addition to SKA (Square Kilometer Array) partnership.
The joint committee appreciated progressive work in the HIV-TB programme and agreed to organize a final project review meeting during the last quarter of 2020. Both sides were appreciated for their joint effort for research and development projects in the Renewable Energy, Biotechnology, and advanced materials sectors. The joint committee has agreed to support 10 projects based on scientific merit of the total of 82 projects.
The delegation also visited the Council of Scientific and Industrial Research, Pretoria, National Institute on Communicable Diseases, Kleinskuur Boerdery Aquaponics Grassroots Innovation project Pretoria, and interacted with the scientists to explore further opportunities of cooperation.