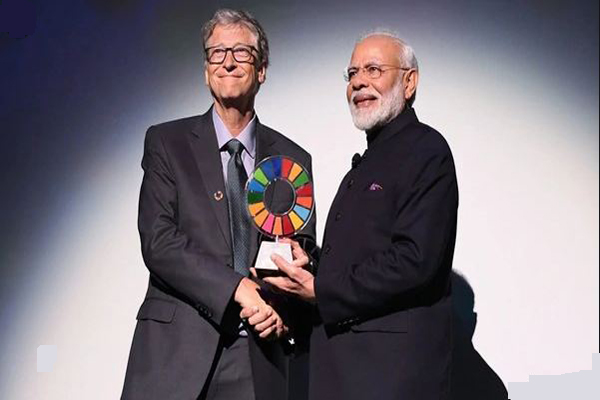 Prime Minister Narendra Modi on Wednesday was conferred with the 2019 Global Goalkeeper Award for Swachh Bharat Mission from the Bill and Melinda Gates Foundation. PM Modi dedicated the award to '130 crore Indians' who he said transformed the Swachh Bharat campaign in to 'people's movement' after presented with the award in New York on Wednesday.
"The success of the Swachh Bharat Mission is due to the people of India," said PM Modi.
He also said that receiving Global Goalkeeper Award on the 150th birth anniversary of Mahatma Gandhi is of great significance to him. Swachh Bharat Abhiyan was an initiative by the government but the people of the country took a proactive approach towards taking the mission forward and keeping cities clean, he added.
"In the last five years, record more than 11 crore toilets were constructed. If this mission has benefited someone the most, it is the poor of this country and the women," PM Modi said while thanking Bill and Melinda Gates Foundation for the award.
He also spoke about a report by the Bill and Melinda Gates Foundation that mentioned increased rural sanitation in India has resulted in improved body mass index (BMI) among women and reduced heart problems among children.
"Today, it is a matter of great satisfaction to me that the Swachh Bharat Mission has become a medium for the survival of millions of lives. The World Health Organisation reports that there is a possibility of saving 3 lakh lives due to Swachh Bharat," said the PM.
Speaking on measuring the success of this mission, PM Modi said, it was above any figure. "If this mission has provided the most benefit to anyone, then it would be for the poor and women of the country," said the PM. Due to lack of toilets, many girls had to drop out of schools, said the PM. He said it was the responsibility of the government to uplift the poor women and daughters of India.
Swachh Bharat Mission or Clean India Mission was launched on October 2, 2014 by BJP-led NDA alliance government. It is one of the ambitious programs launched by PM Modi during his first term at the Centre in 2014. Indian villages today have achieved 98% of rural sanitation coverage compared to 38% four years ago. As per official data, 90 million toilets will be built to curb open defecation by October 2, 2019.