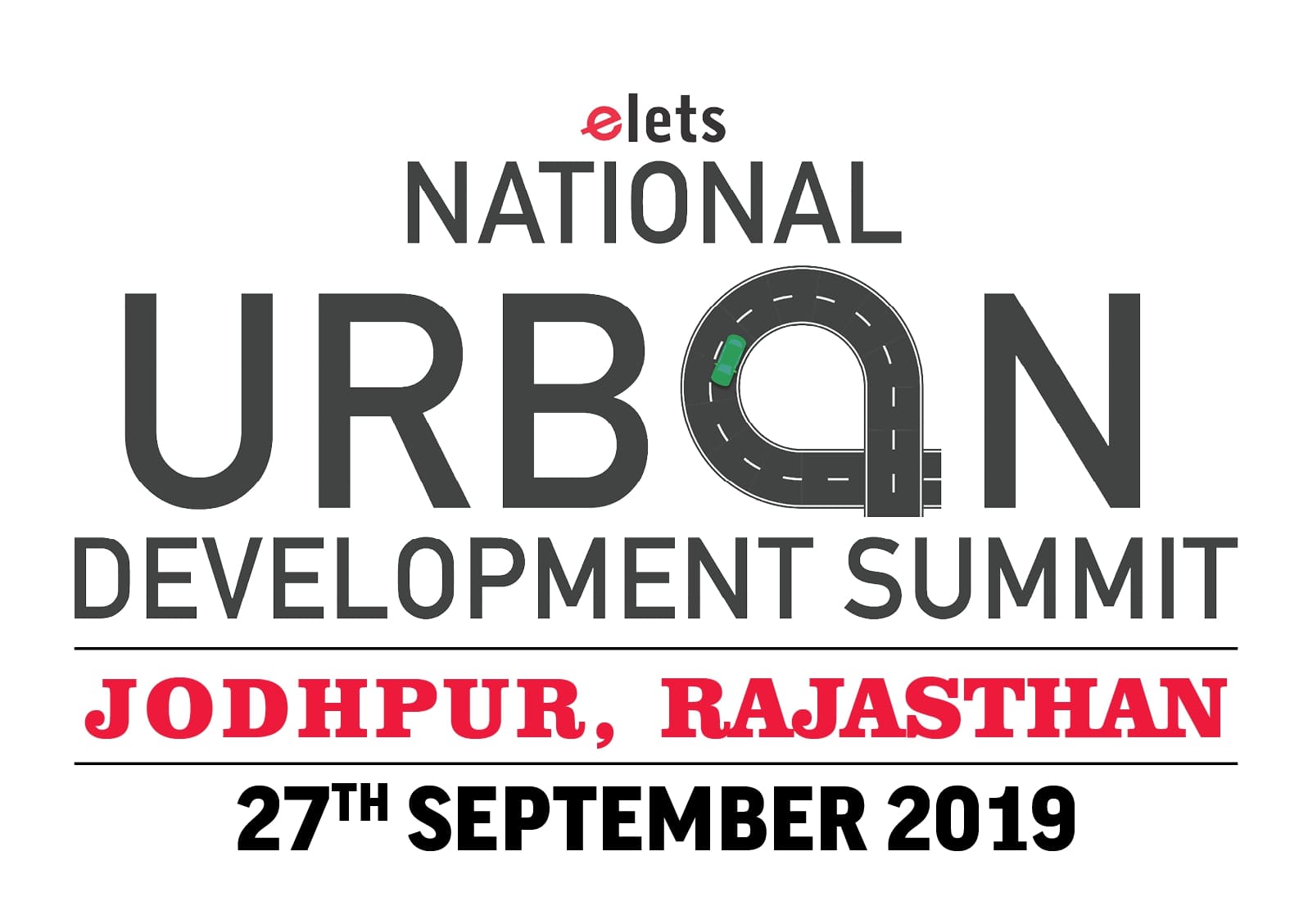 With the vision to promote urban development initiatives in Jodhpur and enable exchange of the best urban innovation practices from other parts of the country, Elets Technomedia Pvt Ltd in association with Jodhpur Development Authority is organising National Urban Development Summit on 27th September 2019 in the Sun City of Jodhpur.
Government of Rajasthan and Jodhpur Development Authority (JoDA) has planned several initiatives to transform the urban development ecosystem of Jodhpur to bring transparency and efficiency in the services being rendered to the residents by leveraging technology and innovations.
The summit aims to serve as a knowledge sharing platform for exploring key topics such as Urban Development, Housing for All, Sustainable Infrastructure, Smart Cities & Swatch Bharat, IT & e-Governance, Urban Mobility & Transport, Energy Water & Waste Management, Urban Education & Healthcare, Safe Cities, etc. The summit will see the policy makers, international experts, thought leaders, PSU leaders, innovators and industry leaders coming together for deliberations on e-Governance for citizen centric, smart and innovative practices for urban development of the city.
The key themes of discussion would be on:
Urban Development
Sustainable Development & Housing for All
Smart Cities and Swachh Bharat
Urban Transport
IT & e-Governance
Power & Energy
Water and Sewage Management
Urban Healthcare Education
Solid Waste Management
Green Energy
Effective Drainage System
Smart Security
Urban Healthcare Education
Healthcare
Creation and Beautification of Open Spaces
Urban Finance
The Summit will see participation from:
Development Authorities
Ministry of Housing & Urban Affairs, Government of India
Ministry of Electronics & Information Technology, Government of India
Municipal Corporations, Smart Cities and AMRUT Cities across India
Urban Development and Transport Departments from various State Governments
International Agencies
Foreign Countries
PSUs, Banks and Industries
Bhaskar A. Sawant, Principal Secretary, Urban Development & Housing and Sports & Youth Affairs, Government of Rajasthan will give special address on urban development of Jodhpur. The summit will be mentored by B.L Kothari, Divisional Commissioner, Jodhpur & Chairman, Jodhpur Development Authority and chaired by Meghraj Singh Ratnoo, Commissioner, Jodhpur Development Authority.
Some of the key speakers from Rajasthan at the summit will be Rajeeva Swarup, Additional Chief Secretary Home & Transport, Government of Rajasthan; Ajitabh Sharma, Secretary to Chief Minister, Chairman Rajasthan Renewable Energy Corporation Ltd, Government of Rajasthan; Naveen Mahajan, Secretary Water Resources & Water Utilities, Government of Rajasthan; T Ravikant, Commissioner, Jaipur Development Authority; Bhawani Singh Detha, Local Self Government Department, Mission Director AMRUT & Smart Cities, Government of Rajasthan; Prafulla Kumar, Commissioner of Police, Jodhpur; Jitendra Kumar Soni, Project Director RUIDP, Government of Rajasthan; Prakash Rajpurohit, Collector & District Magistrate, Jodhpur; Ankit Kumar Singh, Commissioner, Udaipur Municipal Corporation; Suresh Kumar Ola, Commissioner, Jodhpur Municipal Corporation; Lok Bandhu, CEO, Jaipur Smart City Ltd; Avinash Singhvi, Managing Director, Jodhpur Vidyut Vitran Nigam Ltd; Dr Anand Goyal, Founder, Goyal Hospital and Research Center; Ruchir Parekh, Managing Partner Hasti Petro, Chemical and Shipping Limited, Managing Partner Thar Lifespaces.
While some of the key speakers from outside Rajasthan will be Sanjay Kumar, Additional Chief Secretary, Housing Department, Government of Maharashtra; Dhanpat Singh, Additional Chief Secretary, Department of Housing, Government of Haryana; Vivek Aggarwal, Joint Secretary, (IT & Crops) & CEO KISAN, Ministry of Agriculture & Farmers Welfare, Government of India; Dr Rashmi Singh, Secretary, New Delhi Municipal Council, Lalit Jain, Special Secretary, Department of Finance, Government of Himachal Pradesh; Arun Kumar, Vice Chairman, Moradabad Development Authority; Nidhi Choudhari, Deputy Secretary, Water Supply and Sanitation Department, Government of Maharashtra; Shaleen Singh, Chief Administrator, Department of Housing, Government of Haryana; Munish Sharma, Additional Commissioner, Gurugram Municipal Corporation; Prabhat Malik, Chief Executive Officer, Zilla Panchayat – Jagdalpur, Chhattisgarh; Anupam Agrawal, Director, Bangalore Metropolitan Transport Corporation BMTC; Anuj Malhotra, Advisor for Transport & Urban Development to Government of J&K, Head Planner for Sabarmati River Front Development Corporation Attachments Area.