With the governance in India steadily acquiring an improved version of administration and service delivery, the change in the system has been expedited by the power of digitisation. Bringing innovators, visionaries, policymakers and the industry giants at one platform, summits like eINDIA have laid the foundation of knowledge-sharing for collective growth, writes Sandeep Datta of Elets News Network (ENN).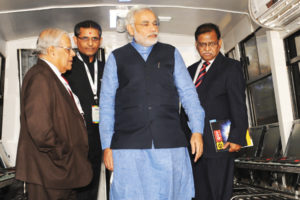 Sam Pitroda, the key architect of telecommunication revolution in India, once told an audience in 2016 that even in this Digital India effort, every government department still uses manual system. Even the department of Information Technology does not use electronic system! "They all want budget, computers, but do not want to change. If you really want to benefit from Digital India, you have to first change your mindset," he said while delivering a speech on "Digital India and National Development".
THE E-GOVERNANCE IN INDIA
Today, the impact of Information and Communications Technology (ICT) can be easily observed more strongly in the society than the industrial revolution that changed the world's business about 200 years ago. Faced with enormous pressure everywhere to deliver better governance and give services to the citizens, the governments worldwide embraced ICT a little later. The ICT facilitated things by providing better efficiency, productivity, reliability, transparency and responsiveness in the government business. Consequently, the new discipline of electronic governance flourished amongst governments in the last few decades. Today, software applications now support citizens' front-end services and many back-end government activities. In the last few decades, the ICT appears to have migrated from 'transformational' to a 'general purpose' technology tag. Nowadays, even architectural design of a residential flat incorporates the conduit routeing for the broadband, TV and telephone cables in the design, without getting asked for it. To provide a 'digital opportunity' for the 360-degree development of their activities, private sector business and industries appreciated and tapped the potential of ICT early. A section of observers opine that most of the attributes of good governance like equity and inclusiveness among citizens, poverty reduction, access to information, accountability and citizen-centricity etc, are being vastly improved by technology per se and ICT in particular.
ROLE OF PRIVATE SECTOR
The Government seems to have also derived a lot of lessons for e-Governance from the private sector, especially some important technology-related ideas i.e. Enterprise Resource Planning (ERP). It was originally created for plants and factories with diverse activities. The discipline of change management, which has been an important component in the dynamics of private sector business practices, is now becoming essential for the smooth functioning of government.
KNOWLEDGE EXPLOSION IN THE 21ST CENTURY
It is often emphatically said that there is a knowledge explosion in the 21st century and 90% of the current knowledge has been acquired in the last 100 years. In future, it needs to be understood, innovative technologies like big data, business intelligence and analytics using artificial intelligence, robotics and automation hold the potential to change the landscape of governance and business. A section of experts opine that a few government and private entities are presently able to tap the enormous potential that these technology areas promise along with the opportunities for higher performance and productivity.
UTILISING STATISTICS FOR BETTER GOVERNANCE
Considering the current governance scenario, an enormous volume of potential transactional data can be generated by integrating/linking the PAN number, the Aadhaar number and mobile/telephone number of hundreds of millions of citizens. The Narendra Modi government appears to be rightly working in this direction to bring a real change through building a transparent administrative system. However, there is still scope of innovative use of business intelligence and analytics for this huge volume of data. It will benefit the Government to improve its performance. THE PROGRESS The basic work of data acquisition and digitisation within the government sector is in rapid progress at present. Though some results are evident in the areas of tax revenue, transportation, passport issues etc., the potential transformational benefits of data analytics are yet to become visible in a big way. The Modi Government has laid a lot of stress off late on linking of Aadhaar number with the various social benefit schemes and the taxation system. Not many may know but networking of unified Goods and Services Tax (GST) revenue system across the country holds the potential to generate huge transactional data.
CHALLENGES The endeavour of digitisation, however, is not devoid of challenges. These range from the collection methodology to how data could be used and in which way, how the conclusions could be drawn and how the legacy business processes could be re-engineered to incorporate the findings.
Also Read: Elets National Summit on Digital Innovation & Cyber Security
THE FUTURE AHEAD… There is a belief that in the near future, machine-inspired artificial intelligence would match the human cognitive capabilities including day-to-day decision-making. As of now, it appears that this may partly substitute human intervention. But the main thing is it will improve the performance of the system manifold and with least error margin. The challenge of embracing these technologies would be how to train the workforce, especially in the Government sector, as per the new capabilities with the added possibility of changing the type of the work. As a result, the impact on the workforce would be felt in both the private and government sectors. However, this would be sector-specific and would be dependent on the type of activities undertaken as a part of the whole occupation.
Elets Technomedia – A Voyage of Learning, Exploring and Propagating Knowledge
Influenced by the enormous potential of Information and Communications Technology to effect better administrative system, bring transparency and take service delivery to the last-mile, Elets Technomedia started its journey in 2003.
Over the years, being a witness and propagator of the vision behind embracing digitisation in governance and uplift of the society at large, the organisation has gradually moved to promotion of innovations in various sectors such as Health, Education, BFSI, Urban Development and Housing, Waste Management, Environment, Tourism, Infrastructure, Pharma, among others.
What transpired in eINDIA's Journey?
Observing a big void existing among the policymakers, regulatory bodies, key decision makers and the industry, the need for organised, focused and well-laid out discussions was observed by Dr Ravi Gupta, Founder Publisher, CEO, and Editor-in-Chief, Elets Technomedia Pvt Ltd in 2003.
With his years of experience as a social entrepreneur and a member of the various national and international bodies linked to development, Dr Gupta developed the concept of organising the eINDIA summits. These conclaves, over the years, have not just promoted a habit of open discussions but also felicitated the leaders and brains behind country's growth story.
Today, eINDIA is looked upon as a premier conclave dedicated to the cause of enhancing the horizon of eGovernance and better service delivery across the country.
eINDIA –A Key Witness of India's Digital Evolution
Elets Technomedia since its inception in 2003 has been focused on promotion and propagation of the concept of eGovernance as part of the country's digital journey. Since 2005, the endeavour has been made through its flagship knowledge conference – eINDIA, powered by its eGov magazine.
Organised in different parts of the country, the annual eINDIA summit has evolved over the years while earning a huge reputation especially among the policymakers, decision-makers and industry leaders who matter for India's growth story.
To encourage discussions, lectures, and presentations on key subjects linked to strategic collective development under eINDIA, Elets has invariably remained instrumental in creating platforms for knowledge-exchange.
These summits have been always organised strategically at places which can inspire and fascinate the government and private sector for better planning and service delivering by embracing digitisation.
Through a number of summits like eBihar, eJHarkhand among others, the collective knowledge and learnings gained in different parts of the country have been shared and highlighted at common platforms.
2005 – A New Dawn in the World of Knowledge Exchange
Elets commenced its journey of knowledge conferences in 2005. Today, the company has organised more than 150 conferences not just in India but also in UK, USA, Geneva, Dubai, and Sri Lanka to name a few in last 13 years. These conferences have promoted innovations and use to ICT in Health, Education, Banking and Finance sectors besides eGovernance.
It started with "Conflux 2005". It was a three-day conference and exhibition organised by the Centre for Science Development and Media Studies (CSDMS) in collaboration with Government of National Capital Territory of Delhi. Its objective was to showcase e-Government developments in India and the Asia Pacific and learn from the successful practices in the region.
The conference served as a platform, bringing experts from the various countries, key government representatives, industry and academia together to discuss the issues and priorities on the subject.
The participants were able to demonstrate their initiatives, take feedback from the community and learn about the processes, technologies and solutions which addressed their concerns. The three key stakeholders in e-Government programme implementation-the government, private and the NGO sector shared their successes, learnings and untapped opportunities during the conference.
It was designed to help attendees, address these challenges and provides practical, actionable knowledge through sharing of better learning practices, presentation on e-Government case studies from various Indian states and also from other Asian countries.
It was participated by key administrators/e-Government practitioners from Central Government Ministries, State Government, Local Authorities, Government Agencies and other relevant government organisations, Small-Medium Enterprises (SMEs) including ICT Companies providing e-Government and e-Commerce Solutions, Universities: Professors, Lecturers, Consultants and Administrators, Politicians, Researchers, Chambers of commerce and other associations, Community Leaders and Community-based Organisations.
egov India 2006 was third in the series of e-Government conferences organised by the Centre for Science, Development and Media Studies (CSDMS), following those held in New Delhi in 2005 and Bangkok in 2006.  Organised at Hotel Taj Palace in August in New Delhi, it was co-organised by the Department of Information Technology (DIT), Government of India, and UNDP.
The conference addressed the emerging issues in e-Governance and debate on National e-Governance Plan (NeGP) in India. There was participation of a large conglomeration of eGovernment experts and practitioners from government, private sector and academia.
It brought together different stakeholders on one platform through keynotes, papers, special workshops and exhibition, and provided an opportunity to interface with private sector players, practitioners, government executives, decision-makers and experts.
egov India 2006 was supported by reputed organisations like USAID, UNESCO, The Asia Foundation, American India Foundation, APERA, Bellanet, Gesci, ISPAI, International Academy of CIO (Thailand), Korea Agency for Digital Opportunity & Promotion, NASSCOM Foundation, NISG, NIC, CDAC, Plan International, Quest, SDC, SIDA, SEAMEO, Telecentre.org and Telecentres of the Americas.
There was a good participation by private sector companies as sponsors, advertisers and exhibitors of the conference.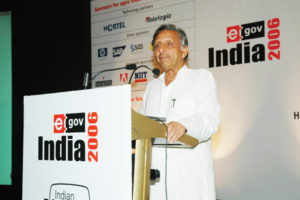 The conference saw the participation of more than 500 delegates, representing various key policy makers from government departments, multilateral and bilateral agencies, academic institutions, NGOs and the IT industry. Among the government functionaries, the speakers included Mani Shankar Aiyer, the then union minister of Panchayati Raj and Youth Affairs and Sports; Jainder Singh, Secretary, DIT, Government of India; Kraisorn Pornsutee, Permanent Secretary, Ministry of Information and Communication Technology, Thailand; R. Chandrashekhar, Additional Secretary, DIT, Government of India; Wajahat Habibullah, Chief Information Commissioner of India; besides other senior Government of India officials from various ministries. IT Secretaries from different State Governments also participated.
Several NGOs also attended the conference, which included National Institute of Smart Government (NISG), International Development Research Cooperation (IDRC), Swiss Agency for Development and Cooperation (SDC), eGovernments Foundation, Evangelical Social Action Forum (Kerala) etc.
eINDIA 2007,  including the egov India 2007 was a conference. A four-day Indian ICT conference and exhibition, aimed at providing a unique platform for multi-stakeholder partnership from across the world to share a level playing ground through active conferencing, serious business networking and showcasing of innovations and solutions through a full scale exhibition.
The conference was organised by the Centre for Science Development and Media Studies (CSDMS) and co-organised by the Ministry of Communications and Information Technology, Government of India and UNDP.
It received overwhelming support from the Ministry of Information and Broadcasting, the Ministry of Agriculture, Ministry of Human Resource Development and the Ministry of Panchayati Raj.
Along with the seven seminal tracks- egov India 2007, digitalLEARNING 2007, Telecentre Forum India 2007, eHealth India 2007, mServe India 2007, Community Radio 2007, there was the first ever film festival showcasing grassroots initiatives and innovations in ICT usage for those who need it the most.
Delivering the guest country lecture at the inaugural session of eINDIA 2007 conference, Dato Halim Man, Secretary General, Ministry of Energy, Water and Communications, Malaysia, remarked that these events should not be just the platform to exchange ideas and experiences, but should go further to explore how we can assist the rural communities, who do not have access to technology.
Inaugurating the conference, T.A. Raja, the then Minister for Communications and Information Technology, Government of India, said, "The potential of IT to stimulate the development of different sectors of the domestic economy in India is enormous. It can dramatically reduce the cost of communications, improve access to technology and marketing capabilities for the rural poor."
eINDIA2008, which had turned India's largest information communication technologies event, was held in New Delhi in July. The conference-cum-exhibition was attended by over 6,000 participants. It provided a collaborative forum to share knowledge and ideas enabling the participants to develop multi-national and cross-industry contacts and partnerships as well as to enhance knowledge, expertise and abilities.
The eINDIA2008 conference had six seminal tracks – e-Governance, Digital Learning, Telecentre Forum, eHealth, MobileServe and e-Agriculture.
The event was organised by the Centre for Science Development and Media Studies (CSDMS), with active support from the Ministry of Communications and IT, Government of India, UN (Gobal Alliance of ICT for Development) GAID, Department of Agriculture and Cooperation and the Ministries of Human Resource Development, Urban Development and Panchayati Raj.
The different state partners for the event included the governments of Jharkhand, Manipur, West Bengal, Directorate of Higher Education, Government of National Capital Territory and Kerala State Information Technology Mission.
There was also an active participation of the private sector in the conference and exhibition.
The inaugural session was graced by D Purandeswari, Union Minister of State for Higher Education, Ministry of Human Resource Development, Government of India, Jainder Singh, Secretary, Department of IT, Ministry of Communications and Information Technology, Government of India, Subash Pani, Secretary, Planning Commission, Government of India, R Chandrasekhar, Additional Secretary, Department of IT, Ministry of Communications and Information Technology, Government of India, Michael Rawding, Vice President, Unlimited Potential Group, Microsoft Corporation and Praveen Vishakantaiah, President, Intel India.
The luminaries inaugurated the event by the traditional lighting of the lamp. The inaugural session concluded with the vote of thanks by Dr Ravi Gupta, the then  Executive Director, CSDMS.
In 2009, it was felt how ICT has become all pervasive and easy accessible to everyone and almost everywhere. It was not relevant if one used ICT, but how it was used. Several projects nominated in the eINDIA Awards 2009 used simple technologies, but what distinguished them from others was their application.
eINDIA Awards given in that year were open to national and international government organisations, civil society organisations, bi-lateral, multi-lateral developmental organisations and enterprises which have transformed social development opportunities into a sustainable social enterprise through innovative use of ICT.
These awards were launched to encourage institutions and individuals to use and apply ICT tools in various developmental and sector-specific projects and spread awareness about the role of ICT in addressing social concerns and emphasise at the instrumental effectiveness of ICT based applications.
Considering ICT's growing role in country's development, it was decided to understand how it has added value to numerous programmes in the fields of governance, education and health initiated by the Government of India, the state governments, civil society and the corporate bodies. Such innovative initiatives have been imperative for India's growth and hold huge significance.
It was also observed that there was a political will to this effect, with both the then President and the Prime Minister of the country focusing on innovations. It was however felt that there is a need of growth-based innovations that are sustainable, scalable and affordable.
In the spirit that innovations should affect people who are at the "bottom of the pyramid" in a way that it should be able to change their lives,  the eGov magazine and its publisher Elets Technomedia took the responsibility to showcase innovative ICT programmes and projects at the eINDIA 2010 conference and exhibition. Also, to acknowledge and felicitate unique and innovative initiatives in use of ICT in the development space, it was decided to initiate the eINDIA Awards.
The eINDIA Awards process too was innovative in the true sense —having the right mix of public voting and jury evaluation.
It was noted that that the public voting in that year surged to 1,21,577, up from 16,000 last year, showing an astounding response to the evaluation process. It testified the global popularity of eINDIA Awards as well as the eINDIA event that was due to see participation of thought leaders, policy makers, planners, implementers from government, private sector, academia and civil  society.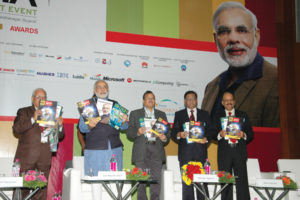 eIndia 2011
eINDIA 2011 served as a vibrant platform for discussion and debate on the core issues that we, the people, face today. If India has to fulfil its dream of bringing more development in areas of governance, education and healthcare to all parts of the country, then more work has to be done on the technology front.
India's premier ICT event, which transpired in December 2011, in Gujarat's capital city of Gandhinagar witnessed inaugural address by Narendra Modi, the then Chief Minister of Gujarat, where he said: "In my mind, the letter 'e' stands for three things that should be in governance – easy, economic and effective."
On this occasion, he chose to explain how the Gujarat government had initiated "recruitment process, bar coding of ration cards and computerisation of all the check posts on highways through e-Governance."
With an eye on the present developments and on the innovations that we can expect in the future, a range of eminent leaders, thinkers, innovators and educationists, from India and other parts of the world, presented their cutting edge ideas on how advances in ICT will transform governance, healthcare services and education.
eINDIA 2012, held in Hyderabad, witnessed key decision makers and experts, administrators and policymakers, leaders and stakeholders, service providers and IT-telecom vendors, consulting firms, ICT entrepreneurs and development agencies – all converging on one platform.
The conference explored a range of interesting opportunities for India to pursue, highlighted critical issues for the country to address and tabled crucial discussion points for government and private bodies for future action.
The event was hosted by the Department of IT, Government of Andhra Pradesh in association with Elets Technomedia and was supported by Ministry of Communication & IT, Ministry of Commerce & Industries, Ministry of Urban Development, Dept of Science & Technology, Govt of India, UIDAI, UNESCO, Directorate General of Employment & Training (DGET), and other key government agencies and state governments including Government of Kerala, Odisha, Jammu & Kashmir, Maharashtra, and Madhya Pradesh.
Convened with the theme of "Building a Knowledge Society", eINDIA 2013 Summit was held in July in Hyderabad. Divided into three parallel thematic tracks on Governance, Education and Health, it was inaugurated byFormer  Andhra Pradesh Chief Minister N Kiran Kumar Reddy.
It was held to bring together different stakeholders, offering them a networking platform for discussions between key government officials, industry experts, stakeholders, decision makers and private players on the essential issue of ICT implementation in governance, education and healthcare.
It was felt that inclusive growth can only become a reality when the government takes some significant initiatives for deployment of ICT in all the major areas. This was the essence of the message that emerged from the eINDIA 2013 Summit.
The Summit created an open and structured environment for experts and key decision makers from across the nation to come together and pondered the most important issues that the nation was facing.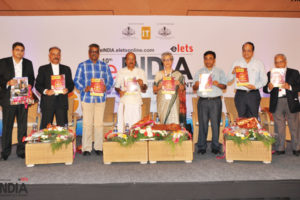 eIndia 2014
The year 2014 witnessed Elets Technomedia's endeavour to promote ICT in the government system and explore its new scope to facilitate service delivery and access to government, reaching the southern state of Kerala.
Be it policymakers, stakeholders from the Industry and distinguished personalities expressed their views and shared individual experiences at the 10th eINDIA summit in Kovalam beach town.
It evolved into a confluence of practical ideas to make public service delivery effective, government ecosystem accountable and actions of the government transparent.
2014 proved to be quite a significant year, especially with regard to the eGovernance domain, with lot many changes taking place around all. The most important occurrence of the year happened in the month of May when Prime Minister Narendra Modi took over the reins of NDA Government.
In alignment with the Prime Minister's Digital India vision, the 10th Anniversary edition of one of India's biggest ICT events — eINDIA 2014 — was organised in November. The two-day Summit, held in association with the Department of Information Technology, Government of Kerala, took place in coastal town of Kovalam. In his keynote address, PK Kunhalikutty, Minister for Industries and Information Technology highlighted the course eGovernance had charted in Kerala and also said: "I wish that eINDIA 2014 turns out to be a good opportunity for the people to understand our state and the country better, visualise the future roadmap for development and find opportunities of participation in it. The state looks forward to good outcomes from the event."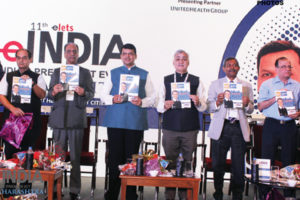 eIndia 2015
The State of Maharashtra, among some other states, has made significant achievements with regard to technology-driven citizen centric initiatives. To showcase its achievements and elicit expert opinion on the way forward, the Government of Maharashtra, in association with Elets Technomedia organised "11th eIndia – Maharashtra" in Mumbai in November 2015.
It was held in the wake of the fact that to achieve the goal of inclusive growth in a vast and diverse country like India, harnessing technology is a must. The Government launched a number of programmes running on technology, enabling it to transcend the geographical boundaries to take the benefits of governance to the last man.
The event evolved as a commentary of India's journey towards becoming a fully digital nation, with special reference to Maharashtra.
Jaipur witnessed a big congregation of digital and non-digital innovators, entrepreneurs, startups, and industry leaders, as the Department of Industries and Corporate Social Responsibility (CSR), the Government of Rajasthan, and Elets Technomedia Private Limited jointly hosted a day-long eIndia Innovation Summit in Jaipur in 2017.
Minister of State Electronics and Information Technology, and Law and Justice, Government of India, P P Chaudhary inaugurated the summit which included various sessions on subjects like Promotion of Innovations and Industrial Infrastructure across India, Education and Skill Development: Development of Innovations, Entrepreneurship and Industry, Smart and Safe Cities: Innovations in Rajasthan and across India.
Follow and connect with us on Facebook, Twitter, LinkedIn, Elets video