Actilligence is our fully integrated product platform used to implement Integrated Command Control and Communication (ICCC) solution for smart cities. Actilligence facilitates quick and seamless deployment of city command centers with numerous complex integrations, says Murali Krishna Gannamani, Managing Director and CEO, Fluentgrid Ltd, in conversation with Elets News Network (ENN).
Tell us something about Fluentgrid and its core strengths.
Fluentgrid is an Energy Utility and Smart City solutions company with industry standard COTS software products. We are proud to be facilitating the global movement towards smart grids and smarter cities for a sustainable planet and happy people. We have proven solutions for utilities and cities that churn out actionable intelligence to drive seamless transformation. Our solution offerings are based on an advanced technology framework that allows seamless integration of multiple applications, servic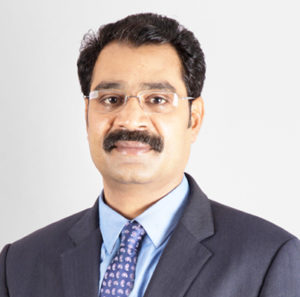 es and devices in a future proof manner, with lower Total Cost of Ownership (TCO) and faster Return On Investment (ROI).
Backed by ISO certified process frameworks, CMMI L5 compliance, agile solution delivery models and unflinching customer support; we implement our solutions in a time bound manner with least disruption to ongoing business and long term commitment to support our solutions.
What are the innovative Smart City focused solutions that Fluentgrid currently offers? What is your role in Lucknow Smart City?
Seamless transformation of cities with smart and sustainable solutions
Rapid urbanisation, rising aspirations of citizens for a better quality of life and competition among cities to attract more investments and retain skilled people are the trends fuelling smart city movement. Essentially, a Smart City entails uninterrupted flow of utility services through coordinated instrumentation, participative governance through citizen involvement and gaining deeper insights into city data for continuous improvement.
Our solutions span the entire spectrum of smart city ICT ecosystem including multi-utility management, smart metering and smart grids, e-governance, city ERP, IoT enabled intelligent infrastructure, advanced analytics and integrated command and control center. We deploy our Smart City products to deliver these solutions faster and in a sustainable manner.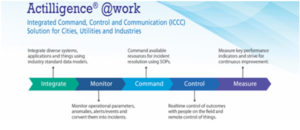 Fluentgrid Actilligence is the leading COTS product that accelerates delivery of integrated command and control center (ICCC) solutions for smart cities. It comes pre-configured for industry leading smart city solutions from our partners across various urban domains. It also facilitates easy integration of third-party solutions and city applications with open APIs.
The product's platform architecture is inherently scalable to ever increasing users, devices, integrations, data and processing demands of a growing city. Actilligence facilitates quick and seamless deployment of city command centers with numerous complex integrations.
We assist in preparing a blueprint for the city of future with sustainability in mind, help chart an optimal road map considering the immediate needs and resource availability and deploy the best fit solutions in a cost effective manner with quick returns.
What is your role in Lucknow Smart City?
Fluentgrid® appreciates the city administration of Lucknow in their efforts towards an ambitious journey of developing Lucknow City under Smart Cities Mission. We got the mandate to implement an Integrated Command and Control Center (ICCC), GIS and Citizen Engagement platform besides smart elements like environmental sensors and variable messaging display.We are also setting up the physical infrastructure for ICCC data center and disaster recovery on cloud for the Lucknow Smart City.
The Smart City solution will be deployed with an integrated approach to coordinate all essential services in a city. Our solution modernizes the digital and physical infrastructure of the city to make delivery of citizen services more efficient, useful, innovative, and exciting. Lucknow city has envisaged common command center application platform which integrates with the existing e-governance applications developed by various departments for a 360-degree view of urban governance. A City Command, Control and Communications Centre breaks the information silos across various departments and acts as a single source of information for all civic functions and is the backbone of any Smart City.
How do you see the future of Smart City based initiatives in India and what role do you see for Fluentgrid in the larger picture?
The Smart Cities Mission has been one of the largest government investment in urban technologies to address India specific challenges and opportunities. In future we will see large scale operationalisation of these technologies thus helping cities become more resilient and citizen centric. At the same time city administrators will use the data and information generated for evidence based planning and decision making.
Fluentgrid with its advanced technology platform that leverages big data analytics and machine learning will be at the cutting edge of urban technology innovations in India.
Smart Utility Products is one key domain of Fluentgrid. Tell us more about your key offerings.
Fluentgrid Smart Utility product suite is the result of our sustained endeavor at supporting utilities in curtailing their revenue losses, ensuring customer delight and improving operational efficiency.
These products are built from scratch for utilities making them easier to quickly configure and integrate without extensive customisation. The product suite has been constantly evolving with field lessons learnt over a period of two decades, by offering pragmatic solutions to most demanding utilities across diverse regions.
What 'New Energy based solutions' Fluentgrid currently offers?
Fluentgrid CIS (Customer Information System, earlier known as mPower CIS) ensures total control of utility commercial operations with seamless integration of service connection life cycle (covering new service connection, disconnection, reconnection, etc.,) with meter-to-cash life cycle (covering metering, billing, payments, credit collection and revenue accounting).
nxter is the cloud solution for energy retailers, who would like to stay lean and nimble yet grow aggressively and expand into new regions to quickly capitalize on opportunities. nxter relieves them from the burden of coping with EDI technology jargon and empowers the back office staff with a simple and intuitive interface to go about doing their daily tasks.
Fluentgrid CRM (Customer Relationship Management, earlier known as mPower CRM) offers an integrated customer communication tool set for continuous engagement with utility consumers. The features include multi-channel contact center, social media monitoring, push notifications and bulk messaging. Roadmap for the product includes robotic process automation to reduce staff attrition on routine tasks and artificial intelligence to stay connected with consumers, just when needed. Fluentgrid EAM (Enterprise Asset Management, earlier known as mPower EAM) addresses the pressing needs of most utilities for an integrated suite of enterprise applications that work seamlessly with other operational systems in the utility.
Fluentgrid MWM (Mobile Workforce Management) integrates with all the utility applications to manage field works. MWM can be used to effectively assign and monitor tasks to field staff or drones helping improve productivity on the field.
Fluentgrid Insight (earlier known as mPower BI or mPower Insight) leverages Hitachi's Pentaho advanced analytics platform with MapR Apache Hadoop system for big data architecture. Fluentgrid Insight also powers RPS, our analytics based closed loop revenue protection solution paired with mobile workforce management functionality.
The Utility Command Center (UCC) is our recent invention to offer situational intelligence to utilities for informed decision making with centralized command. Salient features of Fluentgrid UCC include:
Centralised surveillance with video analytics to trigger alerts on abnormal events
Accept revenue, consumer and asset related alerts from Insight and convert them to incidents
Manage incidents through standard operating procedures
Computer aided dispatch and monitoring of incidents via MWM
Stay connected with consumers through CRM
These days exchange of technical knowhow is facilitated by global collaborations in many fields. Are you also adopting such a practice? If yes, tell us more about the players you have tied up with.
Fluentgird strongly believes in the synergies with strong partners and the resulting technology and innovation. In order to provide the best solution to its clients Fluentgrid engages in several global and domestic partnerships. Some of the technology leaders that we partner with are Hitachi, ARM technologies and Tom Tom.
Follow and connect with us on Facebook, Twitter, LinkedIn, Elets video