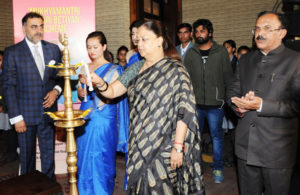 The Department of Higher and Technical Education, Govt of Rajasthan, puts special emphasis on nurturing a culture of research and innovation and thus, ICT-backed learning across its higher education institutions is given special importance. It's in the same direction that recent years have witnessed a significant rise in the number of IT-led initiatives in the educational sphere of the State, writes Elets News Network (ENN).
Implementation of e-governance in Higher Education through Higher Education Portal, available online at: www.hte.rajasthan.gov.in. This was mainly done to:
Create a single database of students and faculties of higher and technical education l Automate admissions, academic processes for college and universities
Making a provision for a single gateway for all kinds of academic activities like issuing of certificates, mark-sheets, migration certificates etc.
Making a provision for creating a facility of e-learning and availability of digital contents and curriculum Making a provision for such an admission process that will be integrated with examination module which would ultimately eliminate the resubmission of examination forms by the admitted students and later can be used upto the award of degree.
Making a provision for Affiliation of Management Modules for integrated with higher education portal. The move will eliminate the resubmission of affiliation forms by the private colleges for award of affiliation by universities
Promotion of Skill and Entrepreneurship Programmes through mobile apps like UPER and DISHARI.
Online interaction through "Crowd Source Social Platform for Education" will now be made available on the portal with the creation of Student Online Community (SCO), coupled with Artificial Intelligence (AI) enabled features.
Launch of new internet lease line across the State
4 Mbps dedicated lease line made available in 115 Govt colleges with IT infrastructure. Working towards a fully Wi-Fi Campus
7 Govt colleges have been provided Wi-Fi facilities in session 2016-17. Provision for providing Wi-Fi facility to all remaining Govt Colleges is scheduled to be completed in 2018-19. ICT infrastructure being developed in (Rashtriya Uchchatar Shiksha Abhiyan) RUSA beneficiaries Institutions.
Under this, the following facilities are being designed:
Seminar / Meeting Room (with Audio Visual Equipment installed)
Smart class room l Smart Labs
ICT Labs
CCTV in the campus
Library computerisation in 40 Govt Colleges
WEB based library computerisation software is being used
Integration of all library data with access e-CLASS Rooms in Govt Colleges l 35 Govt. Colleges in first phase
41 Govt. Colleges in second phase
Online E- Lectures on Higher Education Portal for e-learning repository will soon be made available.
Digital Class Rooms in 44 Govt Girls colleges under CSR l Under Corporate Social Responsibility (CSR) 35 Govt girls colleges have been connected to share online lectures among each other Smart Science lab at 7 division headquarters colleges
In 7 Govt Colleges at Divisional of educational excellence, models for further replication and nodals for linked Govt Colleges for sharing and disseminating knowledge Association with SWYAM portal of MHRD, Government of India
Under this, efforts are on to encourage Massive Open Online Courses (MOOCs).
Big Data Challenge and Hackathon are being regularly organised for:
Promoting Innovations
Promoting Entrepreneurship
Promting Employability
Enhancing Skills
Promoting Technology
Creating Common Platform of Opportunities
Knowledge Exchange
Recognition and Showcasing of Success Stories
Sharing of Best Global and National Practices
Spoken tutorials for FOSS courses: This is an initiative powered by The Ministry of Human Resource Development (MHRD).Its other features include:
This is part of National Mission On Education Through ICT
http://spoken-tutorial.org l Indian Institute of Technology, Bombay is partner
It offers free of cost audio-video e- learning resource
Tie up in the state with DCE, DTE, RTU, MGS University, MDS University, JNV University including private universities.
FOSS software – useful for UG/PG classes
104 Govt Colleges participated and 6,000 students benefitted
The basic MS office related online trainings to be provided to 9,500 students and 500 faculties of 50 Govt Colleges under an MOU with Microsoft.
Launch of English improvement program for students in Govt colleges with the help of English Edge-Liqvid for augmenting English language skills by use of software and onsite support in the 9 colleges with 100 students from each college.
MoU with Morarka Foundation to provide agro-based skills to students of Govt colleges by use of web portal and their expertise and pool of vast farmers across India. MoU with HIK Vision to provide free surveillance camera and DVR/NVR to 75 Govt Colleges under their CSR activity.
Association with Rajasthan ILD Skill University: Letter of Intent given as Support Partner for Skill courses to train students and faculty members
Association with IGNOU, New Delhi: Letter of Intent given as Support Partner for Skill courses to students
Association with Center for Electronic Governance (CEG): MoU signed as Support Partner for Skill courses to train students and faculty members
Association with ICICI Academy for Skills: MoU signed for Soft Skill training and Placement of Student.
Follow and connect with us on Facebook, Twitter, LinkedIn, Elets video