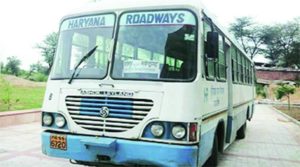 With a view to increasing the profit of Haryana Roadways, rotation of buses playing in Uttar Pradesh would be increased and such routes as have bigger load factor and higher profit, demarcated.
This was disclosed by the Transport Minister,  Krishan Lal Panwar, at the review meeting held here today with general managers of the department. The issues discussed included traffic receipt rate to be enhanced to Rs 32 per km, minimizing expenditures, improvement in KMPL, advance booking and increasing fuel efficiency.
Panwar said last year, 600 buses were added to the fleet and 600 more would be added this year, out of which 367 had already been approved. Haryana Roadways is providing free travel to citizens under 40 different categories.
The minister appreciated general managers of some depots with outstanding performance and directed others to improve performance of their depots. The officers were told to work with more dedication to put the State Transport on profit mode.
 "I myself challaned overloaded vehicles during one week of checking and recovered penalty of Rs 2 crore which worked out to about Rs 30 lakh an hour. This shows the gravity of the problem. Officers should work with more loyalty and commitment to minimize losses of the department", he added.
 Panwar asked officers to share their experiences for further improvement in the system anddeal strictly with such private bus operators as did not ply their buses on the scheduled routes. This is putting the Transport Department to huge losses and causing inconvenience to the public.
He also directed the general managers to get buses plied on the scheduled routes by coordinating with the RTA officers concerned, and issue challans in case private operator did not comply. If any RTA officer does not cooperate, they can lodge a complaint.
They can also send photographs of such private buses through Whatsapp. Faridabad, Gurugram, Ambala, Sirsa and Narnaul districts are full of such private buses as have permits for one area but are plying in another area. Once in a month checking of private buses should be done, he added.
On being informed about all buses in Manesar taking the   flyover, he issued directions to deploy inspector in that area.
The Transport Commissioner, Vikas Gupta, said in future, transfer of employees in several categories, including drivers and conductors, would be done online.
He directed general managers to ensure complete uploading of all pending data of family details of the employees on HRMS, at the earliest. Biometric attendance is compulsory for all employees and this rule would be applicable to drivers and conductors also, Gupta added.
Follow and connect with us on Facebook, Twitter, LinkedIn, Elets video