The Vasundhara Raje Government in Rajasthan is making an endeavour to bring a holistic social change in the city of Ajmer, famous as a Sufi City. Since being included in the Smart Cities' list, the development process has picked up momentum here on various fronts in a major way to usher in a perceivable change, observes Priyanka Sharma of Elets News Network (ENN).
Founded in 7th Century by Raja Ajaipal Chauhan who named it 'Ajaimeru' or, the 'Invincible Hill', Ajmer is today a famous pilgrimage centre of Rajasthan. Situated almost in the heart of Rajasthan, the city of Ajmer, on its north, has a large artificial lake –Anasagar — adorned with a marble structure called Baradari. It's an ancient city with modern developments on the outskirts. The Ajmer district, also being divisional headquarters, includes three other districts viz. Bhilwara, Nagaur and Tonk besides Ajmer itself.
The local administration in Ajmer is today applying various smart solutions to ensure a change that facilitates life and the experience of being in this city, which draws a huge number of domestic and international tourists. Ajmer Municipal Corporation is undertaking several projects and initiatives as Smart office project such as:
Installation of Solar Panels: Ajmer Municipal Corporation has taken an initiative of installing solar panel of 30 KW solar grids on the roof top of the corporation's building. The total project cost is about Rs 24 lakh of which Ajmer Municipal Corporation would pay Rs 16.64 lakh in two installments.
With this initiative, Ajmer Nagar Nigam or Municipal Coporation is contributing to make an optimum utilisation of solar energy free from carbon emissions. It is thus helping in saving the environment. As a result of installation of solar panels, 70-80 per cent of AMCs building energy is catered by the solar panels, the production of energy continues throughout the day and there is no requirement of the energy after sunset. Excess power generated during holidays and weekends is supplied to the city power grid.
The solar PV panels also reduce heat gain into the building, which is minimised by the solar panels covering 70-80 per cent of roof area.
Replacement of Conventional Streetlights A total of 32,000 conventional street lights have been replaced under the scheme of Central and State Government. The installation of LED lights has been done by Energy Efficiency Services Limited (EESL).
The Operations and Management (O&M) of the project is under EESL for seven years. Ajmer is involved in energy saving since 2008 after installation of CFL bulbs; now the city is saving more than 50 per cent of the energy after installation of LED lights. This project is being implemented with the help of State Government after signing a Memorandum of Understanding with EESL. Digital billboards are being used to create awareness amongst the citizens. The billboards showcase government flagship schemes, important laws and achievement of the city.
Ajmer 311 and Smart City 311 Mobile Applications: This application has been launched for citizens, councillors and anyone else for filing their complaints by clicking and uploading the picture of the problems related to civic amenities faced by them. Online grievances can be addressed under the subheads; street lights, sanitation, road potholes, public works, and stray animals. Under this application, the citizens are able to upload complaints through their mobile phones along with the picture of the location which is directed to the section dealing with that area.
If, however, it is not resolved within 24 hours, it will go to the Commissioner, who shall ensure its resolution. In case it is redressed within the stipulated time, an SMS-based message is resent to the complainant about the status of his complaint. Smart city 311 mobile application has been launched for the employees of Nagar Nigam which includes modules like field officers inspection module, GPS based attendance module, GPS road checking module and project monitoring module.
Rain Water Harvesting Ajmer witnesses sufficient rains, yet there is no sufficient water, for a variety of reasons, including the fact that the non-monetised value of water is still under-appreciated. Consequently, rainwater is not conserved but allowed to drain away; and water is usually not available during the most needed circumstances, while groundwater is over-exploited. To utilise every drop of water, Ajmer Municipal Corporation has developed a rain water harvesting system in its Municipal Building. The estimated cost for rainwater harvesting system is about Rs. 92.59 Lakhs.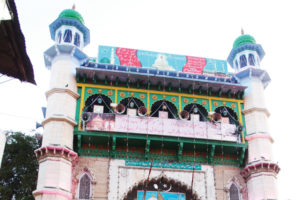 Sewage Treatment Plant: AMC is planning to install a sewage treatment plant inside its premises for removing the contaminants from the waste water and household sewage. It has proposed a STP to be built within the AMC campus with the purpose of recycling waste water and reusing for gardening and flushing etc. An installed capacity of 10 KLD has been proposed in AMC. "We are making efforts to connect every house – about 70–80,000 with proper sewerage systems," said Gajendra Singh Ralawata, Deputy Commissioner (Development), Ajmer Municipal Corporation.
Online Payment Solutions: Ajmer Nagar Nigam has become the first Urban Local Body (ULB) in Rajasthan to start the online payment of taxes. Under this initiative, the citizens are now able to pay online taxes (property tax, development tax etc). This is done through gateway linkages with ICICI and Axis banks. Tax can also be paid through swipe machine at cash counter at Ajmer Nagar Nigam.
Wi-Fi Zone and 4G Connectivity: Ajmer Municipal Corporation has provided 4 G Wi Fi connectivity to its employees to enable them fast and non interrupted internet connectivity. This facility has been developed by Reliance Telecom Services.
Smart Parking: To optimise energy usage and making the parking area available at main building more smarter, Ajmer Municipal Corporation has installed solar lighting and rain water harvesting system for enabling easy percolation. Under the convergence project, a major parking is coming up in Naya Bazar – just behind the municipal corporation, says Himanshu Gupta, Commissioner, Ajmer Municipal Corporation, and Chief Executive Officer, Ajmer Smart City Limited (ASCL).
"It is heart of the city and very congested area. This parking will be able to accommodate about 800 vehicles. Further, railway department is developing a parking in Topdara area. So, these are two big ticket projects. Besides, Municipal Corporation has marked several places within the city which will be developed as parking areas."
Gas Based Power Generation Plant in Khanpura Power Generation Plant has been installed at Khanpura in Ajmer to generate power from gases. The project was taken up by Government of Rajasthan under the Rajasthan Urban Infrastructure Development Project.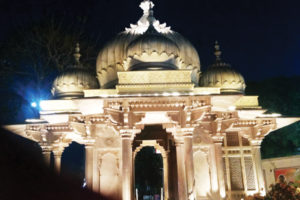 Smart Raj Project: To improve the service delivery mechanism, enhance transparency in governance and provide better information management for all the Urban Local Bodies in Rajasthan, this project has been adopted by various cities in Rajasthan. Under the project, state-level dedicated call centres are established at Jaipur for effective public redressal. This project will facilitate all major services like tax collections, building permissions, licenses, birth and death registrations, payments, auctions, vehicle tracking etc. GIS based property level mapping of all towns is also being done under this project.
Swachh Bharat Mission: Ajmer Municipal Corporation has launched door-to-door collection of waste with the help of sweepers in different wards. A total of 190 public/ community toilets with 1,900 seats have been completed. Besides, door-to-door collection of waste has been started since 2010. "We have 60 wards in the city. In ever ward, two waste collections vehicles are deployed. In order to spread the awareness, we have recorded a special song on Swachh Bharat Mission which is played on all 120 waste collections vehicles. About 80 per cent people have stopped throwing their domestic waste on the roads," said Dharmendra Gehlot, Mayor of Ajmer.
Pilgrimage Hub The Ministry of Tourism has launched National Mission on Pilgrimage Rejuvenation and Spiritual Augmentation Drive (PRASAD) to beautify and improve the amenities and infrastructure at pilgrimage centres. A Mission Directorate has been established to implement the PRASAD scheme in 12 cities namely Ajmer, Amritsar, Amravati, Dwarka, Gaya, Kedarnath, Kamakhya, kanchipuram, Mathura, Puri, Varanasi and Velankanni.
HRIDAY The National Heritage City Development and Augmentation Yojana (HRIDAY) has been launched by the Government of India with a focus on holistic development of heritage cities. The scheme aims to preserve and revitalise the heritage cities to reflect the city's unique character by encouraging aesthetically appealing, accessible, informative and secure environment. Ajmer is one of the cities out of the 12 cities being developed under this mission. "I wish we use the fund in the best possible manner and keeping the requirement of the citizens in mind, we ensure all-round development, sewage treatment cleanliness, integrated traffic management system, etc are some of the major projects which will be significant certainly," said Shiv Shankar Heda, Chairman, Ajmer Development Authority. Following projects are being taken up under HRIDAY in Ajmer:
Solid Waste Management: Installation of waste bins in commercial stretch, residential neighbourhood, in the stretch from Delhi gate to Soniji ki Nasiya. l Storm Water Drainage: Drains in residential areas to be covered and existing drains to be repaired whenever broken. l Community and Public Toilets: Restoration/ extension of existing toilet and rehabilitation of street urinals. l Street furniture: Installation of benches and planters in commercials stretches. The Integrated Power Development Scheme (IPDS) The Government of Rajasthan has selected 35 project areas covering 185 towns with an approved project cost of Rs 1,303.22 crore and Rs 781.93 crore as a grant from the Government of India. Ajmer is one of the cities where 20 roads have been selected under this scheme for underground cabling of 20 stretches of roads.
Follow and connect with us on Facebook, Twitter, LinkedIn, Elets video