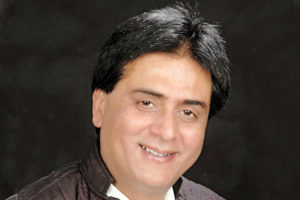 Promoting tourism in Ajmer is high on the Rajasthan government's agenda. Jaipur road precinct upgradation, auditorium at Soochna Kendra, public conveniences, pedestrian friendly walkways, to connecting Dargah area to railway station through sky walks, etc include the ongoing key projects, says Shrichand Kriplani, Minister for Local Self Government and Urban Development & Housing, Government of Rajasthan, in an interview with Harshal Desai and Kartik Sharma of Elets News Network (ENN).

Smart City Mission is the most talked about initiative of the Government of India. What are your views on this?
Under the leadership of Hon'ble Chief minister Vasundhara Raje, the Government of Rajasthan has been making every possible effort to ensure effective implementation of Smart City projects. In all the four cities i.e., Ajmer, Udaipur, Jaipur and Kota, a huge number of projects worth crores have been already implemented. It should be noted that it takes time to implement projects. The Government is not leaving any stone unturned to make the cities of Rajasthan safer, cleaner, affordable and liveable.
Be it e-governance project, LED-based street light project, our effort is to make the urban areas Open Defecation Free (ODF), installation of CCTVs in cities, Air Quality Monitoring Systems, Rejuvenation of Rajasthan School of Arts, initiatives such as Smart Classrooms, Smart Toilets, Rehabilitation of Bawaris, Waste to Energy (there are hundreds of more such initiatives), and other crucial schemes, we are committed to implement them all with complete success ratio in all the four cities.
Please share your views on the planned development activities for the city of Ajmer?
Ajmer is not only one of the four smart cities to be developed in Rajasthan, but it is also one of the 12 HRIDAY cities announced by the Central Government. Ajmer Smart City Limited has been allotted funds from both Smart Cities Mission and HRIDAY. Further, there are some schemes which are funded under AMRUT mission as well. All the development activities have been segregated under various divisions by Ajmer Smart City Ltd and the SPV is working on to implement these activities in the best possible manner.
Promoting tourism in Ajmer is high on our agenda. Jaipur road precinct upgradation, cultural Park, street painting and heritage, auditorium at Soochna Kendra, tourist information centre at public places, kiosks, public conveniences, pedestrian friendly walkways to connecting Dargah area to railway station through sky walks, etc are some of the key projects we are working on. Further, Anasagar promenades development which includes lake restoration and lake front development work is one of the major projects under the Smart Cities Mission.
Besides, the fund has been allocated to implement projects like Green Ajmer, integrated infrastructure improvement which includes projects for streamlining water supply, sewage treatment, sanitation, power distribution, rain water harvesting and solar power generation. Isn't transportation another crucial element that needs to be improved? Indeed. It is. We are working on strengthening our infrastructure for better transportation within the Ajmer city.
In Ajmer, there are provisions for Development of Bus Q Shelters and Bus Stop Sign Board. New Mini Buses for E-buses, IT System on Buses, Multilevel modern centralised bus stand, Multi-level Car Parking – 2 locations and Open Car Parking at three locations, etc are some of the major activities which will be materialised soon.
What are the plans to develop other cities, especially where the sewage and water supply management need to be focussed a lot?
Every city, town and village is important. As per the guidance of Hon'ble Chief Minister, the Government of Rajasthan is focussing on an all-round development of the State. Apart from the Smart City Mission, we are closely monitoring the growth of our all 29 AMRUT cities. Under AMRUT, the Rajasthan Urban Drinking Water Sewerage and Infrastructure Corporation Limited (RUDSICO), has given an order for executing a sewerage project which will have treatment facilities. This project will witness construction of more than 350 km of sewerage network with total eight sewage treatment plants of a total capacity of more than 24 million litres on everyday basis. These plants will use batch reactor (SBR) technology. Sewage treatment and water supply are the prime focus areas for Government of Rajasthan and we are going to spend huge amount to improve the infrastructure and services.
How the Ministry of Urban Development and Housing is gearing up to materialise the projects?
We are committed to ensure all-round development of our cities – following a systematic and scientific approach. We are working to make our cities liveable. Through our various departments including Jaipur Metro Rail Corporation, Jaipur Development Authority, Rajasthan Housing Board & Town Planning, Urban Improvement Trusts (UITs) and other development authorities, we are contributing to the development of the State of Rajasthan.
Last year, the Central Government inaugurated projects worth Rs 15,000 crores. What is its significance for Rajasthan?
Infrastructure is the most necessary component for the development, and we are fortunate that under the leadership of Honourable Prime Minster of India Shri Narendra Modi and Honourable Chief Minister of Rajasthan Smt Vasundhara Raje, Rajasthan is actually witnessing the growth. I believe these projects will play a vital role in boosting the sustainable economic growth in the State. These 12 national highways projects, as rightly mentioned by our Honourable Prime Minster and Honourable Chief Minster, will be gateways to progress. The Government of Rajasthan is working hard to fulfil its promises. We are glad to state that we have already made substantial growth ensuring development of our cities and communities.
The 11 projects for which Prime Minister performed the Bhoomi Poojan last year include 4-Laning of Bar-Bilara-Jodhpur section of NH-112 at Rs 1,249 Crores, 6-Laning of Kishangarh-Gulabpura section of NH-79A and 79 – Rs 1,184 crores, 6-Laning of Gulabpura-end of Chittorgarh section of NH-79 – Rs. 1378 Crores, 6-Laning of Chittorgarh to Udaipur section of NH-76 – Rs. 1223 Crores 6-Laning of new Udaipur Bypass on NH-8 – Rs 726 crores., 6-Laning from Udaipur to Rajasthan / Gujarat Border section of NH-8 – Rs. 1616 Crores, Jaipur Ring Road – Rs 1,668 crores, 2-Lane paved shoulders section of Balotra to Sanderao (Pkg – II) of NH-325 – Rs 178 crores,2-Lane paved shoulders section of Balotra to Sanderao (Pkg – III) of NH-325 – Rs 164 crores, 4-Lane CC road with safety imp. in Jhalawar city of NH-12 – Rs 80 crores, 2-Lane ROB and its approaches on NH-709 ext. near Sadulpur Railway Station Rs 24 crores.
Follow and connect with us on Facebook, Twitter, LinkedIn, Elets video