Raipur Development Authority has ensured all round development and implemented various citizen-centric projects across the city thereby Raipur is taking shape of modern Capital city very fast, writes M D Kawre, Chief Executive Officer, Raipur Development Authority and General Manager (Administration), Naya Raipur Development Authority for Elets News Network (ENN).
"The housing scheme, being developed at a cost of approximately Rs 1,353 crore, includes development of plots of different sizes for amusement, business, public, semi-public, health, and education."
With the advent of Information Technology, the direction of urban development has changed completely. When A P Kanvinde, a renowned planner and Padma Shree awardee, came to Raipur in 2004 as an expert for the concept of new capital of Chhattisgarh, he said a new city cannot be developed on old assumptions. Rather we have to implement modern-day Information Technology Solutions for developing it.
When Chhattisgarh State was formed in 2000 and Raipur was declared as its capital, the city was like a small town. Only Indore and Bhopal were big cities of Madhya Pradesh at that time. Gwalior, Jabalpur and Raipur divisions were important but they were not as developed as Indore and Bhopal. The old development in Raipur city was ribbon development where only the areas near main roads were being developed and rest of the areas were undeveloped. Lands were being accumulated but neither landlords were developing it nor were they allowing authorities for it.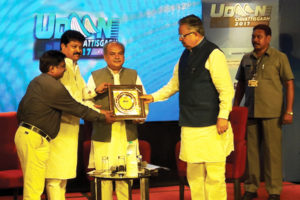 Moreover the undeveloped lands were sold to the citizens after dividing it in plots illegally. People, like brokers and land mafias were cheating on people without any map approved from Town or Country Planning Departments. When this matter came to the knowledge of the Chhattisgarh Government, Hon'ble Chief Minister Dr Raman Singh and Minister for Housing & Environment, Rajesh Murat, took initiatives to provide relief to the citizens and to arrange well-planned development with the help of city planning experts in Raipur.
After this, for developing the Raipur City under eight city development schemes, initial proposals were sent to the State Government of which the Government has approved two schemes of Raipur – Kamal Vihar and Indraprastha. In the initial phase of planned development with modern infrastructures, Raipur Development Authority faced various types of protests from those working in real estate business property brokers and political parties.
Despite all the protests and contradictions, the plans of Chhattisgarh Chief Minister and Minister of Housing and Environment of developing world class infrastructure at Kamal Vihar and Indraprastha were realised. This is a tremendous achievement in a way that experts, administrators and politicians from various countries and different cities of India have studied the development plan.
Kamal Vihar is one of the largest city development schemes in the country under which Raipur Municipal Corporation's five villages are being developed. It is a modern infrastructure being developed by the Raipur Development Authority in 1,600 acres area which has been seen so far only in abroad. Development work in the area is being done by Larsen & Toubro, the country's most renowned construction company. Not only this, due to effective planning and implementation of the scheme, it was awarded with two national awards. First award is "Hudco Design Award 2012-13" on February 22, 2012, at national level in the category of 'Unnat Nagron ki Abhinay Yojna ki Eco City' (eco city of the innovative scheme of the new and advanced cities) and second award is "Order of Merit Award", on 23 September, 2015, for public participation in Kamal Vihar Development Scheme, transparent lottery system for plot allocation, computer-based systems for 24X7 water supply, customer relation management, irrigation of gardens through the water from sewage treatment plant and for running the sewage treatment plant from solar energy.
1,600 acres of Kamal Vihar is being developed on the concept of "First Development then Populate" and by including 4,969 landowners in the scheme created in 21 sectors. The purpose behind giving land owners a developed plot in lieu of their undeveloped land is that the city should be developed holistically according to master plan rather than an irregular development.
The housing scheme, being developed at a cost of approximately Rs 1,353 crore, includes development of plots of different sizes for amusement, business, public, semi-public, health, and education. The infrastructure development includes wide roads, Hydro Pneumatic System for 24X7 water supply, underground drainage system, underground cables for electricity supply, and sewage treatment plant. In the 1,600 acre Kamal Vihar scheme, there is also a provision of constructing houses for economically weaker sections of the society in approximately 80 acre land.
Developing a national level picnic spot and water sports in 256 acres of Boriakhurd reservoir are also proposed. A City Park is also proposed in the plan. More than one fourth of the area i.e. 28.23 per cent as green area along with an Oxy Zone is proposed to be developed under "Hariyar Chhattisgarh".
Under the scheme, Chhattisgarh Government has provided developed plots of Raipur Development Authority in exchange to the undeveloped land of the people affected from illegal plotting.
The scheme has a good scope of capital investments. Many residents of Chhattisgarh living abroad have also shown keen interest in Kamal Vihar and have purchased residential and commercial plots for their families. Overall, this urban development scheme will give a new look to Raipur in future.
Raipur Development Authority has implemented development and construction schemes across the city including development of Wonderland Recreation Park for entertainment of the citizens of the capital in Raipura and Transportnagar in Rawabhata. In future, Raipur Development Authority is going to launch various city development schemes along with development of Kharun river's banks. Raipur Development Authority is continuously working on well coordinated development schemes as per the master plan. In this context, slogan of the authority is – "Vikas Hamara Uddeshey, Nirman Hamara Lakshya.
(The writer is M D Kawre, CEO, Raipur Development Authority and General Manager (Administration), Naya Raipur.)
Follow and connect with us on Facebook, Twitter, LinkedIn, Elets video