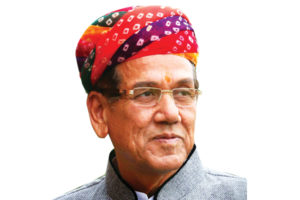 We want to establish a spiritual hub in Pushkar by building several places for pilgrims to stay on affordable rates. We want people to spend quality time in Pushkar and Ajmer, says Shiv Shanker Heda, Minister of State and Chairman, Ajmer Development Authority, in conversation with Kartik Sharma of Elets News Network (ENN).
What is the idea behind establishing Ajmer Development Authority (ADA) and the major work being undertaken?
Sustainable development of Ajmer is the sole motto of Ajmer Development Authority (ADA). In order to ensure planned and systematic growth and development of Ajmer, the Government of Rajasthan formed ADA in 2013. I assumed the charge as Chairman at ADA in 2016, and since then I ensured the institution play a crucial role in the all-round development of the city. Development of Roads was one of our prime agendas. We have already started work on Ajmer-Jaipur road and making it 6-lane road from 4-lane road.
Work on Janana Hospital road has also been started making it 4–lane road. Besides we are also working on connecting Ajmer with Pushkar through a tunnel reducing the travelling time to about 10 minutes. We, at ADA, have been able to work with a vision. We are trying our best to march toward our goals and start the planned projects. Be it parks, funeral parlour, or other public places, we are working on their renovation and development.
What are the other works that have been started by ADA?
We had started a 13 MLD STP plant which was inaugurated by Hon'ble Chief Minister of Rajasthan. Further, in association with Rajasthan Electronics and Instrument Limited, we had started an 84 kilowatt solar power plant at ADA rooftop. In an innovative effort, we renovated 'Nachan Bawri' and mechanised storage of water flowing from nearby areas. Water ATMs have been installed at various places. Besides, Booda Pushkar Sarovar renovation, Khoda Ganesh Road construction, etc are some of the other projects we are working on.
Kindly brief us on the activities being organised to boost tourism in Ajmer and Pushkar?
The first project was the construction and installation of the statue of Maharana Pratap. We already had a beautiful statue of Prithviraj Chauhan. Both these kings had been associated with this city in the past, and it was quite apt to develop these places to attract the tourist. We have also announced in our budget to construct another statue of Maharshi Dayanand Saraswati and also planning to build a museum along Jaipur-Ajmer road which will allow tourists to understand the life of great Maharshi. Ajmer is a great tourist attraction – we have Ajmer Sharif Dargah in the city and the only temple of Lord Brahma in Pushkar – and places like this will certainly help us boost tourism.
We also want to establish a spiritual hub in Pushkar by building several places for pilgrims to ensure an affordable stay. We want people to spend quality times in Pushkar and Ajmer. We are also in the process of exploring possibility to invite all the states from the country to Pushkar and build their guest houses. It will tremendously increase the footfall increasing the economy of Ajmer City. We are also planning to build an International Level Stadium in south part of the City. A detailed project report will be submitted by the consultant.
This project will be developed on PPP mode. We will invite the bidders through online bidding process. We had already constructed two tennis courts at the cost of 40 lakhs. Besides, we are also planning to develop an Ajmer Swad — a place where people can relax and relish variety of dishes. We are also planning to build a convention centre in Maharana Pratap area.
What plans do have you to manage traffic problem near railway station?
We face the issue of congestion at many places within the city – especially near the railway station. We have prepared a feasibility report on developing a parallel road along Pal Beesla. This parallel road will be significant to ease traffic near railways station. Railway has already made another entry point at Topdara area. The parallel road will connect to the additional entry point at railway station. I strongly feel that once this project is completed, it will be a boon to the citizen of the city.
What about better housing schemes?
There were few schemes which unfortunately – could not be materialised due to some issues. We are trying to start those housing schemes. In my tenure, we have restarted the housing schemes at Panchsheel Nagar. There are about 215 residential plots in this schemes which were allotted on lottery basis. In 2017 end, we had inaugurated a housing scheme in Vijay Raje Scindia Nagar. This scheme will also earn significant revenue for ADA which will be used for other work within the city.
What are the challenges you face while implementing different projects?
There are all sorts of issues – emotional, religious and legal. But, we at ADA try our best to remove such hurdles without hurting the citizens of the city. I have been fortunate to receive support of my colleagues. What is your opinion on Smart Cities Mission? Ajmer is not only among the selected Smart Cities but also one of the 12 HRIDAY cities. I wish we use the fund in the best possible manner and keeping the requirement of the citizens in mind, we ensure all-round development. Ana Sagar Lake riverfront development, sewage treatment, cleanliness, integrated traffic management system, etc are some of the major projects which will be significant certainly.
Follow and connect with us on Facebook, Twitter, LinkedIn, Elets video