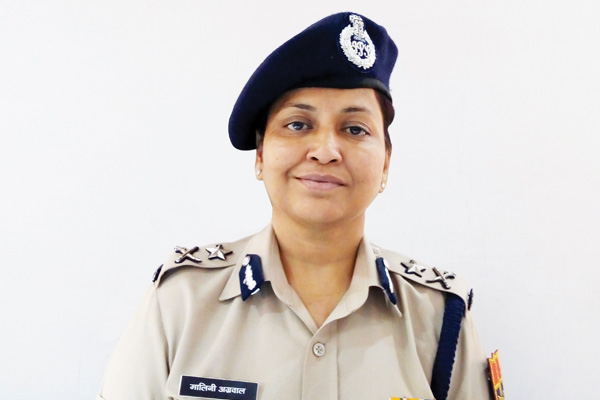 The IT intervention in the Ajmer Police Department has helped a lot in keeping a close watch on city's activities; and if something is found wrong, we immediately take action, says Malini Agarwal, Inspector General of Police, Ajmer Range, Rajasthan, in a conversation with Harshal Y Desai of Elets News Network (ENN).
Brief us about the IT & eGovernance activities initiated by Ajmer Police department?
Nowadays, if you are not well-versed with the use of IT, it becomes very difficult to do policing as well. Like any other department's setup, we have also been focusing upon the use of IT, and this is amply visible with our department encouraging registration of online FIRs.
We have a very ambitious project called CCTNS (Crime Criminal Tracking Network System) in place where all FIRs, charge sheets issues related to investigation are entered online. ICT is very convenient in bringing transparency in work to harness people's trust and be able be able to get required documents within a stipulated time. Our staff has also shown efficiency as far as disposal of cases is concerned.
With the use of social media platforms, especially through WhatsApp etc, we communicate with the different groups at different levels for the fast dissemination of information. IT has been a helpful tool to work-out crimes, contain law and order situation, and expedite the overall police machinery. With the use of Facebook, Twitter, we get people's feedback about how they felt about our work? How can we deliver with more improvement in our functioning? Besides, patrol vehicles have been equipped with GPS to keep a tab on their movements, log the activities, and to know how efficient we have been while responding to situation/crisis calls.
This in turn makes our department efficient. Likewise, we are also thinking of starting an IT-based patrol system to check locations of officials and men deputed for patrol duties and ascertain their presence on beat locations.
What are the initiatives taken by your department to train employees to make most out of the IT interventions?
With the use of IT being so rampant, through internet and other platforms by people, registration of cyber crime related cases has also gone up simultaneously. This is increasing by leaps and bounds. Keeping it in mind, to make our officials well-versed and well-equipped with technology while dealing cyber crime issues, we train them at the police headquarters and training academy as well as at national level by sending them to renowned institutes with expertise to deal in this area. They are taught about various issues related to cyber crime, for instance, how to track cyber crime related cases; how to deal with technical equipments; and usage of technology to decipher cases thus making cyber crime investigation faster and more reliable.
Command & Control Centre is a feather in the cap of Rajasthan police. This is an ambitious project started by the Government of Rajasthan. The Chief Minister of Rajasthan Hon'ble Vasundhara Raje has taken a lot of interest and also sanctioned funds to establish command and control centers at every divisional headquarter. The CCC is the state-of-art centre equipped with video walls, multiple screens with CCTVs connectivity installed across the city to keep tab over various activities. Control Centre is put to use round-the-clock, appointing especially trained staff to log, locate calls and dispatch information – further making our system efficient as far as reaching out to the complainant or visit to the spot and informing officers is concerned.
At the same time, it helps in keeping a close watch on city's activities; and if something found doing wrong, action is taken immediately. Lok Sabha by-election was recently held here, in which we made an extensive use of our command and control centre to keep an eye on all sensitive activities. We hope to tap its full potential in the days to come.
What type of challenges the department faces in the implementation of IT at all levels?
Challenges are manifold: shortage of equipments, lack of trained staff, distance, connectivity etc are some issues to name a few. But, when we compare our previous ways of policing, we are continuously improving. IT initiatives being a top-priority for the Government, when it comes to extending support in delivering our services, we have actually come far and are in a much better position, today. I am sure, as the days move ahead, we will become more efficient and well equipped. Moreover, Ajmer is soon to become a Smart City; as it is already in that category, therefore, naturally police also needs to become smart. I am hopeful that this will not be neglected. IT in the police department is one of the main constituents to effectively avail benefits to the citizens.
Which are the other areas where IT can be effectively used further?
As our command and control centre is becoming more efficient with each passing days, what we need at the moment is the installation of the state-ofthe art CCTV cameras across the city and even at the outskirts to keep tab of any accidents, incidents, law and orders situations, crime. Officials in the control room are also able to immediately guess the gravity of the situation and communicate accordingly. Likewise, at every divisional headquarter, where we can work-out cases related to cyber crime, we have placed smart units and all necessary equipments to deal with it. Similarly for any city, traffic is one of the most important things. As far as traffic of Ajmer is concerned, we can have IT-enabled signaling system to be able to control the movement of vehicles and address violations, if any, committed by the commuters. At the same time, just by simply looking at the screens, we can communicate with the staff on the field to ensure smooth traffic flow. When commuters know that they are under surveillance, naturally they will tend to follow and abide by the traffic rules, and the same applies to the road encroachments which cause a lot of inconvenience to public. We can also start e-challan to save time. We are also thinking of using body cameras which will be worn by the policemen, so they are at least able to record first hand information about any incident. These cameras will give us an accurate picture as to what really happened? Who all and how many were involved? We are also thinking to introduce helmets with cameras which can have firsthand evidence of any untoward law and order situation when worn by policemen. Installation of smart signaling system, which automatically detects the congestion of traffic, is also in the pipeline.
How effectively is your department involved in citizen engagement?
We are all civilian police because we are there to work with the people and for the people. Rajasthan police has done a lot in this area. We believe in the concept of community policing. We even have layers of Community Liaison Groups (CLGs) at every police station as well as district level where we interact with people informing them about our agendas, visions and also in return take their feedbacks to know how they feel about our services, and what best could be done. Here too, technology plays an important role because we are all connected. People can communicate with us on various social media forums of the department. When communication with people is made in that manner, eventually the reach will also expand. Importantly, we are open to criticisms as its helps in improvement in the system. But sometimes, due to paucity of resources and shortage of staff, we are not able to deliver our services as per their expectations, but then we take their criticisms in a very positive stride because people are reaching to us; and when they appreciate our work, it further boosts our morale.
How does the department ensure law and order security during occasions like Urs fair?
Firstly during such a large congregations like Urs and Pushkar Fair, a complete monitoring of the system is required. We had deployed a good number of officials and men. Besides installation of CCTV cameras for surveilance, technology is being used in every sphere to keep tab of the deployed personnel and also monitor the status of attendance, which is all done through the software called 'Badobast'. This software also helps in identifying deployed officials and issue of passes.