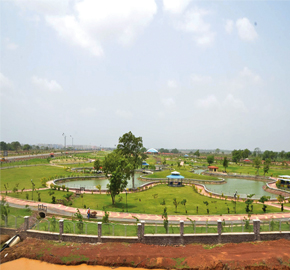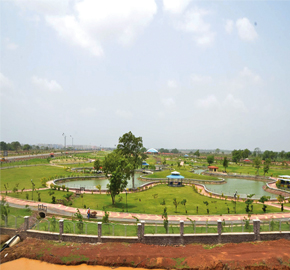 Chhattisgarh since its inception has been "talk of the town" because of unique citizen centric initiatives under the visionary leadership of Chief Minister Dr Raman Singh. The State has witnessed many firsts in terms of policies and programmes motivating Elets to organise Smart City Summit, Naya Raipur, writes Susmriti Sahu of Elets News Network (ENN).
This time the State is in news because of its unique project "Super Smart Cities". The Government has decided to transform three of its biggest cities into Smart Cities (Rajnandgaon, Korba and Bhilai). Chhattisgarh has joined other States like Haryana and Maharashtra to develop Smart Cities on its own by utilising its own fund. The Government has decided to allocate a budget of Rs 3,908 crore for churning these three cities into Smart Cities. The project will be on ground in the coming financial year. Raipur, Bilaspur and Naya Raipur have already been selected by the Central Government under the Smart Cities Mission.
Naya Raipur
Naya Raipur is the the first greenfield capital city of India outfitted with all the world class framework and innovation in light of most advanced techniques. All the while, it is guaranteed that the city immovably keep ensconced the culture, values and diversity of the land in its spirit. The city is also selected under the Smart Cities Mission in the third round and will come up with many new innovative projects soon. Additionally, the State Government has made a separate allocation in the current budget session of around Rs 450 crores for Naya Raipur Development Authority. Along with all world class smart living utilities, Naya Raipur has incredible investment opportunities with unmatchable business oriented plans and subsidies, providing a sustainable base for business growth.
Raipur
Raipur Smart City Limited (RSCL) has been working towards making the city smart in the impending times. RSCL has wisely addressed the most vital aspect while making a Smart City – its citizens. The city is progressing under Smart Cities Mission with many ongoing projects.
Bilaspur
The judicial capital of Chhattisgarh has been selected in third round of Smart Cities Mission. The Smart City under making is in preliminary stage and preparing its journey to become one of the smartest cities of India. Tender for Project Management Consultants has been floated and detailed planning is been done by the officials to smartly utilise Rs 4,000 crore fund keeping future need and existing infrastructure into consideration. Full fledge work is expected to start from April 2018. The State Government is dedicated to provide its citizens smart living utilities. In the series, Chief Minister Dr Raman Singh has announced an extra budget of Rs 413 crore for the development of the three centre approved Smart Cities (i.e Naya Raipur, Raipur and Bilaspur.
To understand the unmatchable development and progress of Naya Raipur and to provide a platform where NRDA officials and industry representatives will share their views about the smart products, services and utilities that has made Naya Raipur recognisable in India and around the globe, Elets Technomedia Private Ltd is organising Naya Raipur Smart City Summit on 6-7th April 2018. Chief Minister Dr Raman Singh will chair an industry roundtable to discuss the investment opportunities in Naya Raipur as an integral part of the summit. The Summit will provide a platform to meet the representatives from Smart Cities and discuss the ample opportunities in Chhattisgarh under one roof.