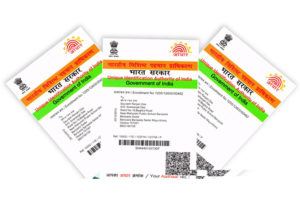 As the final hearing on the legality of Aadhaar commenced in the Supreme Court before a Constitution Bench, petitioners opposed the use of unique identity numbers, stating it would reduce citizenry to servitude while taking away civil rights.
The hearing got underway five years after a host of social activists and a former high court judge filed petitions challenging the scheme.
Appearing before a Bench of Chief Justice of India Dipak Misra and Justices A K Sikri, A M Khanwilkar, D Y Chandrachud and Ashok Bhushan, senior advocate Shyam Divan contended that the citizens' fundamental rights were set to compromised if Aadhaar was made compulsory. Also, it would lead to keeping citizens under surveillance entire lifetime.
Divan, appearing for former Karnataka High Court judge K S Puttaswamy and other social activists, contended no democratic country had adopted such scheme as it is the antithesis to the very principle of people's rights and liberty.
Aadhaar, he said, could become an instrument of oppression and exclusion at the government's hands, which must not be allowed.
"The petitioners are certain that if the Aadhaar Act and programme is allowed to operate unimpeded, it will hollow out the Constitution, particularly the great rights and liberties it assures to citizens.
"A people's Constitution will transform into a state Constitution. The Constitution firmly repudiates Aadhaar and it must do so in order to preserve itself, its abiding values, its foundational morality and to protect citizens from the advent of an all-seeing, intrusive state that recognises not the individual, but a number," he stated.
On the Government's stand, the Bench asked Divan that Aadhaar was beneficial to people to get benefits of social welfare schemes as the money would directly reach them. Divan, however, replied the statistics shared by the Centre were inflated.
Continuing the submission, Divan stated all the information under the scheme was to be connected to a central data base which government agencies could misuse to profile citizens and track movements.
Divan also said over time "the profiling enables the state to stifle dissent and influence political decision-making".
Follow and connect with us on Facebook, Twitter, LinkedIn, Elets video