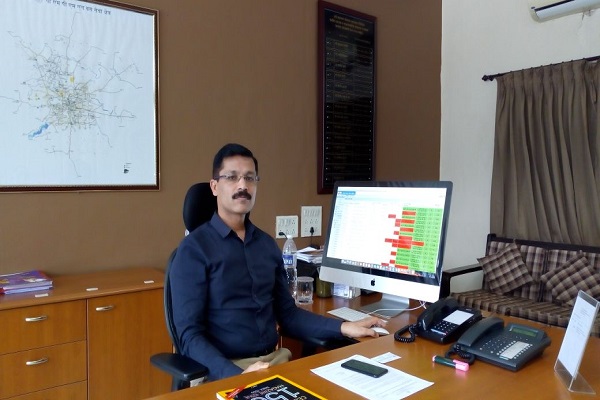 We have developed systems like Automatic Vehicle Location System (AVLS) and Automatic Fair Collection System (AFCS). With these systems, we are able to contact the bus conductors and inform them about their faults, says Tukaram Mundhe, Chairman and Managing Director, Pune Mahanagar Parivahan Mahamandal Limited (PMPML), in conversation with Harshal Desai of Elets News Network (ENN).
How has been your journey as CMD of PMPML so far?
To identify the issues, it is essential that you understand the sector well. Once you do that, it becomes easy for you to find the loopholes, take decisions and increase the overall efficiency of the system. We did lot of process re-engineering and made the most of available information technologies in Navi Mumbai Municipal Corporation (NMMC). Similar approach has been followed here at PMPML.
What new initiatives have been started by you in PMPML?
Urban transportation needs to be delivered to the citizens. It has always been a side affair.  We, however, are making efforts to build a system that includes key elements such as demand and performance. We would like to go from 'Access to Transport' to 'Access through Transport.' The goal of sustainable development can't be fulfilled without sustainable transport. PMPML will like to play its role by making use of IT.
How are you restructuring the organisation?
We are soon going to hire techies. We have laid down the process for promotion and new recruits. Lack of leadership has been a crucial issue affecting the success of the PMPML and by recurring talented people and offering in-depth training to existing staff, we want to inculcate leadership qualities in our team members. CMDs will keep changing, it is the employees who will stay here and work and hence, they need to be talented enough.  
How are you leveraging the ICT for the growth of your organisation?  
If you want to increase the use of public transport among masses, it is very important that the buses are available on time, they complete their schedule without fail, they stop on all the bus stops and they are driven safely. Now to ensure this, we need to monitor the buses and their schedule very diligently. This is when we need real time data and need to use GPS technologies. We have developed systems like Automatic Vehicle Location System (AVLS) and Automatic Fair Collection System (AFCS). With these systems, we are able to contact the bus conductors and inform them about their faults. We also have announcement system installed in the buses. We have these dashboards in our Head Office. Through this, I can see here how many buses have started early and how many of them are late. As a result of implementing these technologies, we have been able to bring down the early and late start timing from about an hour to within 5 -7 minutes. Earlier, the number of cancelled trips were around 4,000 to 5,000 monthly. Now it has come down to 1,000.
How do you rate the current infrastructure of PMPML? Do you think there is a bright future for e-buses in India?
There is no doubt that electronic vehicles are the future of our country.  But we need robust infrastructure – both physical and operational. Further, we need to train the workforce. At this moment, we do not have enough of any of these necessary requirements in most of the cities in India. We will explore this in coming days. Through Smart City Corporation, we have already gone for Request For Proposal (RFP) for 100 e-buses. We will be running these buses on trial and if these trial runs are successful, we will go full-fledged.
How has been the response for the mobile application?
It is remarkable. About 60,000 people have already downloaded the app and still counting.  Through this app, about 9,400 grievances have been registered – about 99 per cent have been resolved. The application boasts of various features including auto accountability, auto responsibility, citizen participation and rating systems.
What is the biggest challenge you are facing today?
The huge deficit in the number of bus shelters is the most disturbing thing. Of the 5,000 declared bus shelters, the constructed bus shelters are only about 1,500. We are now exploring opportunities where against the advertising rights, we are asking companies to build modern bus shelters. These companies will not only build the bus shelters but also maintain them for 10 years. These vendors will also install solar lights and public information system. This will be huge infrastructure boost for Pune transportation.
How can citizens of Pune help in making the city smart?
I will urge the citizen to make the most of public transport. We are improving the overall system. If people are using the public transport, they contribute towards the development of the corporation and at the same time, reduce the carbon footprints. I am making all-round efforts to improve our services. Further, I will also like to convey that profit is not our sole motto; we first want to offer quality service to the citizens and then think about making profit.