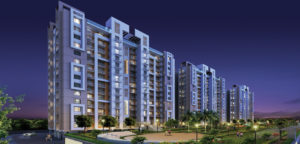 Since the inception of GST and RERA in the Indian real estate system, sentiments were projected to increase manifolds riding high behind the guarantee of a refined taxation process and an organised way of working.
            Thus, all eyes were fixed upon the festive season of this year and a better demand was on the cards. With ready to move in inventory available in high numbers across Ghaziabad, the nine days of Navratras scored a staggering sales growth of almost 20 percent versus last year. Even the number of queries rose by almost 15-18 percent in comparison to the Navratras of 2016.
            "The high number of sales across Ghaziabad has been due to the increased queries and footfalls across all of its micro pockets, especially Raj Nagar Extension, Indirapuram and Vasundhara. Other regions also contributed towards this number and we are forecasting another increase in demand during Diwali. With RERA operational in Uttar Pradesh and GST also applied in full force, better days for the realty sector don't look like a distant dream anymore," said Gaurav Gupta, General Secretary, CREDAI Ghaziabad.
            Projects that were in the advanced stages of construction or the ones which have been delivered saw the highest sales, which goes to show that there were more end users than investors who bought property during the Navratras. Also, units ranging in the ticket size from Rs 45 – 70 lakhs and 2, 2+1 BHKs were the ones highest in demand during the festive days of Navratras which also shows the shift of the modern day customers' preference towards budget housing. Even the resale market has picked up by 15 percent in areas like Indirapuram, Vaishali and Vasundhara. Looking at the rising sales figures, Raj Nagar Extension, for instance, has 17,400 homes which are under construction and has already sold and delivered 16,900 homes and witnessed 20% growth in sales. The sales growth was visible at Siddharth Vihar, an upcoming region with multiple group housing projects.
            Manu Garg, President, CREDAI Ghaziabad said, "Ghaziabad has been a major market in NCR realty. With regions like Raj Nagar Extension, Siddhartha Vihar and adjacent areas on NH-24 witnessing a growth of 10-15% YOY, such micro markets have shown robust growth. With RERA already applied, there is a positive sentiment in the market."
Follow and connect with us on Facebook, Twitter, LinkedIn, Elets video