To provide transparency and reliability in managing land spaces of State, the Uttar Pradesh Government has adopted technology for smooth processing of matters related to land records with full transparency. With such initiatives, users can access land records data and other information related to land records, e.g. whether the land is under dispute or whether it is mortgaged etc. on web-based portal, says Pravir Kumar, Chairman of Board of Revenue, Government of Uttar Pradesh, in an interview with Arpit Gupta of Elets News Network (ENN).
"To computerise Uttar Pradesh's land records, webbased portal Bhulekh has been created with an objective to provide all the land related information in a transparent manner."
Tell us about digital initiatives taken for Land Management.
To provide land related information in an easy and transparent manner and facilitate land related transactions, we have set up a Digital Land Management system in the State. We have deployed technology for smoother workflow of land related issues. We have taken several digital initiatives in this regard that include — Computerisation of Land Records/RoRs (Bhulekh), Revenue Court case Computerised Management System (RCCMS), Aadhaar seeding and shareholding in RoR (Records of Rights), Online applications for mutation and other permissions/ NOCs, assignment of Unique Identity/number for each Revenue plot and Unique identity/number for each village border pillar.
What is this Bhulekh initiative all about? Can you throw some light on it?
There are about 1.09 lakh villages in U.P. with about 7.65 crore plots, whereas the number of "Khatas" is about 3.38 crore. In view of these large numbers, to mange such a large data manually (as was being done till now) is almost a nightmare and gives rise to all sorts of manipulations, cheating, corruption and land scams etc. Therefore, for managing Uttar Pradesh's land records, computerisation is a necessity for us. In fact, the work related to management of land records had undergone very little change since the British period. As a result there used to be lots of complaints regarding manipulation of land records by lower level Revenue functionaries, giving rise to corruption and land scams. Therefore, in order to bring transparency to the entire system, we have computerised the land records and created a webbased portal called " Bhulekh" (http:// upbhulekh.gov.in/), where all the land ownership related information i.e. "Khatauni" or RoRs (Records of Rights) can be viewed online. Anybody can obtain a digitally signed copy of RoR from Tahsil or any Common Service Centre (CSC) on payment of nominal fee. In 2016-17 alone, over 1.50 crore digitally signed copies of RoRs were issued (1.45 crore from Tahsils and 4.73 lakh from CSCs) and an amount of Rs 22.50 crore was earned (kept in a separate bank account at Tahsil level for undertaking new digital initiatives). This has not only brought transparency but also minimised the corruption.
What is this Revenue Court case Computerised Management System (RCCMS) meant for?
There are about 7.11 lakh Revenue Court cases pending at present in about 2333 Revenue Courts spread all over the State from Naib Tahsildar, Tahsildar to Collector, Commissioner and Board of Revenue. To facilitate transparency in all proceedings of revenue courts, we have created Revenue Court case Computerised Management System (RCCMS). The details of all revenue cases can now be viewed online at Board of Revenue website (http://vaad.up.nic.in).
The Litigants/advocates can view all the case related information online, such as name of the Court, case number, name of the parties, Act/Section, filing date, next date of hearing, its present status and the orders passed etc.
What is the online application process for mutation?
Now with the help of technology, applications for Mutation can be filed online on our website (http://vaad.up. nic.in/guest_page.aspx).
Under this mechanism, the details of the purchaser-seller (or donor-donee, Will testator- beneficiary etc.), the details of the registration documents and the land for which mutation application is being made can be filled online through web-based portal. After filling up and submission of details online, the user can generate a PDF cover page and submit his application in the Court concerned, along with the copy of the registration deed. This process is quite similar to Online Visa application procedure and ensures that the application is complete in all respect and all the required information has been provided.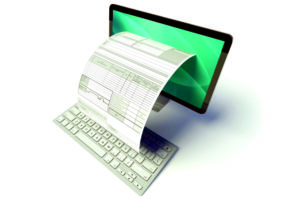 How Unique Identity/number for Revenue plots is beneficial?
We have assigned a 16 digit Unique Identity or code to each and every Revenue plot or field in the State, in order to uniquely identify the plot/ field. This is akin to Aadhaar number of the plot. As all Revenue Court cases are related to some dispute regarding land only, we have made it a mandatory field in our RCCMS database. Thus, after a great deal of efforts the details of land under dispute/litigation in all the 7 lakh plus cases pending in various Revenue Courts have been updated in RCCMS. For fresh cases also, it has been made a mandatory field. Thus today, just on the click of a mouse, one can find out whether or not a plot of land is under litigation/dispute in any of the Revenue Court in U.P. Any prospective buyer/entrepreneur can check about the ownership of the plot, status of the plot like whether it is under litigation or mortgaged via our online service.
Also, by using the Unique number of the plot in conjunction with the case details available on RCCMS, we have successfully checked and blocked the Illegal sale/purchase as well as mutation of land belonging to nontransferable category (e.g. Patta land, talab, pasture, Gaon sabha land etc.) at registry level as well as mutation-level in our Courts. It is proposed to introduce new categories for defence land, Wakf land, enemy property, migrant property etc. also, so that illegal sale-purchase of such lands by "Bhu-Mafias" can be checked.
With the help of this facility, it has now become very easy to generate lists of ponds, pasture land, Gaon Sabha land, public land etc. for allotment or for planning purposes for creating public infrastructure. Thus it is a very handy tool for decision makers and policy planners also.
What steps have been taken in management and maintenance of border pillars?
Instructions have been issued for assigning an 18 digit Unique number to all border pillars (about 8.50 lakhs) on village boundaries. Once identified with this Unique code, in the second phase, physical verification of the pillars (in place/ damaged/missing) will be done. In the third phase, the damaged and missing pillars will be repaired/ constructed (as per design given by IIT Kanpur). And, in the fourth and final phase, exact latitude and longitude of these village border pillars shall be ascertained and noted for future reference and records as well as re-construction, if damaged. It is envisioned that by superimposing the coordinates of these border pillars on the scanned village maps (already being done under DILRMP scheme of Govt. of India), we shall be able to generate digitised maps of all the Revenue plots/fields, with exact coordinates, thereby realising the dreams of our Hon'ble Prime Minister of a truly "Digital India".
Follow and connect with us on Facebook, Twitter, LinkedIn, Elets video