A rather plain Jane way of looking at it is the evolution of ICT in the public sector from ´Informatisation' to Smart Governance. The old model (1980 – 2000) led to high costs but yielded limited results, and was merely an attempt to computerise brick and mortar, writes R Chandrashekhar, President, The National Association of Software and Services Companies (NASSCOM).
"The growth of internet connections and smartphone users has truly been astounding – 400 million internet subscribers, 300 million smartphone users, 50k Wi-fi hotspots have all contributed hugely to India's remarkable digital journey."
There were gaping holes in critical areas like Change Management techniques, Process Re-engineering etc, which birthed silos and led to needless duplication. In the subsequent period till about 2014, things were much more wholesome (in comparison). The secondgeneration led to ICT-enabled transformation which was more citizen-centric in outlook and integrated in approach. Some of the areas found severely lacking in the earlier model were addressed, but only to a limited extent.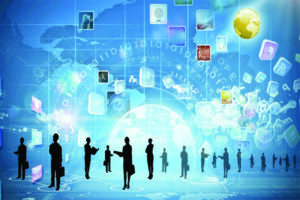 The implementation of National eGovernance Plan (NeGP) in the last decade, laid the foundation for Smart Governance. A herculean effort was required to bring it to the core of Government functions. Now contrast it to the current situation, where the Hon'ble Prime Minister himself has been at the forefront of change through e-governance. It is to the Government's credit that it has rightly identified the growing impatience in citizens as the trigger, and has been working towards a "single window" clearance including real-time response. Good Governance is a fundamental promise of any government. It should entail, a reduction of internal complexities in the functioning of the Government, including faster response time with a high degree of transparency. Levered on New Age technologies and services being accessed by mobile savvy citizens, the government is now trying hard to play catch-up.
Today, no Governance reform programme can be designed without e-governance at its core. For example, in recent times there has been a huge push to ease of doing business; a closer look would reveal that the best practices suggested by DIPP rests on e-governance and ICT principles. Secondly, the pointer has moved in other aspects as well. The Government departments have shifted focus from buying software or hardware to procuring services and solutions. This approach has led to Service Level Agreements (SLAs) getting defined with the far greater accountability and transparency. Thirdly, the infrastructure that has been created is in itself commendable, given the sheer scale. This is not to imply that things are perfect but it has to be appreciated that shared infrastructure (SWAN, SDC, CSCs, UID) created under NeGP has indeed laid the foundation for next generation innovation. It is the resourceful individual who will view the glass as half-full.
Digital India
Given its wide expanse, it is as much about people's perception. The first year was marked by an all-around cheer, a nation visibly stirred by the heady promise of "acche din", a ubiquitous term which came to pass and nearly shoehorned its way into the Webster's lexicon. As is the case with transformational ideas, it too had its fair share of detractors and naysayers. The 'din' grew perceptibly louder in Year two, when these very same people started questioning the Government on the progress made. Mind you, there never really was a doubt on the intent. As the months passed by, it became evident that Digital India was also intrinsically linked to other marquee projects – Smart Cities, Make in India, Swachh Bharat, to name a few. The much avowed GST launch is now a month old. Undoubtedly, it's a landmark of sorts and we will experience the "Good and Simple" aspects of it, as vouchsafed by the Prime Minister. And of course, demonetisation and the overdrive to go cashless will always find a special mention whenever we talk about disruption on a truly massive scale. In a different context, Nandan Nilekani in his latest book says, "It's re-booting a billion aspirations through technology."
The Internet Economy is estimated to grow at a CAGR of 22% (FY16 – 20). The growth of internet connections and smartphone users have truly been astounding – 400 million internet subscribers, 300 million smartphone users, 50k Wi-fi hotspots-have all contributed hugely to India's remarkable digital journey. Staggering numbers as they are, have placed India at number two, after China. In as much, a new set of opportunities are being seen, those who are consuming internet-enabled services, using the vernacular medium and opening up a plethora of opportunities for service providers. Typically, these users access the internet on their mobile phones, as opposed to laptops / desktops.
"India Stack" is a set of Application Programming Interfaces (APIs) which allows Governments, businesses, startups and developers to leverage a unique digital infrastructure to solve India's hard perennial problems towards presenceless, paperless, and cashless service delivery. The "set" includes, Aadhaar for authentication (presenceless layer); eKYC documents, e-signatures and digilockers (consent and paperless layers); and, the Unified Payments Interface (UPI), which rides atop the National Payment Corporation of India's immediate payment system (cashless layer). The opportunities presented by this framework are immense for tech startups to develop apps through open APIs which will benefit India's teeming millions.
Post demonetisation, the drive to go cashless had been extraordinarily bountiful for those who were driving online payments. E-Wallets, RuPay cards, UPI and USSD have all registered mythical growths which were perhaps inconceivable earlier. To overcome the lack of internet penetration in remote locations, National Payments Corporation of India, NCPI, created National Unified USSD Platform (NUUP) which works even without the internet. In Aug 2016, NCPI and RBI launched Unified Payments Interface, UPI, which can be used to transfer money between multiple banks using a smartphone.
Some Learnings
In the last decade, we have witnessed several instances where merely by "going live" e-governance projects have achieved precious little. Often the issues were related to the project design which had been done in silos, at best a piecemeal approach which did not take into consideration the big picture with respect to delivery of services. It only ended up rendering internal processes more efficient, without impacting the delivery significantly. Why would it induce the consumer to switch over?
Capacity building and garnering leadership to deliver on scale remain a huge challenge. The technical agencies of both the Central and State Governments take up advisory or adjudicatory roles leaving little room to develop technological expertise. The resultant loss of focus dilutes overall impact. Technology is changing at a rate which may not always be comfortable, and this has led to a war for talent. When it comes to hiring people with best technical expertise, the nodal agencies often lose out to the private sector. The impact is often ineffectual, thereafter.
It is rather stark to see a disengagement of large Indian or even global players to be part of transformational projects, and not without good reason. The procurement model is often fuzzy about addressing what is required to deliver on e-governance projects. Fixed pricing without clearly defined boundaries work at cross purposes. In addition, the Government is found dithering in taking timely decisions, fuelling cost overruns which works to its detriment. It ought to be underscored here that in Public Private Partnership models, the payment position leaves a lot to be desired and it's a grey area where the Government needs a complete overhaul in its approach.
The Significance of Business Intelligence
The data which is being churned out every millisecond has three dimensions – velocity, volume and variety. The first two dimensions have been around for a while now, but it's the third dimension which has seen huge traction in the last few years, especially after the advent of social media. Obviously, the Government is a custodian of humongous amount of data that may best be quantified by thousands of multiples of zetabytes, petabytes, terabytes and such other. The real challenge for the Government today is to be able to mine all this data intelligently with the aid of analyticsdriven tools, to cull out meaningful information and be proactive in its delivery. Simply put, data needs to talk to each other. If a person is eligible for Old Age Pension, then the system should be able to prompt the applicant well before time. We want to move to a situation where the Government is able to act first before the individual does. "Customer Delight", and here's an opportunity for the Government to truly delight its citizens. For it to be possible, there needs to be a single electronic address for all the citizens and towards this the achievements of UIDAI in driving Aadhar is truly commendable.
"Post demonetisation, the drive to go cashless had been extraordinarily bountiful for those who were driving online payments."
It may also be highlighted here that just as we expect the Government to remove silos, we too as citizens need to adopt a collaborative way of thinking and add value by partnering with them to drive desired outcomes. India is a 2.3 trillion dollar economy and one of the few large economies in the world today which is growing at more than seven per cent. The Government has laid out its grand vision in the shape of marquee projects like Digital India. In addition, India has the largest and amongst the brightest tech talent in the world today. It is most reasonable to expect that people, processes and technology can effectively combine to deliver on Maximum Governance with Minimum Government.
A Final Word
That, India is making a rapid progress towards e-governance, cannot be doubted. The speed at which this is happening is most impressive too, given the nation's size. In this, the redoubtable contribution of the Indian tech startups deserve a mention. However, the journey has really just begun, and we are still some distance away from witnessing a truly transformative change in delivery. Firstly, the rural tele-density penetration at 50% is still quite low and a large segment of society is beyond its present purview. Secondly, PPP projects have to take off in a much bigger way, otherwise it will be impossible for the Government to scale up. Thirdly, change management is vital and it remains to be seen if this transition will be smooth and is able to successfully address the localisation of services angle. Fourthly, it has to be about people – those who are digitally literate (8.2 million trained under NDLM, 2016) and others who are required to develop these technologies and help build scale. Finally, though not wanting to sound ominous and yet – are we living in an environment where we are cyber-secure? Presenceless, paperless and cashless are fine enough, but it should not come at a cost of security lapses. Ransomware, to say the least, was a rude wake-up call but thankfully we paid a low price. We may not be as lucky the next time.
The time to act is NOW!
Follow and connect with us on Facebook, Twitter, LinkedIn, Elets video