The Government of Chhattisgarh is functioning out of Naya Raipur now. So what fascinates investors and people to Naya Raipur reveals Salil Shrivastava , Chief Engineer, Naya Raipur Development Authority, in conversation with Gopi Krishna Arora of Elets News Network (ENN) . Excerpts:
How Naya Raipur is transforming the face of Chhattisgarh?
When the State government decided to have a new capital, Naya Raipur was selected on 26 parameters like availability of basic necessities, transportation, land etc. It was also close to Raipur. The procurement of land from farmers was done amicably. Today, of the core area of 8,000 hectares, we have almost 95 per cent of the land. Almost 60 per cent of the land has been procured through negotiations from farmers.
This has been one of the key achievements of the administration and helped in the procurement of the land. Excellent and timely political decisions were taken at the right time which really benefitted the local farmers. We have taken only the farmlands. The 12 villages remain at their places, except for one village Rakhi which we have shifted to Naya Rakhi. This particular village was coming in the Capitol Complex area where Mantralaya and Vidhan Sabha are placed. We are implementing large scale village development plans and investing from Rs 6 crores to Rs 20 crores in each of the 12 villages. Of the 13, one has been shifted and the rest remains at their places.
We started constructing roads and buildings in the late 2008. Till date, we have completed construction of 100 km of four and six lane roads. We have completed the construction of Mantralaya building which is functioning since 6 November, 2012. The government is functioning out of Naya Raipur now. We also have Head of Departments building and Police Headquarters here and 14 other buildings coming up which will serve as various headquarters of different departments.
"We have done 60 km of LED lighting in the city which is network controlled which can be managed from anywhere. It not only helps in saving the energy but also to maintain them easily."
We have done 60 km of LED lighting in the city which is network controlled and can be managed from anywhere. It not only helps in saving the energy but also in maintaing the entire system easily. Emphasis has been given on sustainable development and we have promoted 60 kms of cycle track as well.
What have been some of the challenges and achievements in building Naya Raipur?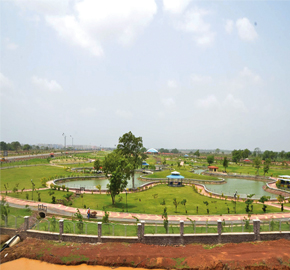 When we started the road construction, lot of land was under procurement process. It was quite tough to convince the farmers to give up their lands. In fact, we have paid them beyond the higher prices than the market prices. It has been a good journey so far. We are giving treated water supply to the citizens of Naya Raipur. For sewerage, we have gone for the decentralised system because the city is going to grow in phases. We are already laying the recycling pipeline wherein treated water will be recycled back to the city to maintain green as well as flourishing trees. We have 26.5 per cent of the city as green in the master plan itself. We have a mandate for rainwater harvesting for every building. We have also undertaken large scale water body conservation plan. We have around 40 water bodies which we are conserving.
What digital transformation is taking place in Naya Raipur?
In 2012, we started the procurement of the consultant agency for digital transformation. Companies like Cisco, IBM etc participated and fitnally PricewaterhouseCoopers (PWC) was appointed for our ICT consultancy project. Our ICT intervention for Smart City project consists of six verticals. One is the utility management where in Supervisory Control and Data Acquisition (SCADA) for water supply, electricity and sewerage is there. The other is city surveillance system wherein CCTV cameras is to be installed. Then we have Integrated Traffic Management System (ITMS) system. We have already started IT-enabled BRT corridor in the city. We have online tracking of buses, electronic ticketing. This will be linked to the main Control and Command centre. The most important part is the e-governance part. So every citizen of Naya Raipur is connected to the government through e-platforms. Every citizen will be linked to Naya Raipur through Aadhaar soon.
How do you perceive affordable housing?
We have planned for a safe, comfortable and Green fiteld City. Every residential area in Naya Raipur has a provision of 25 per cent of Low Income Group (LIG) and Economic Weaker Section (EWS) houses. The Pradhan Mantri Awas Yojana was fitrst launched in Naya Raipur by Prime Minister Narendra Modi. Initially, we are constructing 6,500 houses for LIG and EWS. Eventually, we will have 40,000 EWS and LIGs.
Which projects attract people to Naya Raipur?
We already have an international cricket stadium which is second largest in the country. We have the jungle safari which is best in the country. We have botanical garden close to it. We have Muktangan where we display the life of the local tribals. It is built on 175 acres and popular among local people. We have a central park which houses a 150-seating capacity dorm theatre. We have an amphitheatre with a seating capacity of 1,500.
The central boulevard has a water body too. It has lot of active areas where people come to enjoy with family. We have IIIT. We have a law university which is among the top 10 law universities in the country. We have a private university called the ITM. IIM Naya Raipur is soon coming up. We have AIIMS extension counter and an external unit of IIT which is coming up. We have nine functioning schools in Naya Raipur. We are getting one IB school here. So lot of emphasis is being given on education here. We have a 100-bedded hospital planned, a 10-bed hospital is already working.
We have three big lakes within the city which we are conserving in. There are a lot of activities planned around these lakes. We already have adventure sports along one lake.
Follow and connect with us on Facebook, Twitter, LinkedIn, Elets video