Shortlisted in the list of 100 smart cities under the "Smart Cities Mission" of Ministry of Urban Development (MoUD), Bilaspur city has successfully completed the competitive Smart City challenge and made it to the list of 98 Smart Cities, says Saumil Ranjan Chaubey, Commissioner, Bilaspur Municipal Corporation (BMC), in conversation with Arpit Gupta of Elets News Network (ENN). Excerpts:
Give us an overview of the eGovernance initiatives undertaken by the BMC.
In sync with the "Digital India" initiative, the Bilaspur Municipal Corporation (BMC) has been progressively involved in several eGovernance initiatives.
The eServices initiative taken by BMC include:
Tracking Solid Waste Management vehicle via Global Positioning System (GPS).
Online permission for buildings.
Installing CCTV out of government ex-chequer is not only costly but also insufficient. BMC has launched a campaign to promote installation of CCTV in all commercial and residential establishments by their respective owners and then develop a mechanism to have the feed shared to a city-wide CCTV system.
E-collection of Revenue tax (property tax, user charges, water tax, rent etc). This task has been outsourced to private partners based on revenue sharing model. BMC is the first municipality in Chhattisgarh for initiating such move while assuring minimum 90 per cent collection.
Tell us about BMC's roadmap in the ongoing process of transforming a 'Smart City'?
BMC is already proceeding towards its path of achieving the Smart City objectives. The Special Purpose Vehicle (SPV) Bilaspur Smart City Limited has been incorporated.It is functional and major projects are being implemented through it.
As per the progress report Bilaspur City is 'Smart City Ready'. Its SPV is already formed in anticipation of inclusion and powers to the corporation have been delegated.
The city is first in the State to have an underground sewer network (77 Million liters per day capacity water to be commissioned by December, 2017)
Bilaspur's source for water supply is presently groundwater based. We have about 500 borewells from which water is drawn and supplied. This is unsustainable in the long run. Bilaspur needed to shift its water source from ground water to surface water.
"The Bilaspur Smart City Project is unique in a way that it has been designed with an inbuilt course correction mechanism based on public feedback and has the adaptability and the resilience to do it."
Under Smart Cities Mission, in convergence with Atal Mission for Rejuvenation and Urban Transformation (AMRUT), we have prepared and tendered out a comprehensive Rs 310 crore project in which we shall get assured water supply from Khutaghat Dam 30 km from Bilaspur through gravity. Thereafter, it shall be treated and supplied.
This project also has provisions for 100 per cent metering in all commercial and residential establishments.
Bilaspur is the only city in the Chhattisgarh to have rolled out a centralised 100 per cent door to door Collection and Scientific Waste disposal (181 Tonnes/day Refuse Derived Fuel (RDF) + Compost plant under construction). The inorganic waste shall be developed in the form of RDF which shall be used as a fuel for cement plant.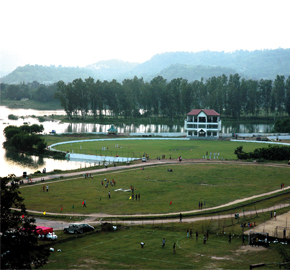 The city has a Sustainable Urban Transport System with 50 Intelligent Transport System (ITS) enabled Buses and Passenger Information System(PIS).
A state of the art Bus Terminal had been inaugurated in the city.
The city has 1,488 under construction dwelling units and so far 20000 people have been rehabilitated under Integrated Housing and Slum Development Programme (IHSDP) last year.
All 17000, conventional street lights in the city have been converted to LED.
Can you share about some of the digital initiatives to be launched by the corporation?
"Baney Bilaspur" Smart City is being transformed as a community of communities. The unique sociological aspect of Bilaspur is that people from almost every community of the State is substantially residing in the city. Hence it is envisioned that Baney Bilaspur Smart City shall strive to conserve and bank upon the individuality of these communities, conserve it and finally leverage it to turn Bilaspur into a community of communities.
The Bilaspur Smart City Project is unique in a way that it has been designed with an inbuilt course correction mechanism based on public feedback and has the adaptability and the resilience to do it.
What sort of challenges are you confronting in ensuring development of Bilaspur as a Smart City?
Challenges faced by BMC are nothing very extrinsic. Some of them can be understood as:
Major change in Municipal Service Management: City has moved from a local, non-scientific waste disposal mechanism to an advanced, centralised, scientific waste processing system that involves door-to-door collection and scientific treatment of municipal solid waste. This is a major change but BMC is ensuring that the stakeholders are least affected by this 'cultural shock'.
Underground sewer line work in final stage: 226 km out of 247 km sewer network has been laid. It has inconvenienced the public but witnessing that as we have reached the last lap, the public is genuinely supporting.
Revenue Generation: New avenues for revenue generation have been proposed in the Smart City Plan and city needs to improve its financial condition so as to keep providing assured and quality municipal services to citizens.
Follow and connect with us on Facebook, Twitter, LinkedIn, Elets video